How comfortable are Britons with returning to normal, as coronavirus concern rises again?
Many are still uncomfortable about some aspect of life returning to normal as concern about the Coronavirus rises to levels last seen in late April.
As the Government prepares to ease Britain out of lockdown on Saturday, a new poll from Ipsos finds that many are still uncomfortable about some aspects of life returning to normal. Updating our polling from mid-May reveals that three in five (60%) still say they would be uncomfortable going to a bar or restaurant (unchanged since May). The majority of Britons would also be uncomfortable attending large public gatherings (65%), using public toilets (62%), taking holidays abroad (57%), visiting indoor cinemas or theatres (59%), using public transport (59%), or going to indoor gyms/leisure centres of swimming pools (55%).
However, there are areas where people are becoming more comfortable. Nearly seven in ten (69%) say they would be comfortable meeting friends or family outside of their household, which is up five points since mid-May. Nearly half (49%) of parents would be comfortable sending their children to school, which is up from 38%. Two in five though would still be uncomfortable doing so (42%, down 8%). Just over half of workers now say they would be comfortable returning to their place of work (52%, up 5%), whilst one in three are still reticent (34%, down 4%).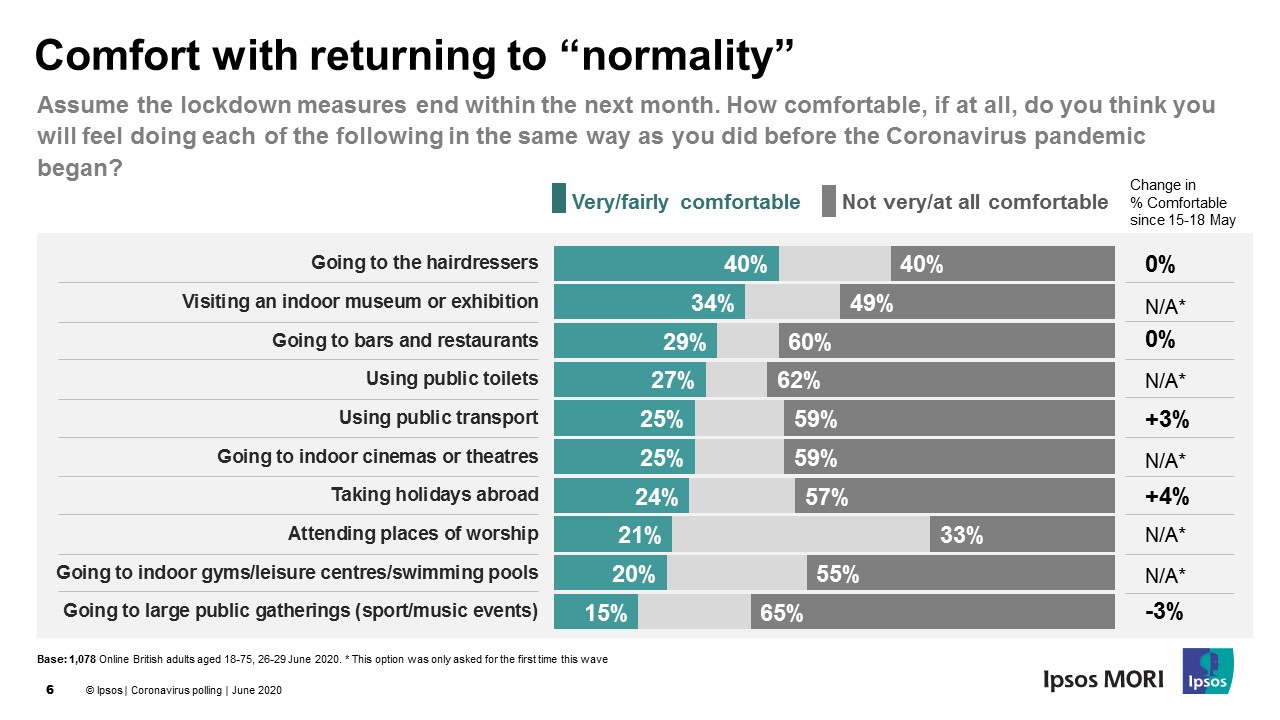 Similarly, the majority of Britons would also be comfortable going to their GP for non-coronavirus issues (58%), shopping in supermarkets (55%) or other shops (51%) and staying overnight in the house of a friend of family member (50%) – most of these figures are unchanged since May where they were asked.
People remain divided on whether they would be comfortable going to the hairdressers (40% comfortable, 40% uncomfortable), and are similarly unsure about whether they are ready to have people such as cleaners or nannies work in their home (42% comfortable, 44% uncomfortable) or take a staycation holiday in the UK (44% comfortable, 42% uncomfortable).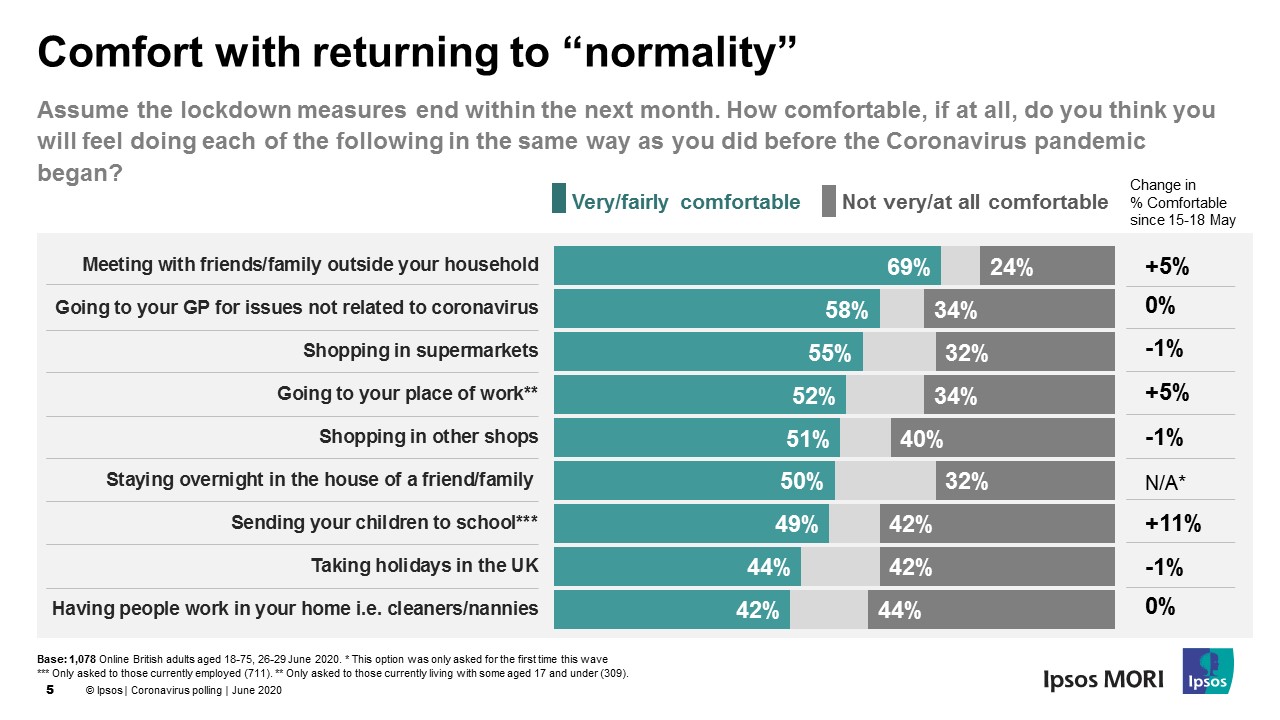 Concern about the Coronavirus
Apprehension about going back to life as usual coincides with a rise in concern about the risk that coronavirus poses to both people personally and the country:
Seven in ten (72%) now say they are concerned about the risk to themselves (up six points since the start of June), which returns to levels last seen towards the end of April and the first time concern has risen since before lockdown.
Nine in ten say they are concerned about the risk to the country as a whole (90%, up four points) – and half register this as being very concerned (50%, up from 37% at the beginning of the month). Again, these figures are comparable to those recorded in late April.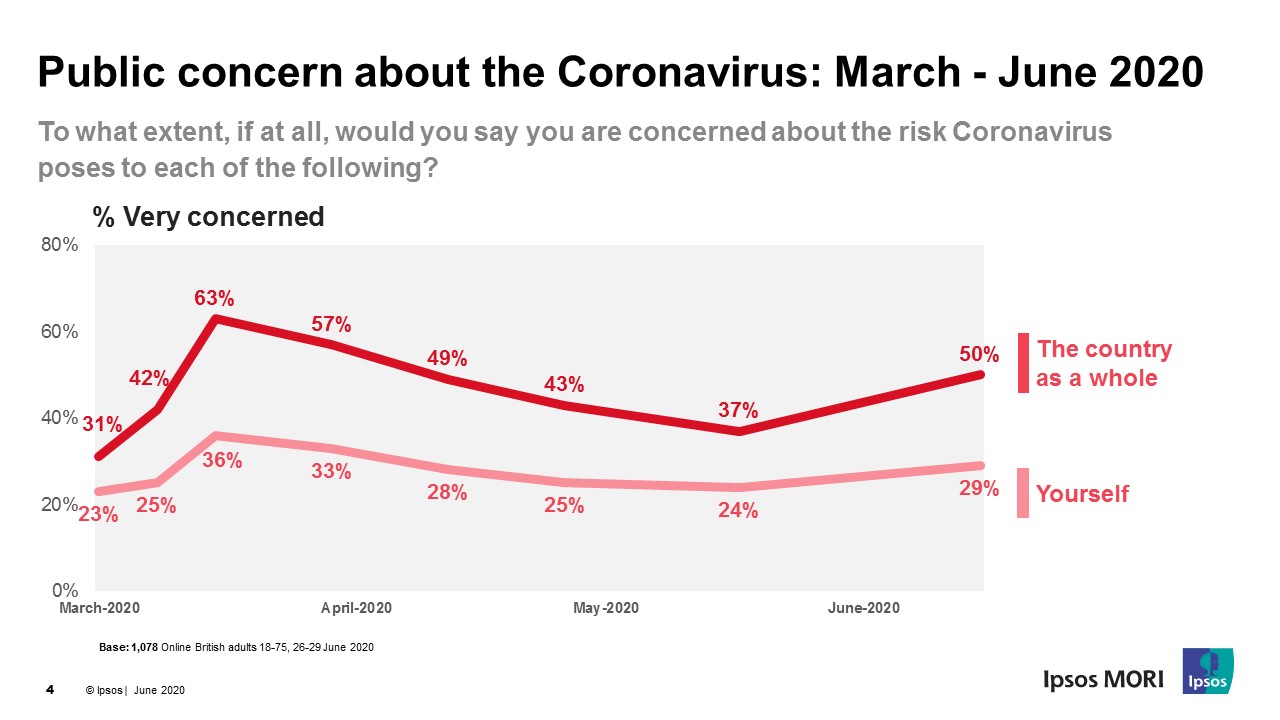 Gideon Skinner, Head of Political Research at Ipsos, commented:
After a period of declining concern, events of the last few weeks seem to have shifted public worries about the coronavirus back up again – although concern for the country remains much higher than perceptions of its risk to people personally. Significant numbers of Britons also remain anxious about many aspects of life returning to normal, particularly where these are in enclosed spaces or with large groups of other people. However, there is some returning optimism, with signs that attitudes are becoming more open towards seeing friends and family, returning to work or sending children back to school.
Technical note
Ipsos interviewed a representative sample of 1,078 British adults aged 18-75. Interviews were conducted online from 26-29 June 2020. Data are weighted to match the profile of the population. All polls are subject to a wide range of potential sources of error.