Ipsos Economic Pulse - June 2014
Ipsos Global @dvisor for June shows continuing growth in confidence among Britons about the country's economic situation
Brazilian economic confidence suffers as World Cup kicks off to social unrest 
This month's Ipsos Global @dvisor shows growth in economic confidence amongst Britons continuing, with more than four in ten (43%) rating the UK's current economic situation as 'good'. This is up six percentage points since last month, and is more than double the 21% saying the same twelve months ago. As recently as March 2013, just 12% thought the UK economy was in good shape, and as little as 8% thought the same in December 2011.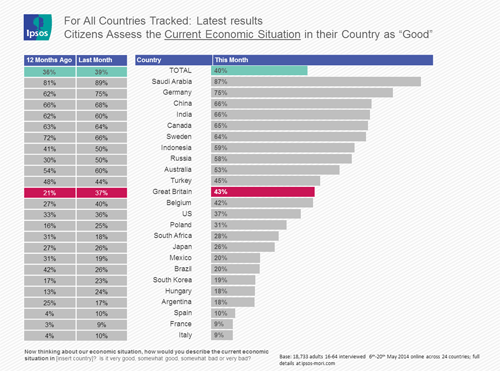 With protests ongoing about the costs of holding the football World Cup, just one in five Brazilians (20%) think their country is in a good economic situation – down six points since last month and dropping sharply from 42% this time last year. Following the announcement of large spending cuts in the first Budget under Australian Prime Minister Tony Abbott, Australians are also less confident regarding their economic situation; they have dropped seven percentage points since last month, though with 53% saying they're in good economic shape, they are still considerably more confident than Britons.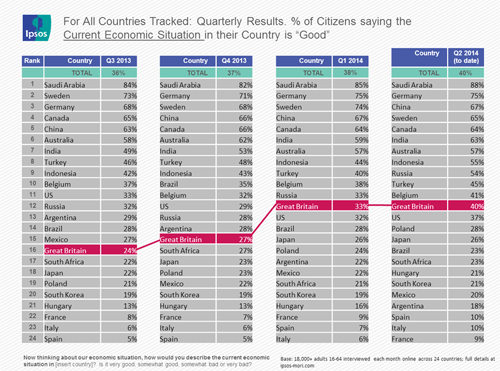 Russians are increasingly confident regarding their economy following the annexation of Crimea, up eight points on last month at 58%. India also has seen an increase in confidence following Narendra Modi's general election win, up six points since last month to 66%. The biggest change for any country since last month is in Indonesia, ahead of July's presidential elections, where economic confidence is up nine points since last month to 59%, up from 41% this time last year.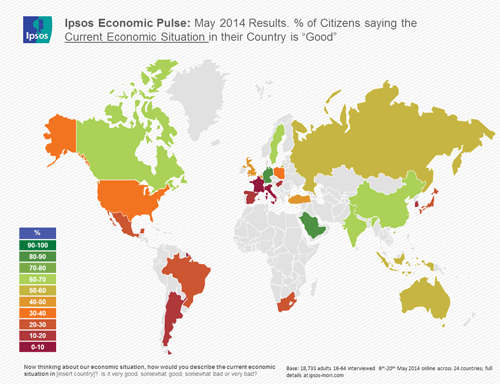 Saudi Arabia (87%) and Germany (75%) remain the most economically confident countries studied, with Spain (10%), France and Italy (both 9%) least confident.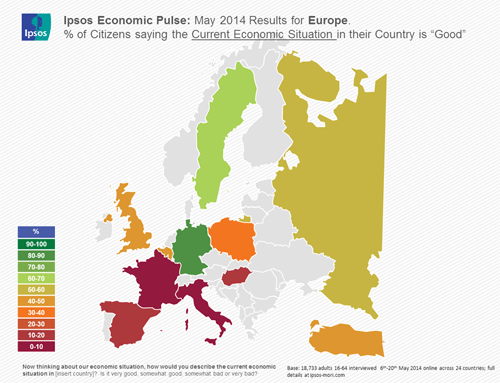 Simon Atkinson, Assistant Chief Executive at Ipsos said:
"It wasn't long ago that the UK was anchored close to the foot of the economic confidence league table.  These latest figures confirm the turnaround in mood, one which has occurred while the picture in much of Europe remains bleak."
Downloads
Technical note:
The survey instrument Global @dvisor is conducted monthly in 24 countries via the Ipsos Online Panel system.
For the results of the survey herein, a total sample of 18,733 adults age 18-64 in the US and Canada, and age 16-64 in all other countries, was interviewed between 6th-20th May 2014. Approximately 1000+ individuals were surveyed in Australia, Brazil, Canada, China, France, Germany, Great Britain, India, Italy, Japan, Spain, and the United States of America. Approximately 500+ individuals were surveyed in Argentina, Belgium, Hungary, Indonesia, Mexico, Poland, Russia, Saudi Arabia, South Africa, South Korea, Sweden and Turkey.
In countries where internet penetration is approximately 60% or higher the data output is comparable the general population. Of the 24 countries surveyed online, 15 yield results that are balanced to reflect the general population: Argentina, Australia, Belgium, Canada, France, Germany, Hungary, Italy, Japan, Poland, South Korea, Spain, Sweden, United Kingdom and United States. The nine remaining countries surveyed –Brazil (45.6% Internet penetration among the citizenry), China (41%), India (11.4%), Indonesia (22.1%), Mexico (36.5%), Russia (47.7%), Saudi Arabia (49%), South Africa (17.4%) and Turkey (45.7%)—have lower levels of connectivity therefore are not reflective of the general population; however, the online sample in these countries are particularly valuable in their own right as they are more urban/educated/income than their fellow citizens and are often referred to as "Upper Deck Consumer Citizens".
The precision of Ipsos online polls are calculated using a credibility interval with a poll of 1,000 accurate to +/- 3.5 percentage points and of 500 accurate to +/- 5.0 percentage points.