Ipsos Political Monitor July 2013
More people now expect the economy to improve in the next year than think it will get worse according to the new Ipsos Political Monitor.
CON 29 (-2); LAB 40 (+5); LIB DEM 10 (n/c); UKIP 12 (n/c)
More people now expect the economy to improve in the next year than think it will get worse according to the latest Ipsos Political Monitor. This is the first time the Economic Optimism Index has been positive in exactly three years.
Just over a third (35%) of Britons believe the economy will improve in the next twelve months while 30% think it will get worse, giving an Economic Optimism Index score of +5 (% improve minus % get worse). This is the fourth consecutive month that Britain's economic optimism has risen and is the first time it has been positive since July 2010. As recently as March this year just 18% said they thought the economy would improve in the next year.
Labour hold an 11 point lead over the Conservatives in voting intentions with 40% of those who are certain to vote choosing Labour, 29% Conservative, 10% Liberal Democrat and 12% UKIP. This represents a return to levels of support for both Labour and the Conservatives seen in the Spring. Labour appears to have reversed the softening in their support over the last two months: In April the proportion of Labour supporters who were certain to vote was 63%, this dipped to 57% and 61% in May and June, and has risen back to 64% this month. The figures for Conservatives who are certain to vote over the same period are 65% in April, 67% in May, 68% June and 63% in July.
Despite the increased support for Labour, satisfaction with the Prime Minister has increased and is now higher than satisfaction with Ed Miliband. Mr Cameron's net satisfaction is now better than Mr Miliband's for the first time since March 2012.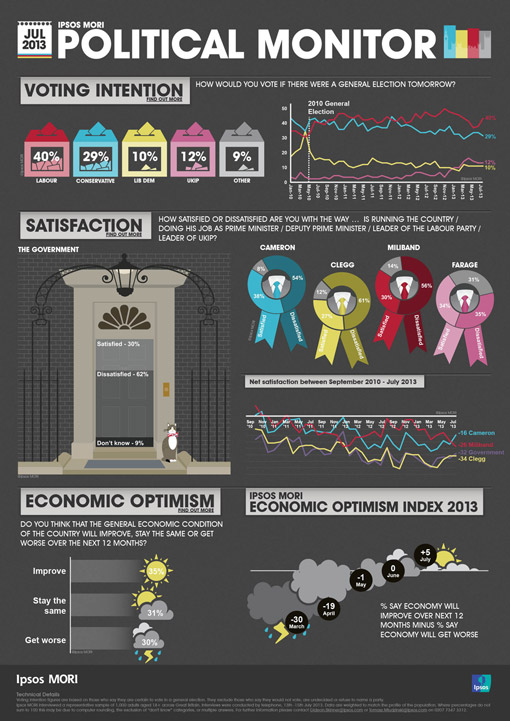 (Click to enlarge)
David Cameron's net satisfaction rating of -16 (% satisfied minus % dissatisfied) is an improvement of 8 points since last month, and his highest this year. 38% are satisfied with the Prime Minister, 54% are dissatisfied. Satisfaction with David Cameron among Conservative supporters has also improved with 78% satisfied and 17% dissatisfied.   
30% are satisfied with Mr Miliband's performance as Labour leader compared with 56% who are dissatisfied. His net rating of -26 has fallen by five points from last month and is his lowest since January 2012. Mr Miliband has a net satisfaction rating of -1 among Labour supporters, with 43% satisfied and 44% dissatisfied.
Nick Clegg's ratings are unchanged from last month with 27% satisfied and 61% dissatisfied, giving him a net rating of -34.
Nigel Farage remains the leader with the highest satisfaction ratings though his net rating has fallen by eight points in the last month. 34% of Britons say they are satisfied with the UKIP leader and 35% are dissatisfied while 31% say they don't know". Among UKIP supporters 91% are satisfied and just 5% are dissatisfied. This is the highest approval rating any leader has among their own supporters.
Three in ten (30%) Britons are satisfied with the way the government is running the country while 62% are dissatisfied. 
Head of Political Research at Ipsos, Gideon Skinner, said:
"There's something here for all parties.  The economic mood continues to brighten, and David Cameron scores his highest personal rating so far this year.  Meanwhile after two months of softening support, Labour's vote returns to where it was earlier this year."
Technical details
Ipsos interviewed a representative sample of 1,000 adults aged 18+ across Great Britain. Interviews were conducted by telephone 13th – 15th July 2013.  Data are weighted to match the profile of the population.