The Levelling Up Diaries Part 2
The Conservative Party Conference took place in October, and we recontacted our video diary participants to ask them what they thought of the Government's commentary around Levelling up.
To recap, we already know what they value in their area through videos they sent to us using our mobile software Applife, and we also know the myriad of ways in which they think levelling up success should be measured. The plan was to look at the Government's metrics (post party speech) and to join the dots.
What we did get from Michael Gove's speech were four objectives to achieve levelling up: 
To strengthen local leadership;
Raising living standards;
Improve public services; and
To enhance the pride people feel in the place they live.
What were our diarists' initial reactions? Well…. more questions; 
How will it be funded?
"They're talking about what they want to do but they're not talking about how they're going to raise the money for it" Participant, East of England
What about Scotland and Northern Ireland? and What's in it for me? 
They also talked about the challenges in delivering these objectives. The need for fair bidding processes for regional funds, the need to invest in young people if living standards are to be raised, public services already struggling to cope with demand and how exactly would you measure 'pride' in a local area?
Whilst there was some appreciation that Levelling up was being given a stage, most of our participants did not get the answers they needed.
"I felt Boris spoke about a lot of things but there's just no real plan" Participant, Northern Ireland.
Certainly, our polling carried out on the UK KnowledgePanel over the start of the Conservative Party conference reflects this sentiment. In total, 43% of participants in England stated that they are dissatisfied with what they have seen or heard about the government's current steps towards reducing inequalities across the country, with dissatisfaction highest within the three regions of the North (53% in the North East, 51% in the North West and 51% in Yorkshire and Humberside).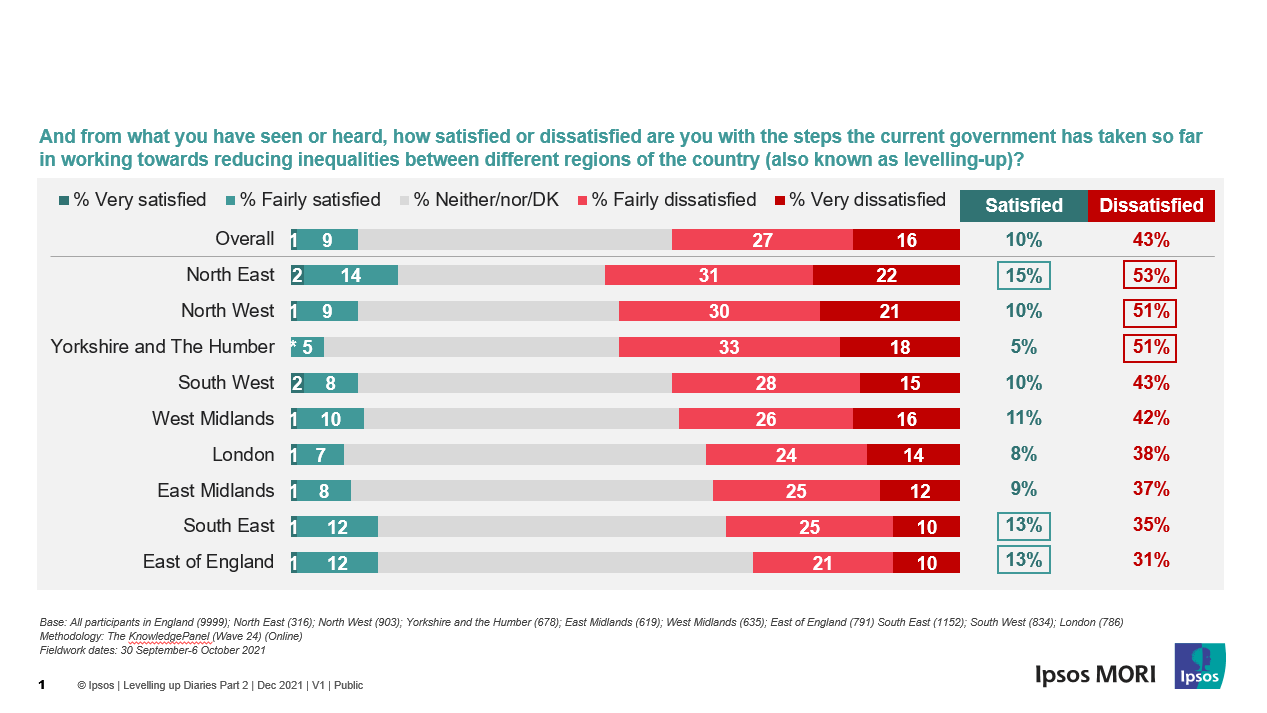 Finally, we asked our diarists whether the Government's progress towards levelling up would affect how they voted in the next General Election in three years' time. The response was mixed. For some it would not affect their voting pattern, for others it would, although there was acknowledgement that this was a long-term goal.
"I wouldn't necessarily expect to see all objectives achieved by then but certainly a good strong start including how through local leadership, local decisions will be made in order to best apply levelling up" Participant, East Midlands 
There is not a huge amount of optimism that progress will be made quickly among the overall English public, with just over three quarters (77%) stating that a positive impact from the government's policies on reducing inequalities between regions is unlikely in the next 2 – 3 years. Although this improves with time, a majority (52%) still say the government's policies will unlikely provide a positive impact within the next 20 years.
At a regional level, it is those living in the North West who are most pessimistic. In total, 65% believe that reducing inequalities is unlikely in the next 10 years and 57% feel it is unlikely within a 20 year time period, compared to 61% and 52% respectively at a national level.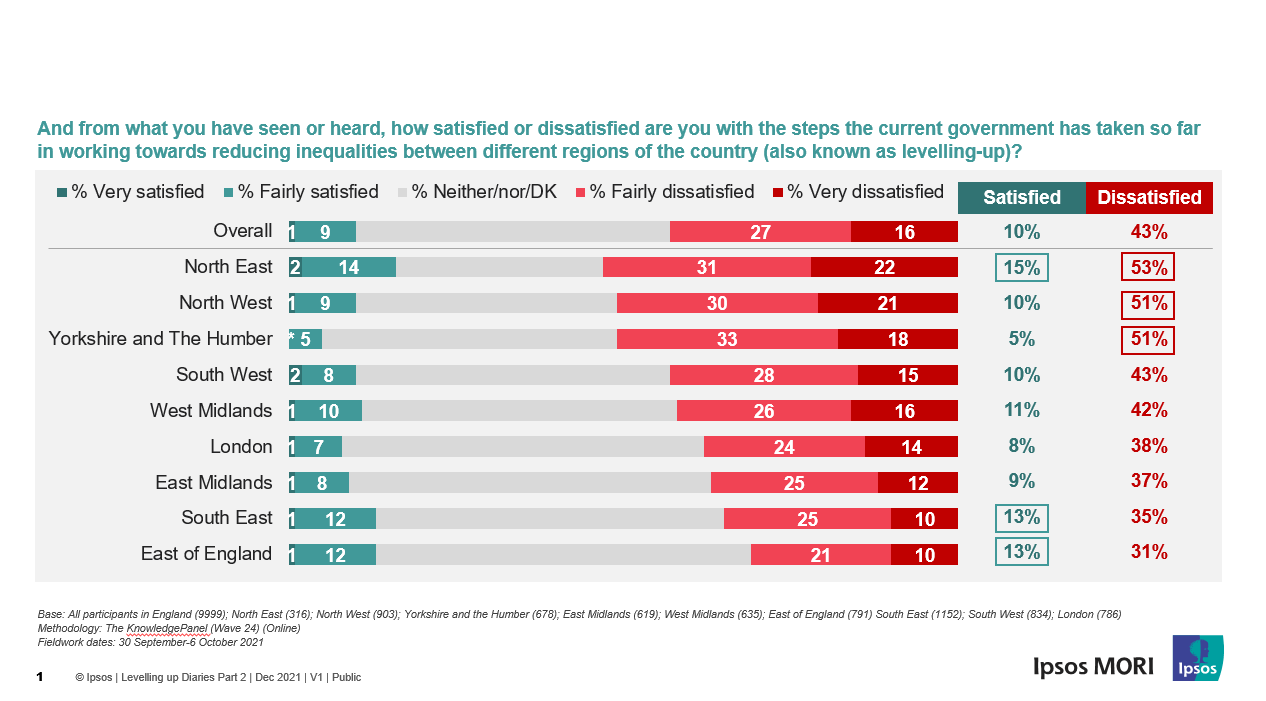 However, there is the Levelling up white paper to come, so perhaps we should maintain our optimism and focus on what may lie ahead. As one of our diarists said.
"Thank you Michael Gove for giving me the confidence this will go ahead and improve life, not only in my area but throughout the UK". Participant, Wales.
Nicola Moss is the Managing Director of Ipsos North, based in Manchester.
You can catch up with the levelling up diaries here.
Watch Part 2 in our series of Levelling up Diaries below
Technical note
Ipsos interviewed online a representative sample of 9,999adults aged 16+ across England between 30 September and 6 October 2021.
Survey data has been collected by Ipsos's UK KnowledgePanel, an online random probability panel which provides gold standard insights into the UK population, by providing bigger sample sizes via the most rigorous research methods. Data are weighted by age, gender, region, Index of Multiple Deprivation quintile, education, ethnicity and number of adults in the household in order to reflect the profile of the population of England. All polls are subject to a wide range of potential sources of error.
Download