Majority of Britons are concerned about COVID-19 variants coming to the UK and support 2021 holiday ban to prevent
Majority Britons would be happy to ban holidays and travel from other countries in order to prevent the spread of a vaccine-resistant COVID-19 variant
New polling by Ipsos shows high levels of concern for vaccine-resistant COVID-19 variants coming to the UK. Four in five are worried about this happening (79%), including 39% who are very concerned. Only 18% are not anxious about this. 
While still high, levels of concern are lower among younger generations. Around 6 in 10 18-24-year olds (62%) are worried about new variants of COVID-19 compared to 86% of 55-75s. Women are more likely to be concerned, 82% say this while 75% of men feel the same. 
The proportion of Britons who are concerned about the general risk coronavirus poses to themselves has fallen to pre-lockdown levels. Now, 58% say they are worried about the effects of the virus on themselves, the same proportion as the first time we asked this question in March 2020. While a significant drop, a majority are still concerned. 
Concern for the risks COVID-19 poses to the country as a whole has fallen to its lowest level in the series, 78% say they are concerned.
With widespread concern about new variants, it is not surprising that a majority of Britons support a range of measures designed to prevent the arrival of any new variants. Support is highest for measures preventing the arrival of variants, rather than those focused on preventing the spread of any that may have already arrived.
Four in five (79%) are in favour of stopping people entering the UK from countries with higher levels of infections, 67% support stopping people returning from any other country. Seven in ten (70%) are in favour of making people quarantine in hotels when they return from any foreign country.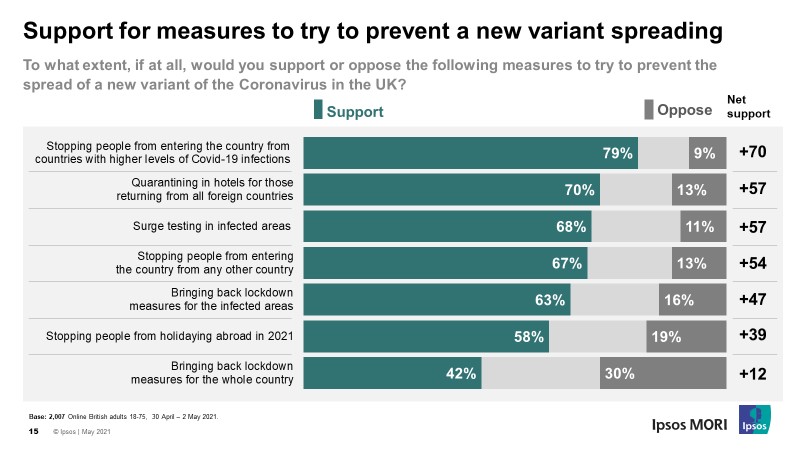 Almost seven in ten (68%) support surge testing in infected areas while 63% are in favour of bringing back lockdown measures for those areas. Around 6 in 10 (58%) would be happy to stop people holidaying abroad in 2021. Only 42% would be in favour of putting the whole of the UK back into a national lockdown. 
Overall, Britons are more likely to want to take whatever measures are necessary to control the spread of the virus. On a scale of 1-7, where 1 means wanting to take whatever measures possible, and 7 means wanting to relax restrictions, they are now doing more harm than good, people in the UK are most likely to choose options 1-3. However, one in ten (10%) say we need to relax restrictions now.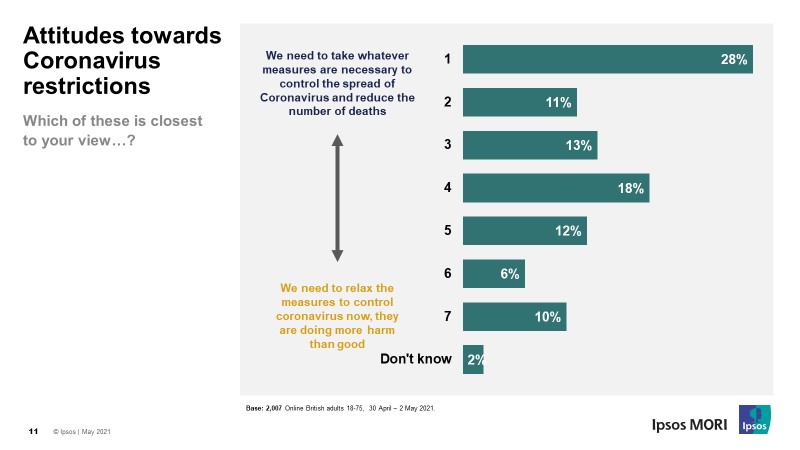 Kelly Beaver, Managing Director of Public Affairs at Ipsos, said:
Our latest polling on the pandemic shows that whilst people are generally less concerned about coronavirus, the public remain concerned about the potential for vaccine-resistant strains knocking our recovery off course. We are even prepared to sacrifice foreign travel if needed, with a majority of Brits saying they would support stopping people entering the UK from any foreign country in order to stop variants spreading at home – which may impact peoples summer holiday plans for another year.
Technical note:
Ipsos interviewed a sample of 2,007 adults aged 18-75 in Great Britain using its online i:omnibus between 30th April and 2nd May 2021. Data has been weighted to the known offline population proportions for age, working status and social grade within gender, government office region and education.  All polls are subject to a wide range of potential sources of error.
 
Download