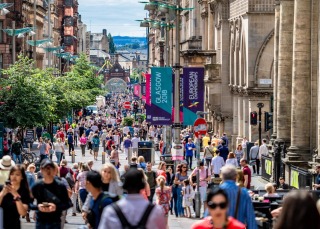 OUR SOLUTIONS
Ipsos has been delivering quality market research and insight to our clients in Scotland since 1997. We specialise in public policy research for the public, private and third sectors.
Our Edinburgh-based team combine an in-depth understanding of the distinct needs of Scottish clients, with the resources and reach of an international company. Our research ranges from small-scale, fast turnaround qualitative projects, to long-term, large-scale surveys, like the Scottish Household survey, and complex evaluations of Scottish policy interventions.
Our experts cover multiple policy areas, including business, children and families, crime and justice, education, energy and environment, health, housing, infrastructure, politics, public engagement and dialogue, and public sector reform.
Our omnibus surveys
'Omnibus' surveys allow clients to commission a number of questions, with the administration and operational costs shared across a number of clients. This makes them a cost-effective option for collecting robust data. Our current Scottish omnibus surveys include:
Scottish Opinion Monitor – a robust telephone survey with a representative sample of 1,000 adults (aged 16+) living in Scotland. Our Scottish Political Monitor is one of the only public opinion surveys in Scotland which contacts people by telephone rather than relying on opt-in panels – making it more representative of the Scottish public.
MSPs survey – an annual survey of MSPs, enabling you to assess and track their awareness and favourability towards your organisation.
Young People in Scotland – a school-based omnibus, devoted to exploring the views, experiences and aspirations of young people
Survey of Scottish Parents – which provides a unique opportunity to explore the views of parents of children aged 0-18
If you are interested in discussing a research project with us – whether large or small – please get in touch.
Latest publications and findings from Ipsos in Scotland
Our Scottish Political Monitor has been running since 2009, providing a unique times series on social and political attitudes, including voting intentions. Read our latest findings on voting intention, attitudes to independence, and more.
Our other recent publications include: