Scots split on how they intend to mark this week's royal wedding
A new poll by Ipsos has revealed a range of ways that Scots will mark this week's royal wedding, while highlighting that significant numbers will ignore the whole event
A new poll by Ipsos has revealed a range of ways that Scots will mark this week's royal wedding, while highlighting that significant numbers will ignore the whole event. Around 6 in 10 will participate in some way, most commonly through watching the event on TV live (37%) and/or recorded highlights (38%). Fewer than one in 10 (9%) will be having a party with friends and family, while just 4% will buy souvenirs of the occasion. At the same time, 4 in 10 Scots will do nothing (5%) or will be trying to ignore the event (35%).
Women and those in older age groups are most likely to participate in the event. Around half of women intend to watch the occasion live (53%) and/or as highlights (48%). On the other hand, half of all men (51%) report that they will ignore the wedding. These findings show little significant change from when Ipsos asked the same question in November 2010; it does however reveal that more Scots will be attending a party while fewer will be watching on TV.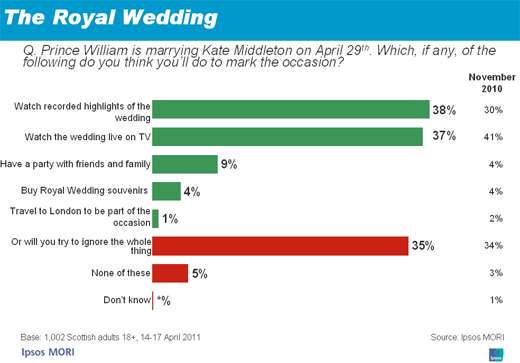 Technical note
We interviewed 1,002 adults aged 18 or over. Interviews were conducted by telephone between 14th and 17th April 2011. Data are weighted by age, sex, working status using census data, tenure using SHS 2007-2008 data and public-private sector employment by Scottish Government Quarterly Public Sector Employment series data.