Two in three support increasing national insurance for social care reform or to reduce NHS backlog
Half favour increased public spending, even if it means higher taxes or borrowing
Half favour increased public spending, even if it means higher taxes or borrowing
Majority say they are personally willing to pay more tax to achieve a "net zero" economy or help "level up" regions – but less so to reduce the deficit
Ipsos's latest Political Monitor reveals around half (49%) of Britons want the Government to increase spending on public services, even if that means higher taxes or more government borrowing. A third (34%) think spending on public services should be kept at the current level, whilst just 9% say spending should be reduced to allow for tax cuts or less government borrowing.
That said, support for increased public spending has been slipping from two in three (66%) towards the end of 2018 and a firmer majority (56%) just before the 2019 General Election. There are also partisan divides with 2019 Labour voters wanting more spending than Conservative supporters (74% vs 40%). Although even among those Conservatives, few (8%) favour cuts to spending, with 44% instead wanting to keep it at current levels.
Public opinion is divided over what the Government will actually do. Around a third each think it will either keep spending at current levels (34%) or reduce it (32%), whilst slightly fewer (27%) expect them to actually increase spending. This latter figure has dropped from over a third (35%) expecting increases in October 2019.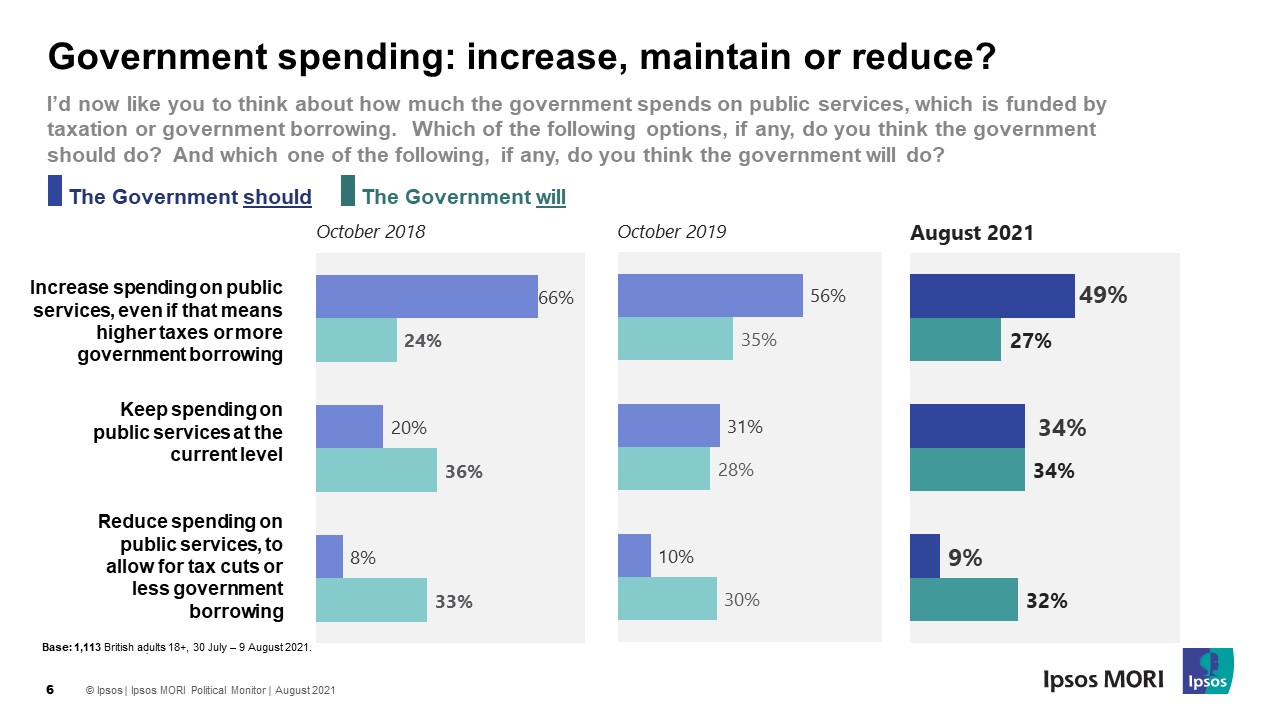 Rumoured earlier in the summer, the poll also shows two in three would support a one percentage point increase in national insurance contributions to help pay for social care reform (64%) or to reduce the backlog in the NHS caused by the pandemic (65%). Around one in five oppose either of these proposals (18%, 19% respectively).
In both cases, there is little partisan divide, with similar levels of support from Conservative and Labour 2019 voters alike. However, although on balance still in favour of the tax increase, young people are relatively less supportive (in each case 56% of 18-34-year-olds versus 73% of those aged 55 or over).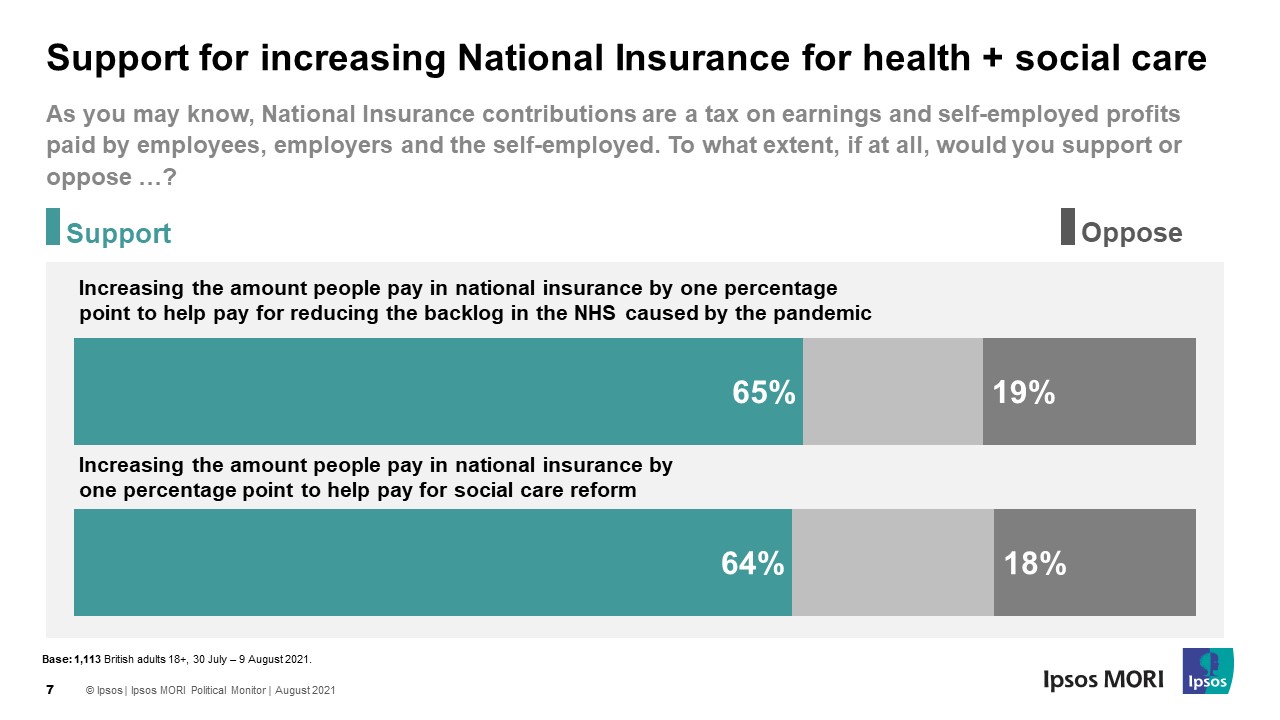 The majority also say they are personally willing to pay more in taxes to help pay for the cost of turning Britain into a "net zero" economy (60% - defined as 'meaning significantly reducing carbon emissions from many different activities, such as driving cars, producing food, and use of electricity, and balancing out the remaining emissions by technologies and actions that reduce greenhouse gases') or to fund the "levelling-up" agenda to reduce inequalities between different regions of the country (51%). Around one in four say they are unwilling in each case (22%, 25% respectively).
Traditional party divides are more apparent here. Three in four (74%) Labour 2019 voters are willing to pay more tax to achieve net zero, compared with half of Conservatives (52%). This is similar when looking at levelling up (67% of Labour supporters willing versus 42% of Conservatives). In this case, young people are most likely to say they are very willing to pay taxes to help pay for the cost of net zero (39%, vs 26% of those aged 55 and over).
There is somewhat less willingness among the public to pay more to reduce the deficit in public finances caused by increased spending during the pandemic. Forty-four per cent say they are willing to pay more to help reduce this, whilst just over a third (35%) are not (with little difference by 2019 vote).
Meanwhile, whilst still marginally positive, economic optimism continues to slip from its peak a couple of months ago. Forty-four percent think the economy will improve over the next twelve months, whilst two in five (39%) think it will get worse. This leaves an Economic Optimism Index of +5 (down from +22 in June).
Gideon Skinner, Head of Politics at Ipsos, says of the findings:
Even though it might have been dampened by the pandemic, there is still some appetite amongst Britons for more spending on public services. In particular, they can be persuaded to support tax rises that will be used to pay for improvements to public services, as Gordon Brown found in 2002 and as we may find again with proposals to raise National Insurance to pay for social care reform or to clear the NHS backlog. Even past Conservative supporters are in favour of these, although young people are slightly less supportive of the rise than older groups (unlike taxes to pay for net zero).
Technical note
Ipsos interviewed a representative sample of 1,113 adults aged 18+ across Great Britain. Interviews were conducted by telephone: 30th July to 9th August 2021. Data are weighted to match the profile of the population. All polls are subject to a wide range of potential sources of error. On the basis of the historical record of the polls at recent general elections, there is a 9 in 10 chance that the true value of a party's support lies within 4 points of the estimates provided by this poll, and a 2 in 3 chance that they lie within 2 points. This is especially important to keep in mind when calculating party lead figures.