Women in Tech Survey 2021
WeAreTechWomen partnered with Ipsos and the Tech Talent Charter to look at the barriers women face in the tech industry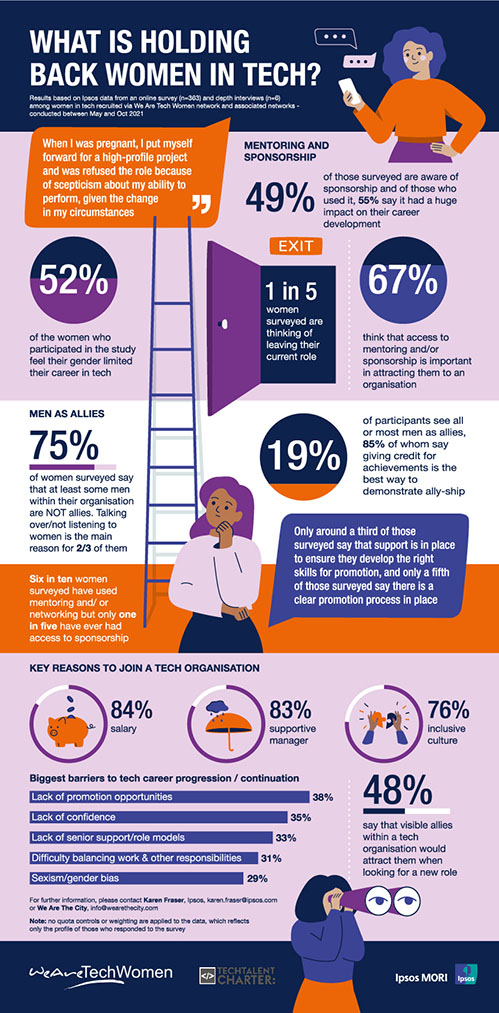 Six years ago, WeAreTheCity created WeAreTechWomen as a platform to help women in the tech industry thrive in their careers. Since then, we have built an amazing community of over 50,000 women through that platform, and we have hosted over 50 tech events, forums and workshops to connect, engage and upskill that community.
In 2021, WeAreTechWomen and the Tech Talent Charter partnered with Ipsos to conduct new research. Participants were recruited using the WeAreTechWomen network and other associated networks. Key objectives were to explore the perceived barriers for the women surveyed in terms of progressing their careers, as well as to identify what was important to them when seeking new roles. This report highlights the key issues they raised and provides recommendations to organisations that are committed to addressing the imbalance of women in tech and supporting the careers of their female tech talent.
The research canvassed the views of 369 women across a multitude of sectors. The findings included in the infographic show that 1 in 5 women in tech are thinking of leaving their jobs. With just 21% of women working in the tech industry*, if they chose to leave this would have a significant impact in terms of female representation in the sector. The findings also highlighted that 58% of respondents said that visible role models are one of the things that attract them to organisations but noted the lack of female representation at the top of their organisations. The other key finding was that only a third felt that processes and systems were in place to prepare them for promotion.
Mentorship was highly attributed to aid career progression; however, sponsorship opportunities appear to be lacking, with only 1 in 5 stating they have access to sponsorship programmes. Of those who did have access to sponsorship, 55% of them said it has greatly benefitted their career.  With regard to male allies, over 75% of survey respondents stated that at least some men are not allies, two thirds of whom finding that men talk over them or don't listen in meetings. Only 19% of those surveyed see all or most men as allies, with 85% citing the best way to demonstrate allyship is by giving credit for achievements. It is no surprise that 29% of our respondents also stated they have experienced sexism or gender bias in some form. It is also interesting to see that salary has now become the main driver in terms of women joining a tech organisation (84%), followed by supportive managers (83%) and an inclusive culture (76%).
* 2019 ONS Data
Sue Phillips, President, Ipsos Gender Balance Network, said:
Few disagree that a better gender balance is better for the technology industry and those working in the myriad of tech functions within every business. As with all companies addressing similar challenges, there is no silver bullet which will bring overnight change. However, this research highlights the potential cost of doing nothing (1 in 5 women working in tech are thinking of leaving their current role).
This is not about fixing women. This is more about fixing the environment and culture in which they work. Transparency of promotion opportunities, increased awareness of bias (conscious and unconscious) and policies that acknowledge the distinctive needs of working women could all have material impact on women's likelihood to remain within an organisation.
Ipsos has been proud to partner with WeAreTheCity to give leaders in tech some clear actions that will improve the gender balance in their organisations.