Brits' concern about COVID-19 falls, but still high as many continue to take precautions
69% say they are concerned about the risk Coronavirus poses to the country as a whole.
Concern about the economy is higher than concern about new waves or further lockdowns, though many worry about both
Worry about another lockdown sees the biggest decline
New UK polling by Ipsos finds that whilst the majority of people remain concerned about COVID-19, there has been a decline in concern since January. Six in ten (59%) say they are concerned about the risk covid poses to them personally, down 6 percentage points from early January and back to the level seen last October.  Meanwhile concern about the impact on the country as a whole also falls from 77% in January to 69%.  Whilst this is still high, it is the lowest proportion saying they are concerned about the risks posed to the country since the pandemic began in March 2020 (previous low 76% in October 2021).
Despite overall concern dropping, a majority of people are still worried about the year ahead
72% are concerned about the economy going into recession, although this is down marginally by 4 percentage points from 76% in July last year.  
Concern about new vaccine-resistant variants of Coronavirus is at 67%, compared with 74% in October and 80% in July 2021
Two-thirds of people (66%) remain concerned about another wave of Coronavirus cases, although this is down from 8 in 10 last year.
There has been a large fall in the number of people concerned about further lockdowns, from 68% last October to 52% now, and a drop in worry about the re-introduction of restrictions such as masks and social distancing, now also at 52%.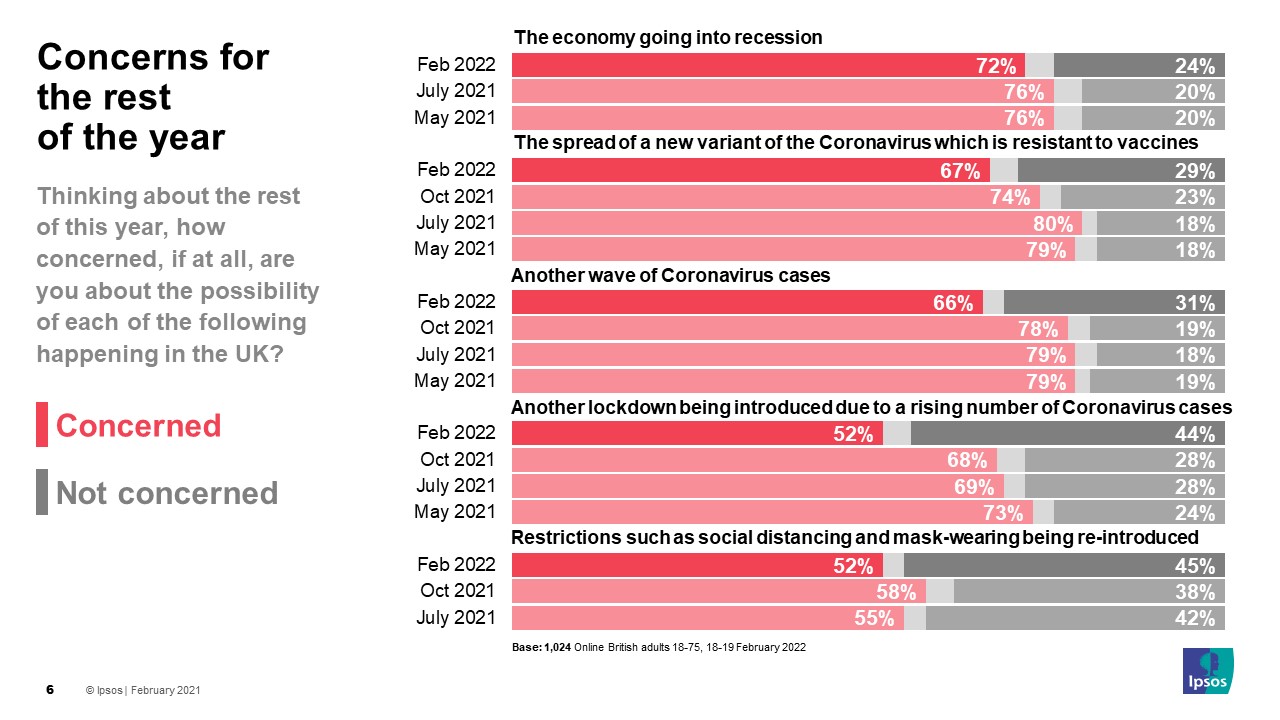 Most Brits continue to take measures to protect themselves and their families
When asked about what precautions people are taking and plan to take to avoid catching COVID-19 in the coming weeks, most people said they were already or planning to wash their hands/sanitise regularly (87%), wear a face mask (83%) and keep their distance when socialising (78%).  Whilst 71% said they received their booster jabs to protect themselves, with a further 10% planning to do so.
Gideon Skinner, Head of UK Politics, Ipsos, says:
This month we can see a clear downward movement in our Ipsos COVID-19 concern tracker, however, our data also shows that the majority of people continue to worry about the pandemic and that many of us are continuing to take our own precautions – even though anxieties about another lockdown have clearly receded.
Two thirds of people remain concerned about further waves of the virus and the potential of vaccine resistant strains, but even more people are concerned about the economy going into recession, with 7 in 10 saying they are worried about this issue.
Tehnical Note
Ipsos interviewed a representative sample of 1024 British adults aged 18-75. Interviews were conducted using its online omnibus between 18-19 February 2022. Data are weighted to match the profile of the population. All polls are subject to a wide range of potential sources of error.