Elected mayors across England seen in positive light although more for standing up for their regions than service delivery
Public expects joint working between Westminster and mayors when it comes to delivering the "levelling up" strategy
In advance of the upcoming Mayoral elections, Ipsos has conducted research across England on perceptions of their impact on their areas and the public's expectation for greater collaboration with the government in Westminster in the future, and how this differs by regions with and without mayors, and by party support. The poll was conducted on Ipsos's new online random probability UK KnowledgePanel with 2,083 English adults aged 18+ in December last year:
Perceptions of the impact of city region mayors are positive overall
There is a general perception that city region mayors have had a greater positive than negative effect on their local areas. Just over half of people (54%) think they have positively impacted the delivery of services to the cities and regions they represent compared with one in ten (10%) who think the impact on service delivery has been negative.
Mayors are generally perceived to be advocates for their city regions and promote them across the UK – 56% say mayors have positively promoted their area across the UK with only one in ten (9%) thinking it has been negative.
However, across all measures around one in five say mayors have had no impact, and at least one in ten don't know.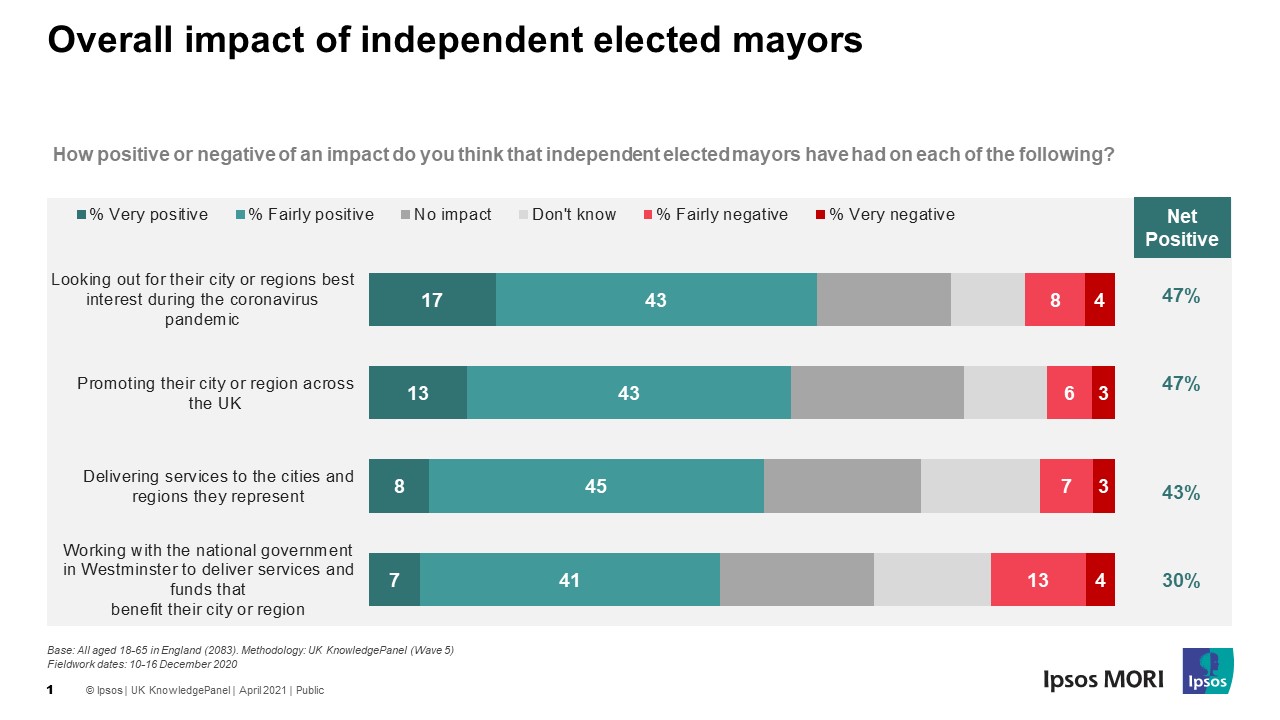 City region mayors are also seen to have looked out for their areas during the COVID-19 pandemic
Asked whether mayors have been 'looking out for their city or regions' best interests during the coronavirus pandemic', three in five (60%) think they have had a positive impact, with only 13% thinking they have had a negative impact.
One in six (17%) think mayors have had a 'very positive' impact when it comes to looking out for their areas.
However, still potential for mayors to have greater impact on service delivery and bringing in more funds by working effectively with Westminster
Mayors get their lowest score for "working with the national government in Westminster to deliver services and funds that benefit their city or region".  Around half, 47%, say they have had a positive impact here, but only 7% are very positive.  Meanwhile, 17% think the impact has been negative, while 21% say there has been no impact and 15% don't know.
Similarly, just under one in ten (8%) think mayoral impact on frontline service delivery has been 'very positive' – 45% think it has been 'fairly positive'.
Views are positive across the country, but slightly higher in current mayoral areas than those without one.  London though tends to have the most critics.
The balance of opinion towards elected mayors is positive in both mayoral and non-mayoral areas.  But areas with their own mayor are more likely to be very positive.  For example, in mayoral areas 23% are very positive about the role of mayors in looking out for their regions best interests during the pandemic, compared with 13% in non-mayoral areas. For promoting their region across the UK the figures are 17% vs 11%.
On several measures, while Londoners have as many advocates for mayors as other areas, they also have more critics.  For example, 20% in London say majors have had a negative impact on delivering services, compared with 4% for people in other mayoral areas.  On working with the Westminster government to benefit the region they represent, 25% of Londoners are negative, compared with 14% of those in other mayoral areas.
Labour voters more likely to say mayors have had a positive impact than Conservative voters
Labour voters are especially positive about the impact of mayors.  For example, on their impact on delivering services (67% positive compared with 45% of Conservatives), promoting their city or regions across the UK (69% positive compared with 48% of Conservatives) and in particular looking out for their city/regions during the pandemic (75% compared with 48% of Conservative voters).
In future, there is an expectation of the government in Westminster to collaborate with city region mayors
Four in five (82%) think it's important for the Westmisnter government to work with the mayors when deciding how to deliver funding for 'levelling up' projects in their city or region.
Matthew Bristow, Research Director at Ipsos said:
Nationwide there is a recognition that the impact of mayors have been broadly positive. They are seen as advocates for their city regions and were seen to have stood up for their residents during the course of the pandemic. Moving forward there needs to be a renewed focus on frontline service delivery as there is some disparity in opinions across the country as to the positive impact they have had in this area, particularly in London. There is also a message from voters, which is for Government and city region mayors to collaborate across the political divide to deliver funding for projects aimed at levelling up the country
Technical Note
Ipsos interviewed a representative sample of 2,038 adults aged 18+ across England.  This data has been collected by Ipsos's UK KnowledgePanel, a random probability panel which provides gold standard insights into the UK population, by providing bigger sample sizes via the most rigorous research methods. Interviews were conducted 10th-15th December 2020. Data are weighted to the profile of the population. All polls are subject to a wide range of potential sources of error.