Despite a chaotic 2020, Britons are feeling good about 2021
Almost three-quarters (73%) of Britons are optimistic that 2021 will be a better year for them than 2020 according to the predictions poll from Ipsos Global Advisor
In a new global survey in 31 countries, a majority of Britons are hopeful for 2021, despite the events of 2020. Almost three-quarters (73%) are optimistic that 2021 will be a better year for them than the past 12 months.
However, many are cautious: less than a quarter (23%) think it is likely that life will return to normal in the next year; France is the only country where fewer people expect to see a return to normality. Indeed, a third of Britons say it is likely that there will be another pandemic from a new virus.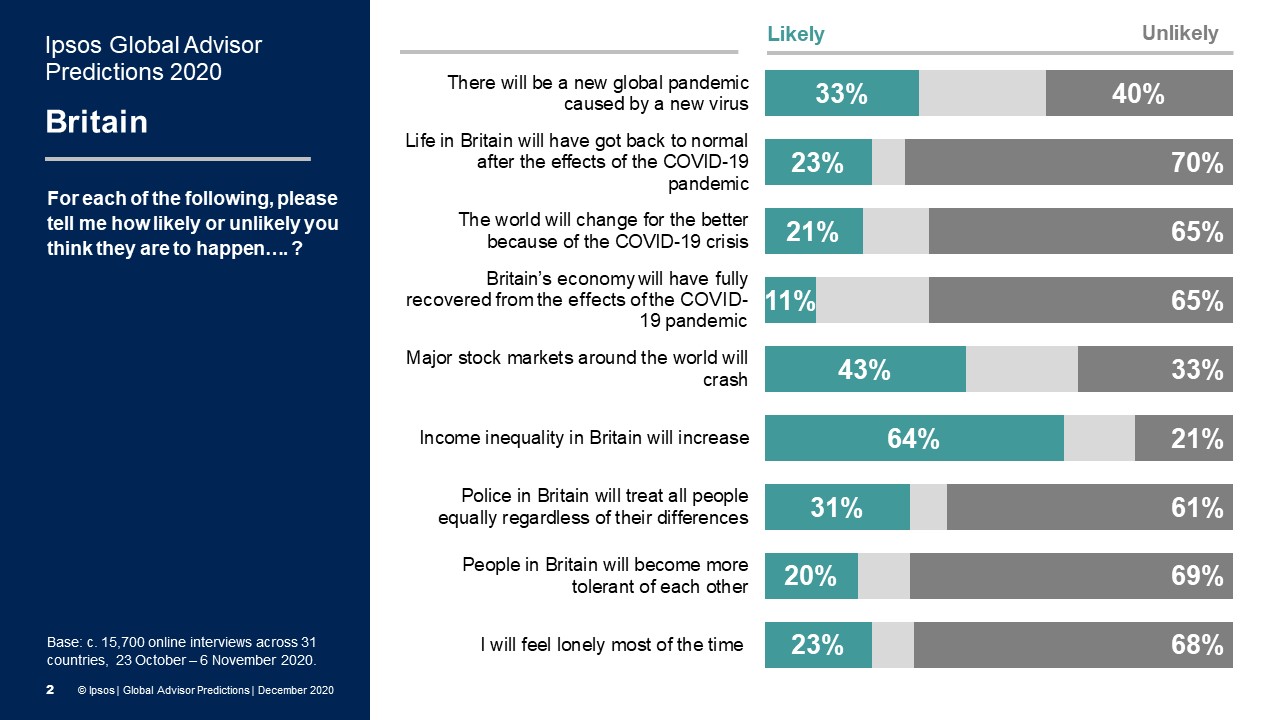 The starting point is bleak: looking back to 2020, over 9 in 10 (94%) of Britons say it was a bad year for the country, only those in Argentina, France and South Africa are more likely to agree (95%). Seven in ten say 2020 was bad for them and their families, up from 42% who said the same in 2019.
This new survey finds just 21% of Britons saying it is likely that the world will change for the better as a result of the pandemic, with three times as many (65%) saying this is unlikely. Perhaps underpinning this pessimistic outlook, more than 8 in 10 (83%) in Britain say it is unlikely the economy will recover from the effects of COVID-19 in the next year, the highest number among the 31 countries surveyed.
What's more, over 4 in 10 (43%) expect stock markets around the world to crash next year. Meanwhile, almost two-thirds (64%) expect income inequality to rise.
Only 3 in 10 expect police in Britain to treat everyone equally, regardless of their differences while even fewer expect people to become more tolerant of one another (20%). Almost a quarter say it is likely they will feel lonely most of the time (23%).
The biggest threat, as perceived by Britons, is global warming. Over three-quarters (77%) believe global temperatures will continue to increase in 2021. Other threats, such as discovery of ghosts, a visit from aliens and an asteroid hitting the Earth are much less worrying to Brits, only 1 in 10 (9%) think these events are likely.
Other findings include:
58% think the wide distribution of a successful COVID-19 vaccine in Britain is likely
6 in 10 (61%) expect to see people wearing face masks in public places in a year's time
Over 4 in 10 (43%) expect the global economy to be stronger in the coming year
Nearly 7 in 10 (68%) say it's likely that they will spend more money shopping online than in-store next year
Less than a third (31%) believe women will be paid the same as men for the same work
Almost 2 in 5 (38%) think it's likely they will make a new friend in their local area next year
A third (34%) say the number of people living in big cities is likely to shrink
While only 14% expect human cloning to be legalised in some countries next year, 22% think robots will look like, speak like and think like humans
A third (32%) say it is likely that one of their online accounts will be hacked in the year ahead
Under 1 in 10 (9%) believe humans will become extinct in the coming year
Three in 5 (61%) say they will make resolutions for the year ahead
Sarah Castell, Ipsos's Head of Futures, said:
After a very tough year, the majority of people globally are optimistic that 2021 will be better.  However, the predictions reveal warnings about the future, in areas like the economy, in climate change, our mental health and income inequality.  We should remember that the future is never about one single prediction, it is more complex – so we can use these predictions to help us discuss our hopes and fears, as we think about the future we want to create.
Technical Note
These are the results of a 31-market survey conducted by Ipsos on its Global Advisor online platform. Ipsos interviewed a total of 23,007 adults aged 21-74 in Singapore, 18-74 in the United States, Canada, Hong Kong, Israel, New Zealand, Malaysia, South Africa, and Turkey, and 16-74 in 22 other markets between October 23 and November 6, 2020.
The sample consists of approximately 1,000 individuals in each of Australia, Belgium, Brazil, Canada, mainland China, France, Germany, Great Britain, Italy, Japan, Spain, New Zealand, and the U.S., and 500 individuals in each of Argentina, Chile, Hong Kong, Hungary, India, Israel, Malaysia, Mexico, the Netherlands, Peru, Poland, Russia, Saudi Arabia, Singapore, South Africa, South Korea, Sweden, and Turkey.
The samples in Argentina, Australia, Belgium, Canada, France, Germany, Great Britain, Hungary, Italy, Japan, the Netherlands, Poland, South Korea, Spain, Sweden, New Zealand, and the U.S. can be taken as representative of their general adult population under the age of 75.
The samples in Brazil, Chile, mainland China, Hong Kong, India, Israel, Malaysia, Mexico, Peru, Russia, Saudi Arabia, Singapore, South Africa, and Turkey are more urban, more educated, and/or more affluent than the general population. The survey results for these markets should be viewed as reflecting the views of the more "connected" segment of their population.
The data is weighted so that each Market's sample composition best reflects the demographic profile of the adult population according to the most recent census data.
Where results do not sum to 100 or the 'difference' appears to be +/-1 more/less than the actual, this may be due to rounding, multiple responses, or the exclusion of "don't know" or not stated responses.
The precision of Ipsos online polls is calculated using a credibility interval with a poll of 1,000 accurate to +/- 3.5 percentage points and of 500 accurate to +/- 5.0 percentage points. For more information on Ipsos' use of credibility intervals, please visit the Ipsos website. The publication of these findings abides by local rules and regulations.