Ipsos EU Referendum Prediction Poll
Ipsos's final poll before the referendum on Britain's membership of the European Union shows a tight race.
Final poll of the campaign shows a tight race
Immigration and the economy the two most important issues for voters
Most believe David Cameron was right to hold the referendum
Ipsos's final poll before the referendum on Britain's membership of the European Union shows a tight race. The poll reveals among those most likely to vote and who say the result is important to them 52% will choose Remain while 48% will choose Leave (excluding the undecideds).
From our figures, the probability of Britain voting to Remain in the European Union is 74%, using the model developed by Number Cruncher Politics. This means there is still a one in four chance of Brexit. Please see further details in the note below.
One week ago we saw leave ahead by 53% to 47%.  Based on likely voters only (not on those who say the result is important as well), the equivalent figure in this poll is 49% leave 51% remain. And there is still scope for further shifts: 12% say they may change their mind before going to the polling station. There is little difference when it comes to voting stance however. Nine in ten (88%) Remain voters say they have definitely decided (11% may change their mind) compared with 85% of Leave voters (14% who may change their mind).
The final poll shows just how divided the public are when it comes to deciding Britain's fate. Younger Britons are more likely to support staying in over older citizens. Two in three (64%) 18-34 year olds and 58% of 35-54 year olds say they will vote Remain compared with 40% of those aged 55+. A large class divide is also apparent where 57% of ABC1s say they will vote to stay in EU, compared with less than half (45%) C2DEs. Britain's regions also see things differently from each other with London and Scotland most in favour of staying in while the North of England and the Midlands are most in favour of Brexit.
Party support is also a strong indicator of where voters stand on the referendum debate. When looking at party voted for in the 2015 general election 68% of Labour voters say they will vote Remain and seven in ten (77%) Liberal Democrats come out in favour of Remain. David Cameron's own party however takes a different view, with two in five (43%) of 2015 Conservative voters choosing Remain and 57% going against their leader's wishes to vote Leave. Unsurprisingly nearly all (98%) of UKIP voters say they will vote to leave the EU.
Immigration remains the top issue for voters running up to the referendum although the economy has gained some ground since last week's poll. One in three (32%) mentioned immigration as one of their most important issues in helping them decide how to vote (no change) compared to 31% mentioning the economy (up 3 points). Immigration was picked out by more than half (54%) of Leave voters but by only 12% of those voting Remain. The economy was the issue that stood out as most important for Remain voters (mentioned by 46%) while only mentioned by one in five (19%) of those voting Leave. Other important issues mentioned by the public were Britain's ability to make its own laws (16%), the impact on jobs (11%), the cost of immigration on the welfare system (11%) and Britain's ability to trade with other EU countries (10%).
Despite the referendum outcome being close, a majority of the public believes that Britain will vote to stay in the EU: 53% say Britain will vote to remain in the European Union (up from 47% from last week) while one in four (26%) believes it will vote to leave – one in five (21%) say they don't know. Remain voters are optimistic their side will seize the day with seven in ten (69%) saying the vote will be to stay in the EU (11% say it will vote to leave). Leave voters are split with 41% saying the country will vote to remain and 39% saying the result will be Leave.
The public are divided when it comes to David Cameron's fate if Britain does vote to leave the EU. Two in five (40%) think he should resign as Prime Minister and 45% say he should continue. Despite most 2015 Conservative voters thinking Mr Cameron should continue as Prime Minister (63%), three in ten (31%) of his own party believes he should step down. Just under half (45%) of Labour voters also thinks Mr Cameron should resign (36% think he should continue) while two in three (68%) UKIP voters think the PM should go (20% think he should stay).
Irrespective of views on the preferred outcome of the referendum most believe David Cameron was right to call it (66%) while one in four (24%) think he was wrong. Leave voters however were more likely to say it was the right thing for the Prime Minister to do (85% vs. 8% who say he was wrong) when compared to half (50%) of Remain supporters (40% believe he was wrong). Gideon Skinner, Head of Political Research at Ipsos, said:
"Our final poll suggests it is very close, and even though remain has had more momentum this week, probability models suggest Leave still has a one in four chance to win. The referendum has revealed clear splits among the British public – they themselves just about expect remain to win, but many simply don't know – even as one in eight could still change their minds. Despite it all though, two in three think calling the referendum was the right thing to do."
Infographic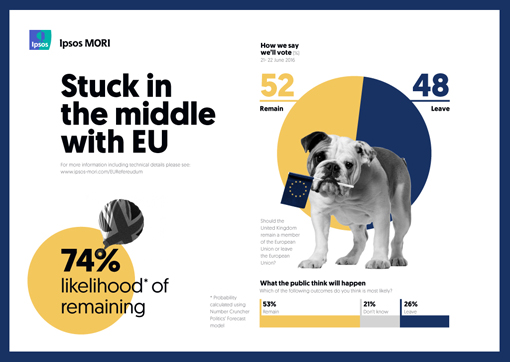 SlideShare
Downloads
Technical Note
Ipsos interviewed a representative sample of 1,592 adults aged 18+ across Great Britain. Interviews were conducted by telephone 21st-22nd June 2016.  We included educational attainment quotas and weights, and base voting figures on all registered with our standard turnout filter, plus a measure of how important the referendum outcome is to individuals, to help identify motivated voters.  The figure based on our standard turnout filter alone is 51% remain/49% leave, as given in the text (excluding don't knows).  See here for more information.
Tech note on Remain probability:
The probability measure for Remain is an estimate of the likelihood that there will be a vote for Remain on Thursday and is calculated from what we believe to be the best available information about the uncertainty of the measure. It can be considered to be a measure of our confidence that there will be a remain vote – the higher the value of the probability, the more confident we are that there will be a vote for Remain. The Remain probability measure applies the approach used in the Number Cruncher Politics website to the estimate from our final poll and was produced in collaboration with them.
Calculation of the remain probability measure uses a larger estimate of the margin of error than that traditionally used for single poll. This estimate takes account not just the uncertainty in that one sample selected, but also from other forms of error, as well as the uncertainty around the status quo effect. This margin of error was estimated by Number Cruncher Politics by modelling the uncertainty in historic data. Rather than using a margin error of around ±3.5% as is usual for a single poll, the margin of error currently estimated by Number Cruncher Politics is ±8. While this appears to be a large estimate for the uncertainty, thus implying conservatively large confidence intervals, it does match that used by the Bookmakers when converting odds for an overall win for Remain to those for the ranges of actual percentage that voted Remain.
When we apply this margin of error to the result from our final poll (52% Remain) and factor in the estimate of the status quo effect estimated by Number Cruncher Politics, this gives an estimate for the likelihood of an overall vote for Remain of 74%.