Ipsos Issues Index May 2022: Public concern about inflation reaches its highest level for 40 years
Concern for inflation increases by 9 percentage points since last month while Britons also worry about the economy in general, defence and foreign affairs and lack of faith in politics/politicians
Four in ten of the British public say inflation and prices are one of the biggest issues for Britain – up by nine percentage points since April
The economy more widely is the second-most mentioned issue, followed by defence and foreign affairs
Lack of faith in politicians and politics rises as a concern and is now mentioned by seventeen per cent
The May 2022 Ipsos Issues Index confirms that public concern about inflation and prices continues to rise.
Forty-one per cent of the British public mention cost-of-living issues as a big concern for the country, up from 32% last month. This is the highest level of public concern recorded since the Issues Index became a regular monthly poll in the early eighties, although still behind the peaks it reached in the 1970s and very beginning of the 1980s. In April 1980, 69% saw inflation as a big concern, but by the next recorded measure in September 1982 this had fallen to 32%.
The wider economy and defence and foreign affairs issues remain the second- and third-most cited issues this month on similar scores to April: just over a quarter are worried about the economy (27%) and one in five about defence (19%).
There has been a five-percentage-point increase in concern about a lack of faith in politicians and politics this month, making it the fourth-biggest issue for the country with 17% mentioning it.
As with last month, both Brexit and the COVID-19 pandemic remain lower on the list of public concerns. Only around one in ten of the public mention either issue as one of the biggest concerns for Britain. On eight per cent, COVID-19 ranks as the tenth-biggest issue alongside immigration, education and petrol prices.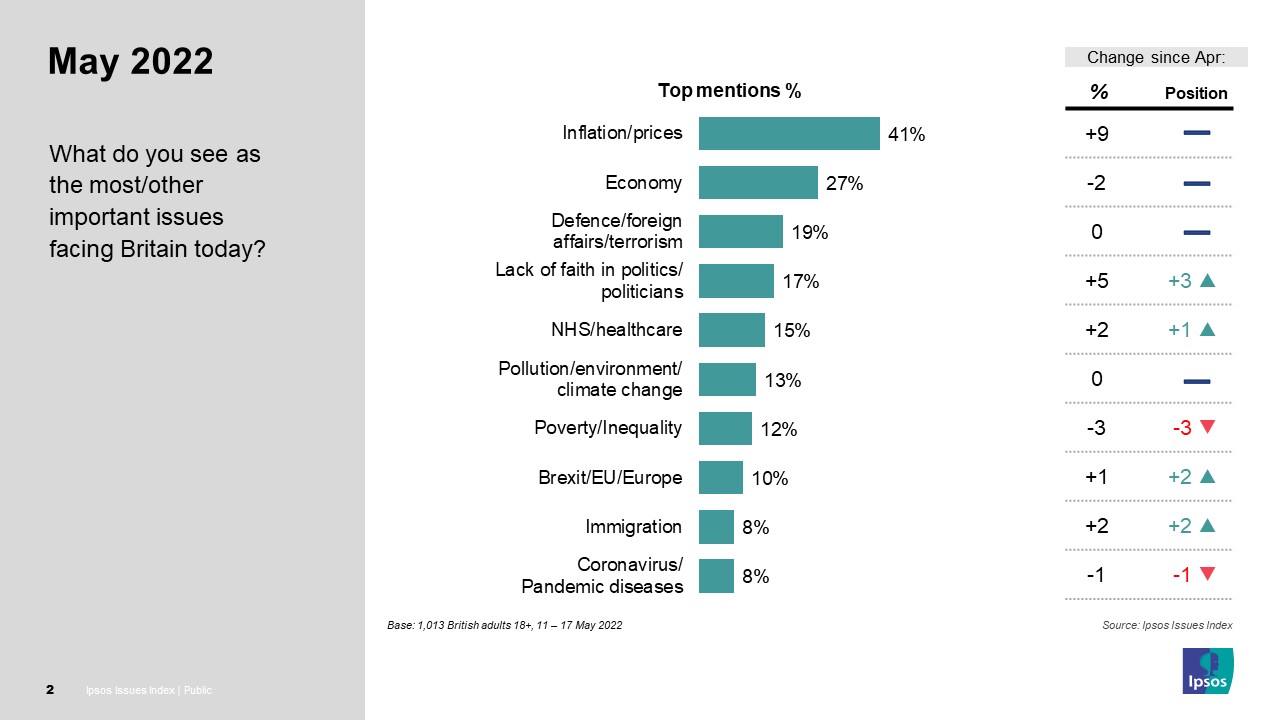 Inflation has become the biggest issue for a wide range of groups; it is the biggest concern for people of all ages and social grades. Some groups stand out as especially likely to mention this as a concern: those aged 35-44 (51%) and people who own their home on a mortgage (49%) in particular are significantly more likely than average to mention inflation as a worry.
Those with higher household incomes are also particularly likely to mention prices and inflation. Among households with an income over £50,000 per year 48% mention this as an issue, significantly higher than the national average of 41% (concern among those on lower incomes is around the national average, at 44% among those earning £25-£50,000 per year and 42% for those under £25,000).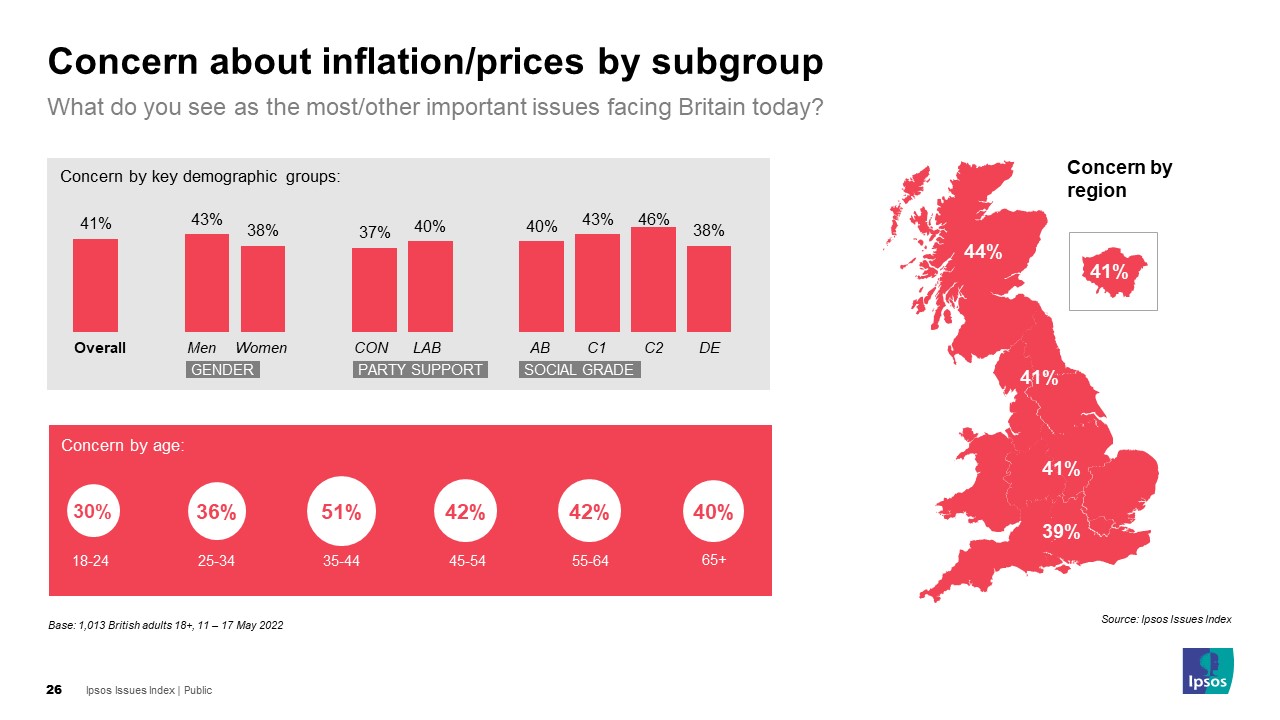 Mike Clemence, a researcher at Ipsos, said:
Concern about inflation is now clearly the biggest issue facing the country, for people of all ages, social grades and incomes. The proportion worried about the cost of living this month is the highest level we've recorded in more than 40 years of the Index.

Against this backdrop other issues appear to have less traction – and we know that the public expects prices to continue to rise and are already changing their behaviours in response, so the focus on the cost of living crisis is unlikely to go away any time soon.
Technical note
Ipsos' Issues Index is conducted monthly and provides an overview of the key issues concerning the country. Ipsos interviewed a representative sample of 1,013 adults aged 18+ across Great Britain. The answers are spontaneous responses, and participants are not prompted with any answers. 
Ipsos' telephone omnibus was used for this survey. Interviews were conducted between 11 and 17 May 2022 across Great Britain. Data are weighted to match the profile of the population.