Labour extends lead over Conservatives as most trusted to address cost of living
37% trust Labour most to "reduce you and your family's cost of living" compared to 22% who trust the Conservatives most.
7 in 10 Britons expect economy to worsen in next 12 months
Labour lead Conservatives by 15 points on which party is most trusted to deal with the cost of living
Conservatives still most trusted to grow the economy but lead has fallen slightly
The latest Ipsos Political Monitor, taken May 11-17th shows the Labour Party extending their lead over the Conservatives as most trusted on dealing with the rising cost of living in Britain.
Key findings include:
37% of the British public trust Labour most to 'reduce you and your family's cost of living' compared with 22% who trust the Conservatives most. This 15-point lead for Labour is up from 9 points in March but similar to the 17-point lead witnessed in January.
The Conservatives remain most trusted to 'grow Britain's economy' over Labour by a margin of 36% to 27%. This 9-point lead compares to a 13-point lead in March and a 6 point lead in January.
72% of Britons expect the economic condition of the country to worsen in the next 12 months (+2 points from April), 15% say improve (+1), 10% stay the same (-2 points), 3% don't know (-1 point).
In terms of voting intention, the picture is largely unchanged from April. Labour lead the Conservatives by 6 points. Labour 39% (-1 point from April), Conservatives 33% (-2), Lib Dems 12% (+2).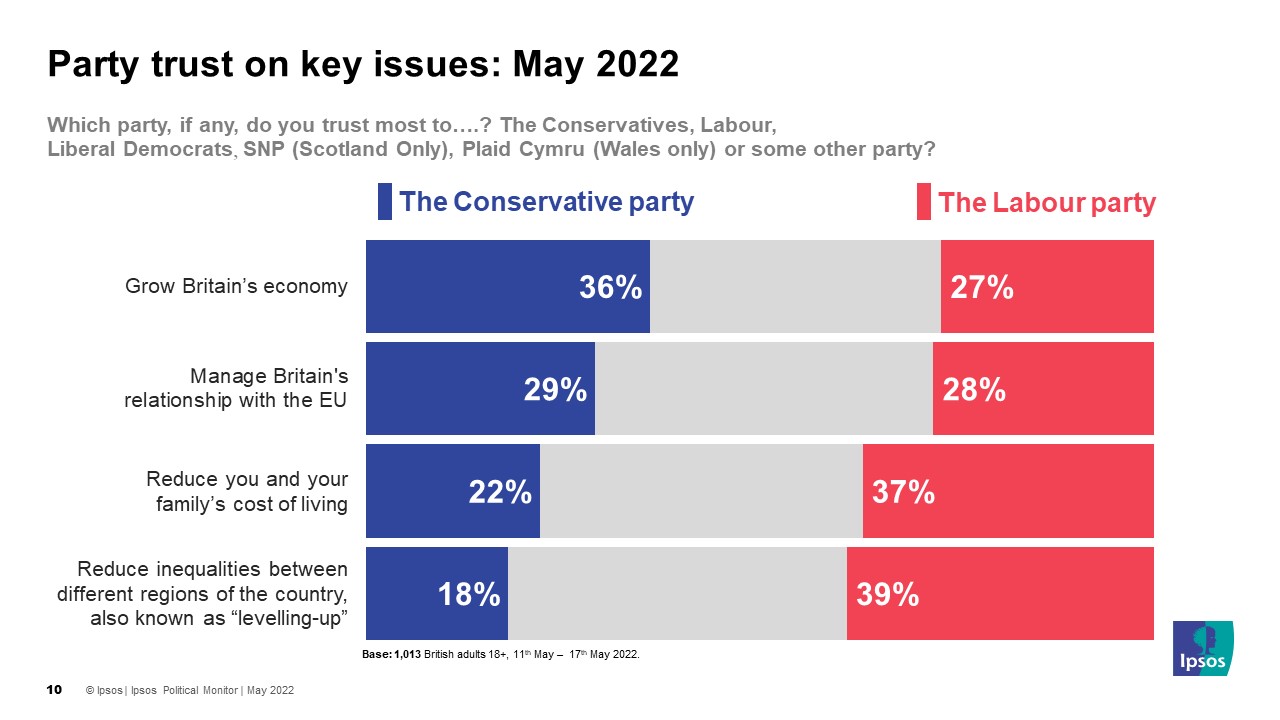 What cutbacks are people making?
In the poll, the public were asked what cutbacks they had made since the start of the year to deal with the rising cost of living. A majority of Britons claim to have made noticeable reductions in their use of heating, electricity or water in response.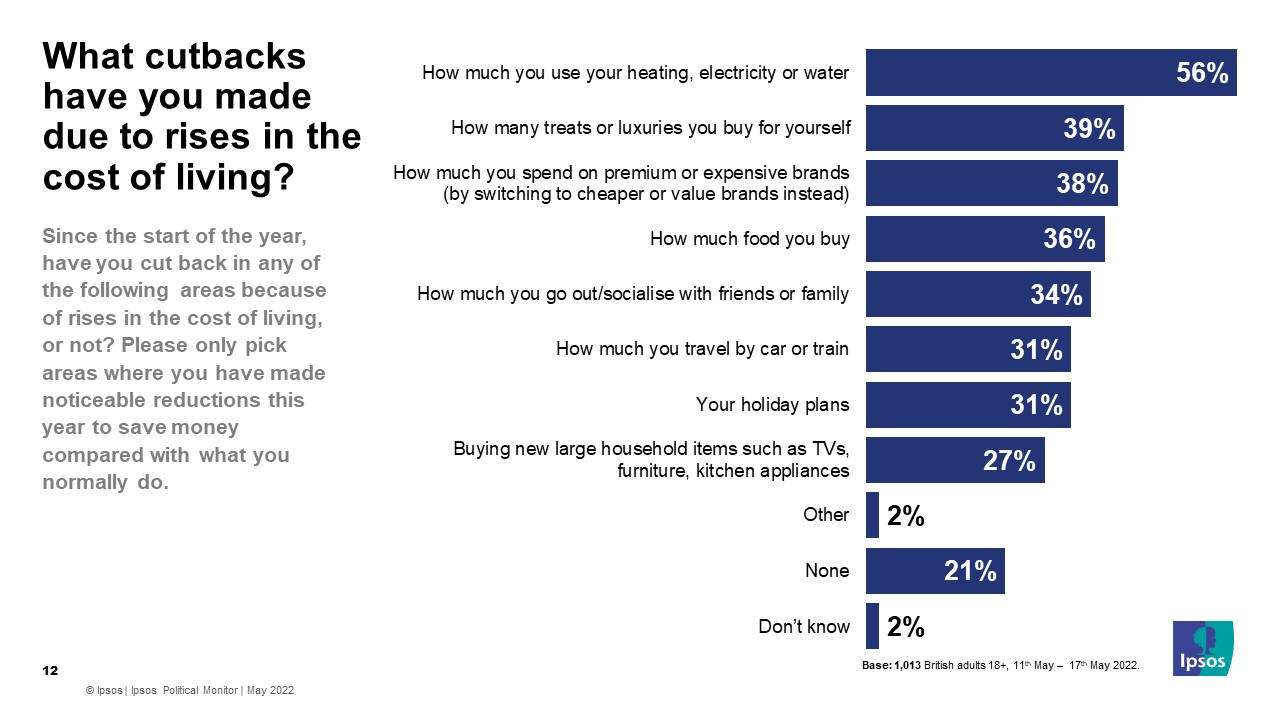 Women were more likely than men to say they were cutting back on:
How many treat or luxuries you buy for yourself (44% vs 32%),
How much you spend on premium or expensive brands (43% vs 32%),
How much food you buy (41% vs 32%),
How much you travel by car or train (35% vs 28%),
Your holiday plans (34% vs 27%)
Other findings in the poll include:
Labour are most trusted by the public on levelling-up. 39% trust Labour most to 'Reduce inequalities between different regions of the country, also known as "levelling-up"'. 18% trust the Conservatives the most. This 21-point lead for Labour is down from a 30-point lead recorded in January.
On managing Britain's relationship with the EU, 29% trust the Conservatives the most and 28% trust Labour.
Gideon Skinner, Head of Political Research at Ipsos, says of the findings:
The cost of living is dominating the public's agenda at the moment, and because they are concerned about it on both a national and individual level helps explain why there is pressure on the Chancellor and the Government to act. Inflation has a direct impact on people who might be taking steps to keep down the cost of their utility bills – an issue where Britons are more concerned than many other countries - and weekly shop, and on more pleasurable activities like socialising and treats. And this is feeding into the national picture alongside more persistent general economic pessimism, which means politically Labour can take advantage on this issue. The public do not think rises in the cost of living are solely the Government's fault as they see that other factors are also playing a role, but they do want the Government to provide more support – including many of their own voters.
Technical note
Ipsos interviewed a representative sample of 1,013 adults aged 18+ across Great Britain. Interviews were conducted by telephone: 11th to 17th May 2022. Data are weighted to match the profile of the population. All polls are subject to a wide range of potential sources of error. On the basis of the historical record of the polls at recent general elections, there is a 9 in 10 chance that the true value of a party's support lies within 4 points of the estimates provided by this poll, and a 2 in 3 chance that they lie within 2 points. This is especially important to keep in mind when calculating party lead figures.