6 in 10 Britons think the economy is in a poor state
How do Britons feel about the current state of the economy and what makes them feel this way?
59% of Britons judge the economy as 'poor'
Inflation / prices, unemployment and interest rates top of mind when judging the economy – though a variety of factors are taken into account
New research by Ipsos shows Britons are less than positive about the current economic state with 6 in 10 saying it is poor (59%) compared to only 37% who say it is in a good position. 
However, these figures are more positive than a similar poll conducted by Ipsos in June 2013 where 84% said poor and 12% said good.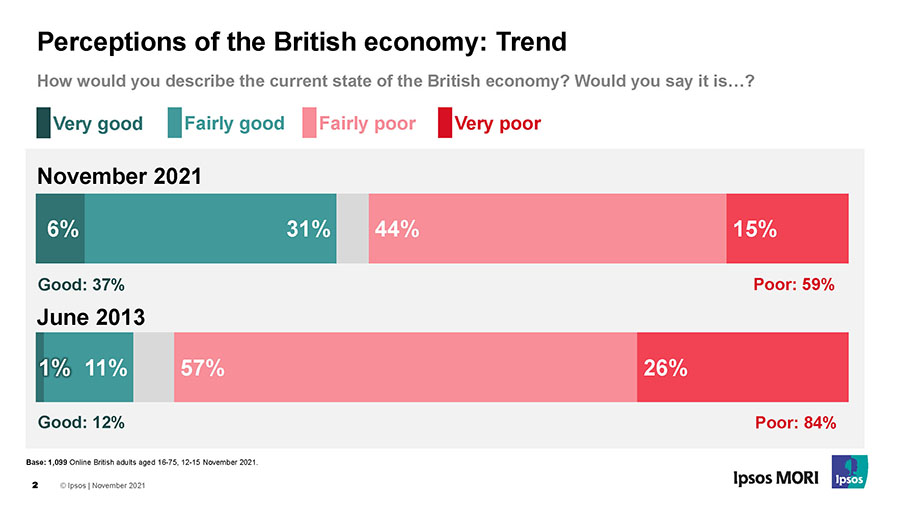 Perhaps unsurprisingly, those who voted for the current government are significantly more like to say the economy is currently in a good state, 58% think the economy is strong compared to only a quarter of those who voted for Labour in 2019 (24%) and 30% of Lib Dem voters. 
When listening to news about the economy, Britons are most likely to be influenced by information concerning inflation/increases in prices. Almost half (48%) say this is one of the biggest influences on their opinion of how the economy is doing while 43% say their opinion is determined by unemployment levels and 37% name interest rates. 
In 2013, the picture was slightly different, with the top 3 factors influencing perceptions of the economy being unemployment levels (52%), inflation/increases in prices (40%) and whether government debt is going up or down (38%). Since that time, an increasing number of Britons see average salaries (+14 points), interest rates (+9), inflation / prices and house prices (both +8) as influencing their perceptions of the economy, whereas fewer Britons see government debt (-10 points) and unemployment levels (-9) as influential.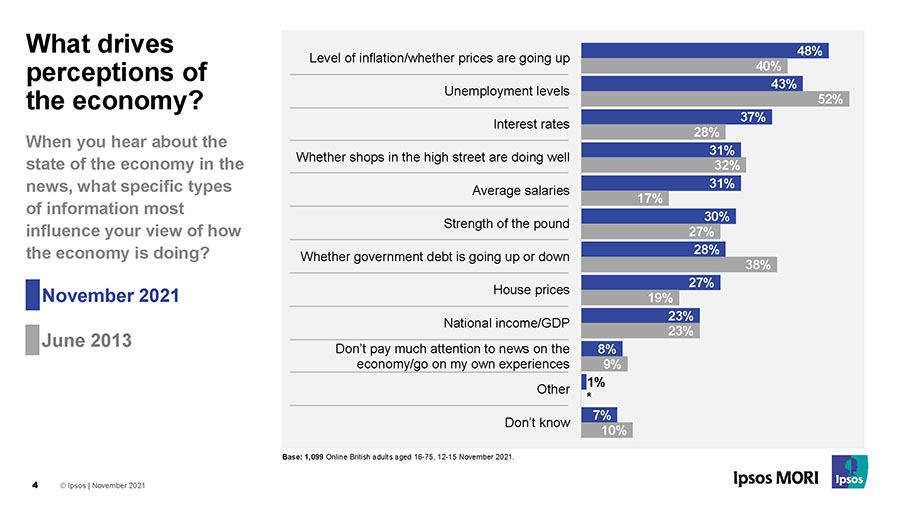 Returning to the present, different age groups are influenced by different information. For example, in 2021, Britons aged 16-34 are most likely to be influenced by unemployment levels (38%), average salaries (35%) and house prices (35%). Those aged over 35 are most influenced by inflation and prices.
Keiran Pedley, Research Director at Ipsos, said:
The British public are quite pessimistic about the state of the economy, with 6 in ten thinking it is currently 'poor.' Although this is not as high as the 84% that said the same in June 2013 – when this question was last asked – at that time equal numbers of Britons felt the economy would improve in the next 12 months as said it would worsen (both 31%).  Now a clear majority of the public expect the economy to get worse in the next 12 months (54%) and only 28% think it will improve.
Interestingly, the public appear to be judging the economy on slightly different measures today compared to 2013. Whilst inflation / prices and unemployment remain key factors, they are much less likely to think about public debt and much more likely to think about other indicators like average salaries, house prices and interest rates.
Technical note:
Ipsos interviewed a representative sample of 1,099 Britons aged 16-75 Interviews were conducted online between the 12th and 15th November, 2021. Data are weighted to match the profile of the population. All polls are subject to a wide range of potential sources of error.