Both Remainers and Leavers retain a strong Brexit identity 5 years on
Britons continue to say they have a fairly strong Brexit identity, however this has softened since 2019
Brexit identities have softened from 2019, although still stronger than party identities 
Remain voters split on whether to reverse Brexit or make the best of it
New Ipsos polling with the Economist shows seven in ten (70%) Britons say they have a very strong (39%) or fairly strong (31%) Brexit identity. This is in line with the proportion saying the same earlier this year in March (67%), although has softened from four in five (81%) in November 2019. The proportion saying they have a "very strong" Brexit identity has dropped from over half (55%) since 2019.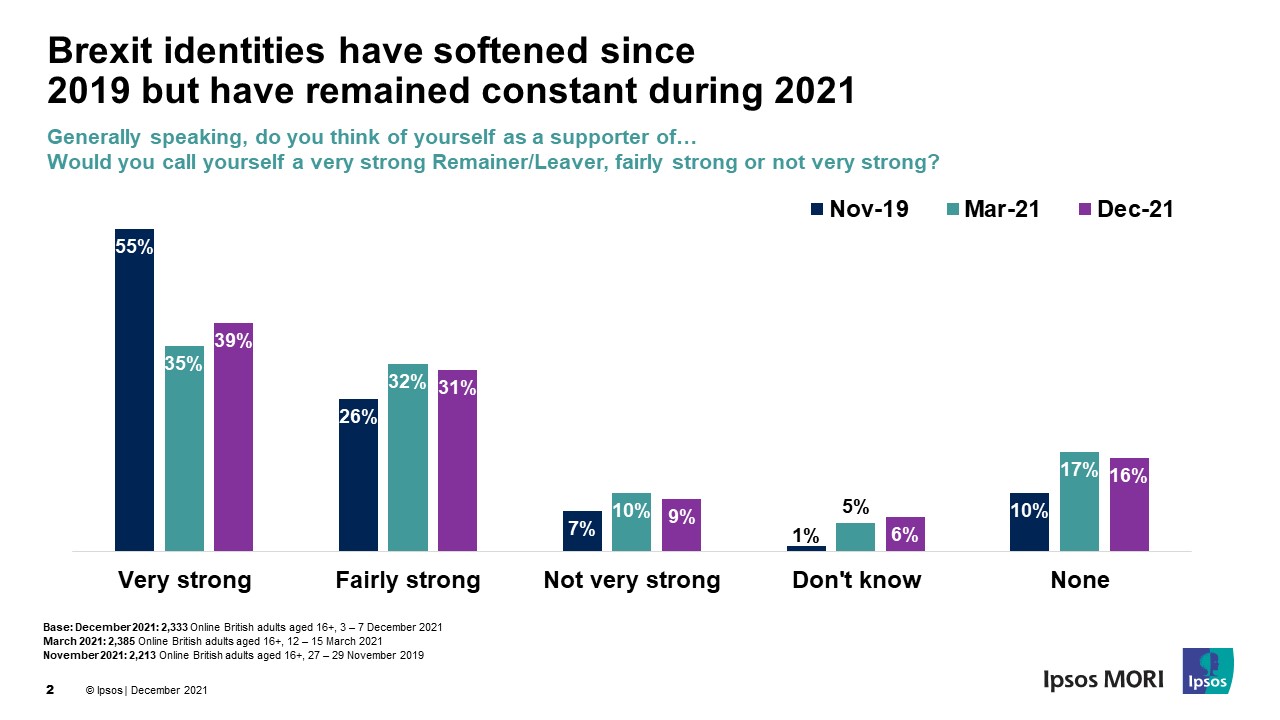 Similar levels of "Remainer" and "Leaver" identifiers say they have a strong Brexit identity, reaching nearly nine in ten among each group (88%, 86% respectively). These figures are relatively unchanged from March 2021, but both sides see a fall in "very strong" identifiers since 2019 (from 61% to 52% among Remainers, 63% to 45% among Leavers). 
Comparatively, Brexit identities remain stronger than party identities. Just over half (52%) say they identify very (17%) or fairly (35%) strongly with a political party, which is relatively unchanged from March 2021 (49%), but down from 62% in November 2019 in the build up to the General Election. Strength of identity is stronger among 2019 Labour than 2019 Conservative  voters (by 68% to 56% respectively).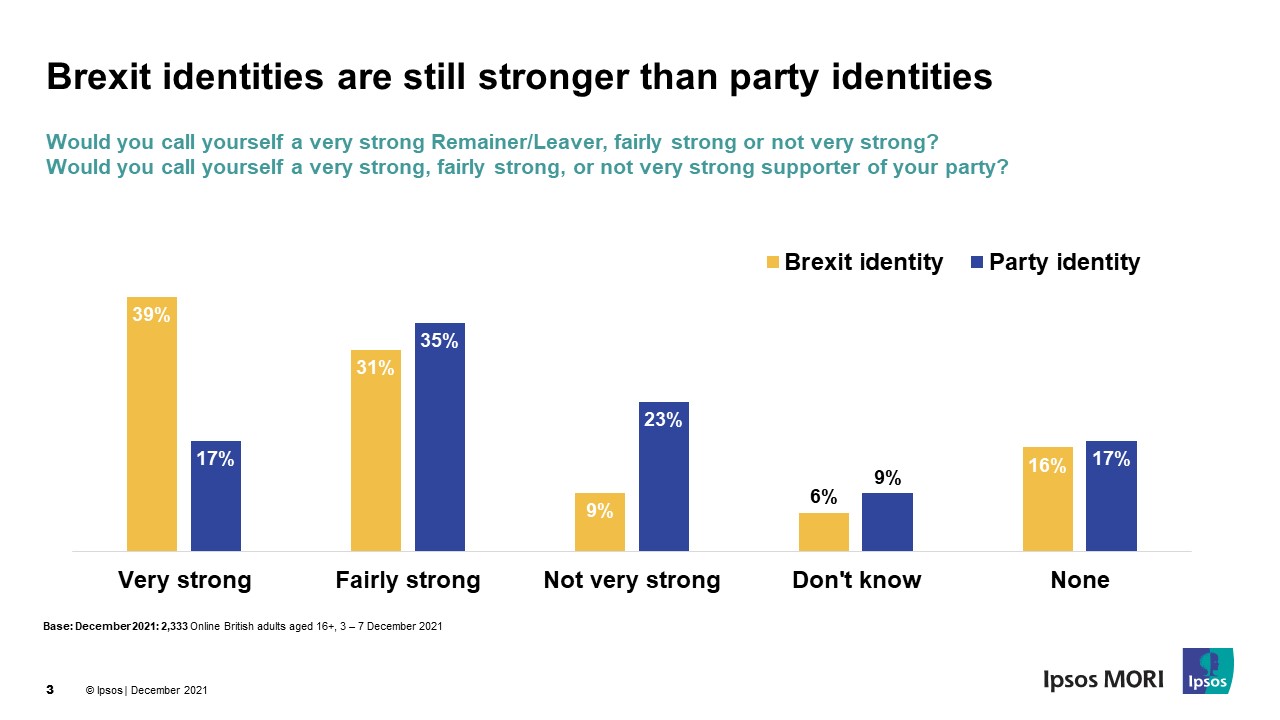 Looking forward, a third (34%) of the public say Britain was right to leave the European Union. Three in ten (30%) believe we were wrong to leave, but now that we have done so, we should work to make the best of Britain's position outside the EU, whilst a quarter (24%) think we were wrong to leave and should concentrate on reversing that decision as soon as possible. 
Over three in four (77%) 2016 Leave voters are confident that Britain was right was to leave the EU. Whereas, while most 2016 Remain voters still think it was the wrong decision, they are split on the best way forward. Two in five (41%) say we were wrong to leave and should reverse the decision as soon as possible, but 47% think we were wrong but should now make the best of it.
There is a clear Brexit identity gradient to this: two in three (65%) of very strong Remainer identifiers say we should focus on reversing Brexit as soon as possible versus three in ten (31%) believing we should make the best of it. In comparison, three in ten (31%) who describe themselves as fairly strong Remainers say we should focus on re-joining as soon as possible, compared to three in five (62%) wanting to make the best of it.
The purpose of this research was to measure the strength of Britons' identities on the Brexit question five years after the referendum.  Comparing this with the strength of party political loyalties, and (particularly for this who felt it was the wrong decision) understanding their priorities between wanting to reverse that decision as soon as possible or make the best of it for now, as well as how that relates to how strongly they still feel about Brexit as an issue. It used a combination of trend questions on the strength of people's identities to measure change (if any), and a new question on people's views now. This question is not designed to measure support for rejoining the EU in any referendum but to understand in more detail the priorities people have now and (in conjunction with the other questions) how it relates to the strength of their self-identification with the sides of the 2016 referendum. 
This question deliberately asked about rejoining as soon as possible to ascertain people's immediate priorities with regard to the Brexit question approaching two years from our official exit from the EU. As part of our ongoing research into Brexit and it's impacts on Britain and our society, we will continue to produce research across the topic including updating our previous research on people's preferred future relationship with the EU.
Gideon Skinner, Head of Politics at Ipsos, says of the findings:
Perhaps understandably, Britons do not feel their Brexit identities quite as strongly as they did two years ago, but they are still more powerful than traditional party loyalties.  Meanwhile, although the public have become more negative about Brexit since earlier this year, this does not mean that Remain voters are unanimous in wanting to reverse the decision as soon as possible.  Although this still remains the focus for those who feel their Remain identity most strongly, for other less fervent Remainers they are prepared to make the best of it.
Technical note
Ipsos interviewed a representative sample of 2,333 British adults aged 16+. Interviews were conducted online between 3-7 December 2021. Data are weighted to match the profile of the population. All polls are subject to a wide range of potential sources of error.