Britons increasingly abiding by the COVID-19 rules, with social responsibility and the NHS the primary drivers
Our new poll shows an 11 percentage point increase in the number of Britons claiming to be following the coronavirus rules.
New research by Ipsos finds an increase in the number of Britons that claim to be following the coronavirus rules, up by 11 percentage points to 73%, compared to 62% last month. Four per cent say they have been following the guidelines not at all/ hardly/ less than half of the time.  The most commonly broken rules were not abiding by social distancing rules (42%) and visiting friends or family who they aren't allowed to (19%).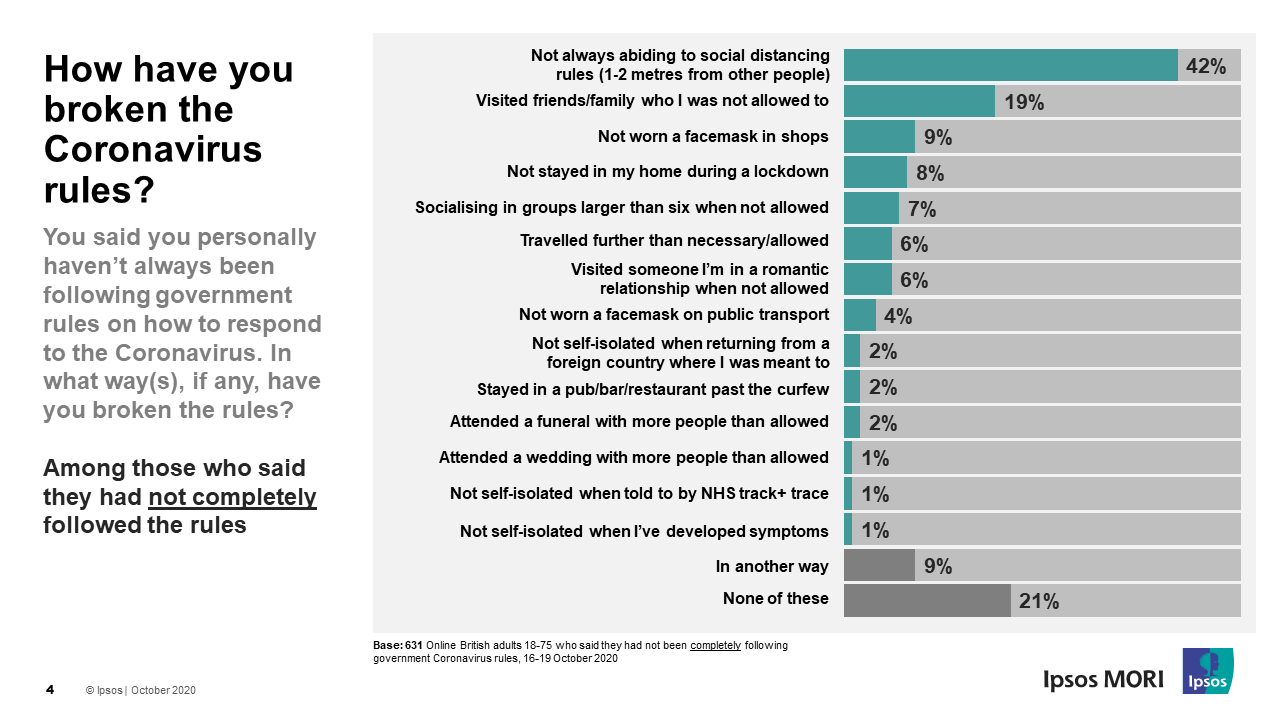 As many Britons face tighter coronavirus restrictions, arguments for following the rules are much more convincing to Britons. Almost 9 in 10 think that preventing the spread to those most vulnerable, stopping friends and family catching the virus and ensuring the NHS is not overwhelmed (all 87%) are the most convincing arguments for following the rules. A further 81% want to avoid catching the virus themselves while three-quarters (76%) think we will return to normal more quickly if we follow the rules and trust the scientists and medical experts.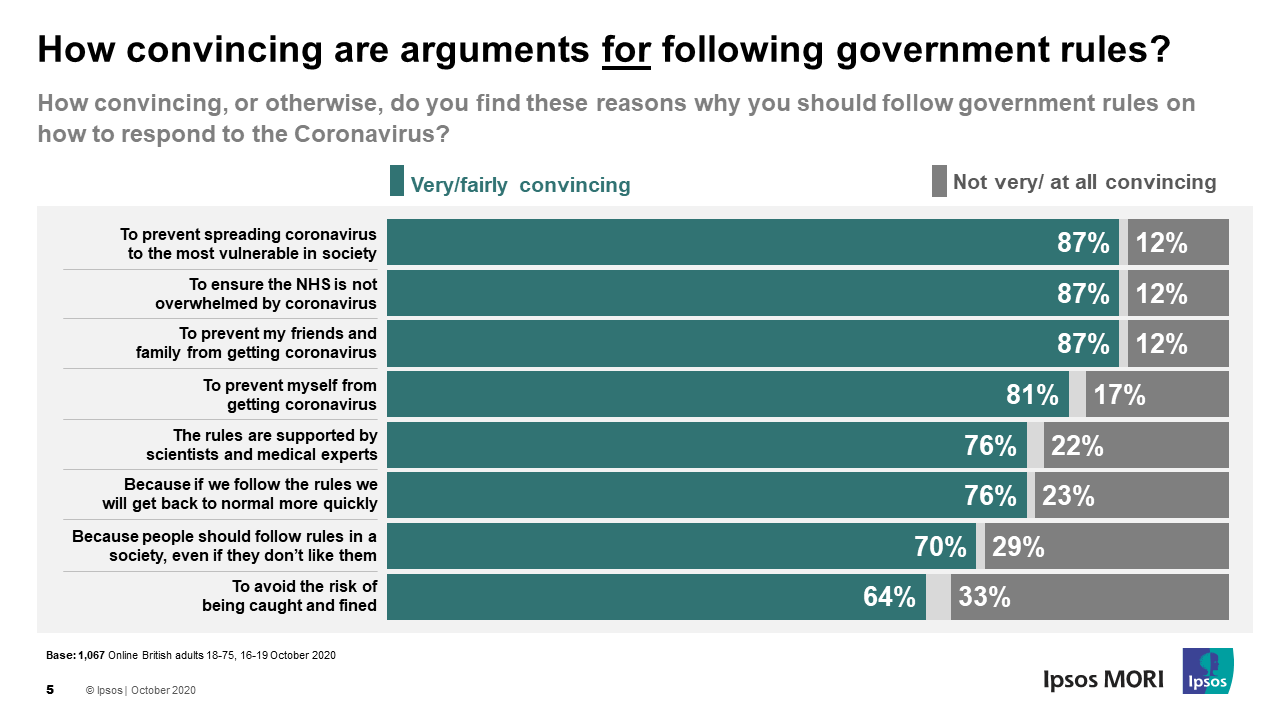 Seven in ten (70%) say that people should follow the coronavirus regulations because they should follow society's rules, whether they like them or not. Just under two-thirds (64%) believe they should follow the rules in order to avoid the risk of getting caught breaking them.
When asked about arguments against following the rules, nearly half (47%) of Britons cite the lack of people in government following the rules as a convincing excuse not to follow them themselves.  Other convincing reasons to break government rules include not knowing enough about the virus and therefore whether the current regulations are the right thing to do (42%) and breaking the rules to work or look after someone (41%).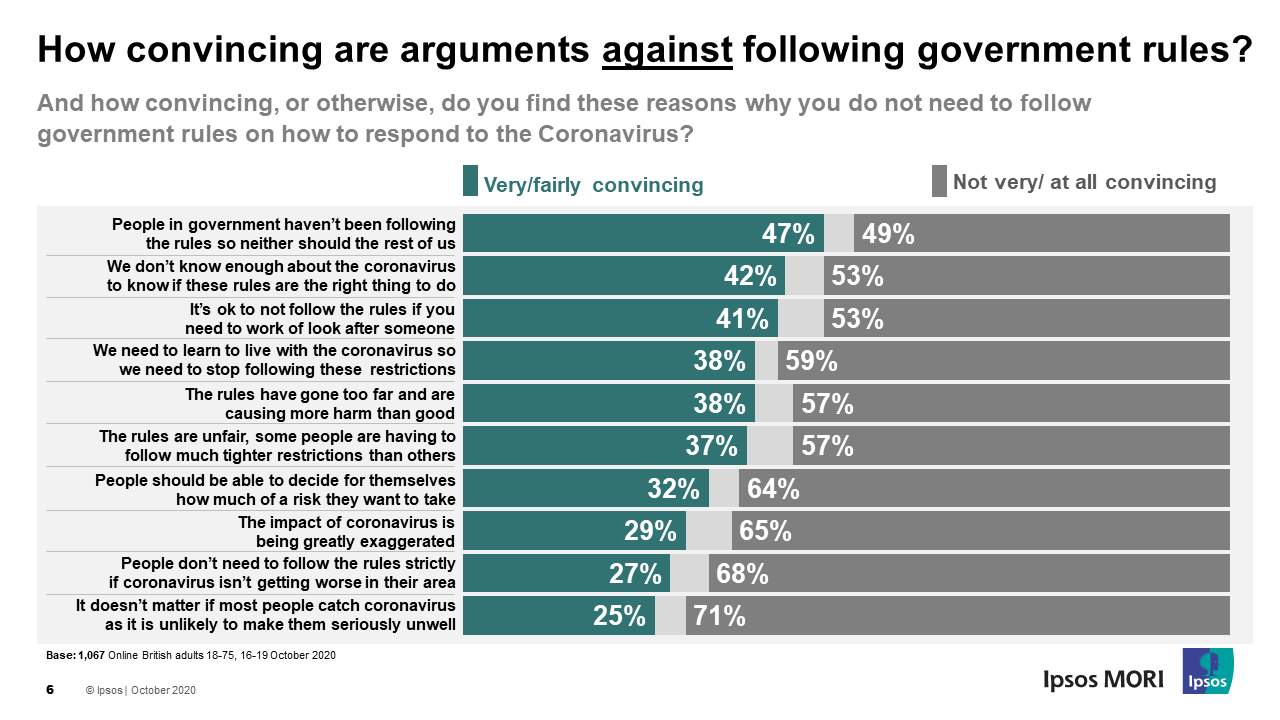 Almost 4 in 10 say the rules have gone too far and now cause more harm than good and that we need to learn to live with the virus (both 38%) 
Ben Page, CEO at Ipsos, said:
In the same way that the majority of the public has consistently supported overall lockdown measures, claimed compliance with virus control measures has actually risen with the 2nd wave of the virus.  Most people remain far more concerned about the virus than the economy
Technical note:
Ipsos interviewed a sample of 1,067 adults aged 18-75 in Great Britain using its online i:omnibus between 16th and 19th October 2020. Data has been weighted to the known offline population proportions for age, working status and social grade within gender, government office region and education.  All polls are subject to a wide range of potential sources of error. For more information please contact the team at https://www.ipsosomnibussurveys.com/