Keir Starmer extends lead over Boris Johnson as 'most capable PM'
Chancellor Rishi Sunak most likely Conservative alternative to Boris Johnson of those polled to be seen as 'having what it takes to be PM'
Ipsos's latest Political Monitor, taken 19th to 25th January, shows Keir Starmer extending his lead over Boris Johnson in who the public think would make the 'most capable PM'. Mr Starmer now leads the Prime Minister by 18 points on this measure, compared to 13 points in December. Last September the two were level, while before that Boris Johnson had consistent leads over his Labour opponents. Meanwhile, Rishi Sunak consolidates his position among the public when they are asked which of several leading Conservative politicians has what it takes to be a good Prime Minister.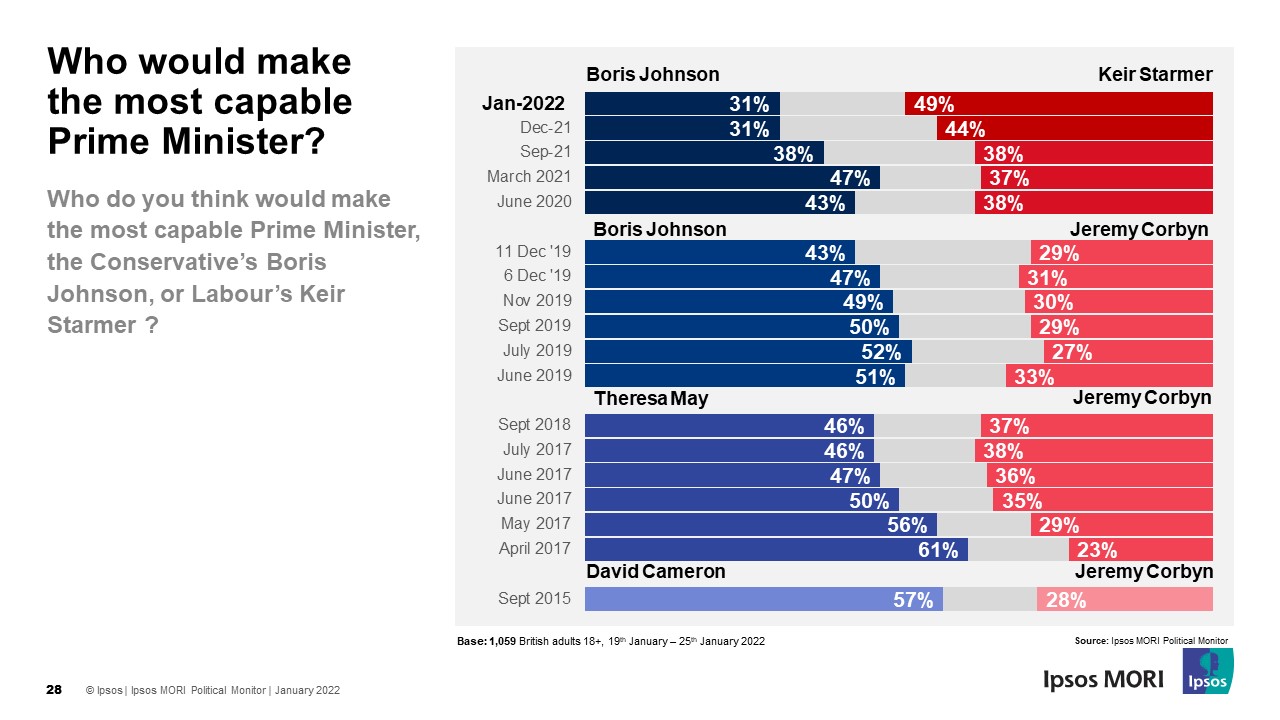 Has what it takes to be a good PM?
Just 23% agree that Boris Johnson 'has what it takes to be a good PM' (down 11 points from November). 64% disagree (up 9 points). This is his worst score since May 2019.
In contrast, 32% say Keir Starmer has what it takes (+7 points from November) and 36% disagree (down 5 points). This is his best score since earlier last year, but not at the same level as when he was first elected.
Looking at potential alternative Conservative Prime Ministers, Rishi Sunak scores best with 33% (up 4 points) agreeing the Chancellor has what it takes and 34% disagreeing (down 4 points). This is also an improvement in recent months, although not as strong as his ratings earlier in the pandemic.
Notably, Rishi Sunak's numbers are very similar to his potential opponent in a General Election if he were to become PM – Keir Starmer.
Although Rishi Sunak leads Boris Johnson on this measure overall with the public, among current Conservative voters the Prime Minister leads the Chancellor. 63% of Conservative voters think Mr Johnson 'has what it takes' compared with 51% who say the same about Mr Sunak. Around 1 in 4 disagree for each.
Looking at other potential candidates among the public overall:

Ipsos Head of Political Research, Gideon Skinner, said of the findings:

As Boris Johnson hits his lowest score as PM for 'having what it takes', the public sees Rishi Sunak as the Conservative alternative with the most potential. Although the Prime Minister still leads among current Conservative supporters, in terms of appealing to all their past 2019 voters the Chancellor at least matches him. Meanwhile Liz Truss has yet to translate her reputation among party members (who of course have the final say) to the wider public, where Sajid Javid actually has a higher profile. When asked to choose between Boris Johnson and Keir Starmer as who would make the most capable Prime Minister, Keir Starmer has extended his lead over Mr Johnson to 18 points. This is the best score for a Labour leader since Gordon Brown in 2007, and stands in marked contrast to Boris Johnsons's leads a year ago, reflecting the damage recent events have had on his standing with the public.

Technical note

Ipsos interviewed a representative sample of 1,059 adults aged 18+ across Great Britain. Interviews were conducted by telephone:19th to 25th January 2022. Data are weighted to match the profile of the population. All polls are subject to a wide range of potential sources of error. On the basis of the historical record of the polls at recent general elections, there is a 9 in 10 chance that the true value of a party's support lies within 4 points of the estimates provided by this poll, and a 2 in 3 chance that they lie within 2 points. This is especially important to keep in mind when calculating party lead figures.

23% think Health Secretary Sajid Javid 'has what it takes'. 42% disagree.
16% think Jeremy Hunt 'has what it takes'. 49% disagree.
Just 13% and 12% think Liz Truss and Nadhim Zahawi have what it takes but large numbers have no opinion on both, with just 40% and 37% disagreeing respectively.
63% disagree that Michael Gove has what it takes to be a good PM. Just 9% agree.