At least 2 in 3 Britons think Government doing a bad job on managing immigration, the NHS and 'levelling-up'
Criticisms rise concerning managing the economy and the Government's performance but approval of the vaccine programme stays strong
Criticism on the economy also rises - more Britons think government doing 'bad job' than 'good job' on managing the economy 
2 in 5 Britons think Johnson government performing 'worse than expected' – including 1 in 4 2019 Conservative voters
However approval of vaccine programme remains strong – 8 in 10 say government doing a good job on vaccinating the public quickly
Government performance 
When asked whether Boris Johnson's government has done a good job or bad job across 10 key areas, clear majorities think the government is doing a bad job across a range of issues.
These include managing immigration (73%), improving the NHS (70%), reducing regional inequalities (or "levelling-up") (66%), crime (59%), tax and spending (58%), handling Brexit (57%) and improving the education system (55%).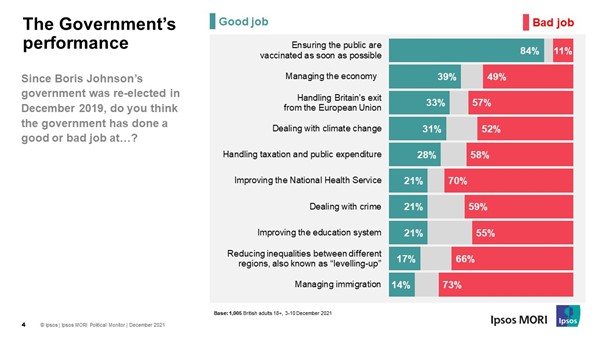 Meanwhile, for the first time for this Government, more Britons think it is doing a bad job managing the economy (49%) than a good one (39%). This is almost an exact reversal of the position in August, when more were positive than negative.
When compared to the summer, other big falls have been on 'levelling-up' (from a net score of -33 in August to -49 now) and tax and spending (from -17 to -30).
However, as they have been throughout the year, the public are positive about what is being done to get people vaccinated as soon as possible – 84% think the government is doing a good job on this.
On the COVID pandemic overall, 34% think the government is handling it well and 49% badly. Numbers are largely unchanged from November but somewhat lower than September where 44% thought the government was doing well and 36% badly.
Taking everything into account since 2019, the public are broadly split between whether Boris Johnson's government is performing about the same as they expected (41%) or worse than expected (43% - only 11% say better than expected).  However this is a change for the worse since December last year, when 48% said about the same as expected and 34% worse.  Half (50%) of 2019 Conservative voters say the government has performed in line with expectations, but as many say worse than expected as say the government has exceeded their hopes (26% vs 22% respectively).  
Economic optimism 
The poll also found that 52 per cent expect the economy to get worse over the next 12 months, double the 25 per cent who think it will improve, giving an Economic Optimism Index score of -27, unchanged on the -26 of last month. 
Gideon Skinner, Head of political research at Ipsos, says of the findings: 
It's not just stories of Christmas parties that should give the Conservatives concern, but also perceptions of delivery on substantive policy areas, as our latest public scorecard on Government performance shows.  Britons still give the Government credit for the vaccines programme, but are more critical of delivery elsewhere – in particular immigration (where Conservative voters are also most unhappy), the NHS, and reducing regional inequalities.   The direction of travel is also getting worse for many of these since the summer, especially on managing the economy, where optimism shows little sign of returning.
Notes to Editors:
Ipsos interviewed a representative sample of 1,005 adults aged 18+ across Great Britain. Interviews were conducted by telephone: 3rd to 10th December 2021. Data are weighted to match the profile of the population. All polls are subject to a wide range of potential sources of error.   
On the basis of the historical record of the polls at recent general elections, there is a 9 in 10 chance that the true value of a party's support lies within 4 points of the estimates provided by this poll, and a 2 in 3 chance that they lie within 2 points. This is especially important to keep in mind when calculating party lead figures.