One in five Britons need advice on saving energy this winter
With energy bills increasing, new research shows many are in need to energy savings advice
Advice is needed on some of the simple changes households can make, as well as bigger energy saving changes to their homes
The British public say energy companies and the UK Government should be most responsible for giving advice, but they would not trust them to do so
As the UK faces a challenging winter, new Ipsos research shows that one in five Britons (21%) are actively searching for advice to enable them to reduce their energy use at home. This comprises 17% who have already reduced their energy usage but are still searching for advice on how, and 4% who are not reducing their energy use and feel they need energy saving advice. In addition:
Two in five (40%) have reduced their energy usage following advice, while a quarter (27%) have reduced their energy use without it. 
Altogether, this means that the vast majority of Britons (85%) are already reducing the amount of gas / electricity they use at home.
Just one in twenty (6%) are not reducing the amount of energy they use at home and are not seeking advice on how to do so. 
Perhaps unsurprisingly given the rising cost of living, saving money is the most common reason given as to why households might want to save energy (80%). The impact of reducing energy usage on household budgets was highlighted in new analysis released earlier this week by the Social Market Foundation. This showed that if the UK Government rolled out an energy saving advice campaign like that in Germany, households could save between £250 and £400 per year on their energy bills. 
While saving money is the most common motivation, a third (32%) say they want to save energy for the environmental and climate mitigation benefits for the UK, indicating that the public do not see a definite trade-off between saving money and saving the planet. Over a quarter (28%) say they might want to save energy to improve the UK's energy security, while a similar proportion (24%) say it would improve their wellbeing such as by giving them peace of mind about how much energy they use. This may reflect ongoing concern and discussions about the whether the security of the UK's gas supply and whether we might experience blackouts this winter. Just this week, National Grid suggested that this worst-case scenario is now less like to unfold due to a mild Autumn and energy links with other European countries.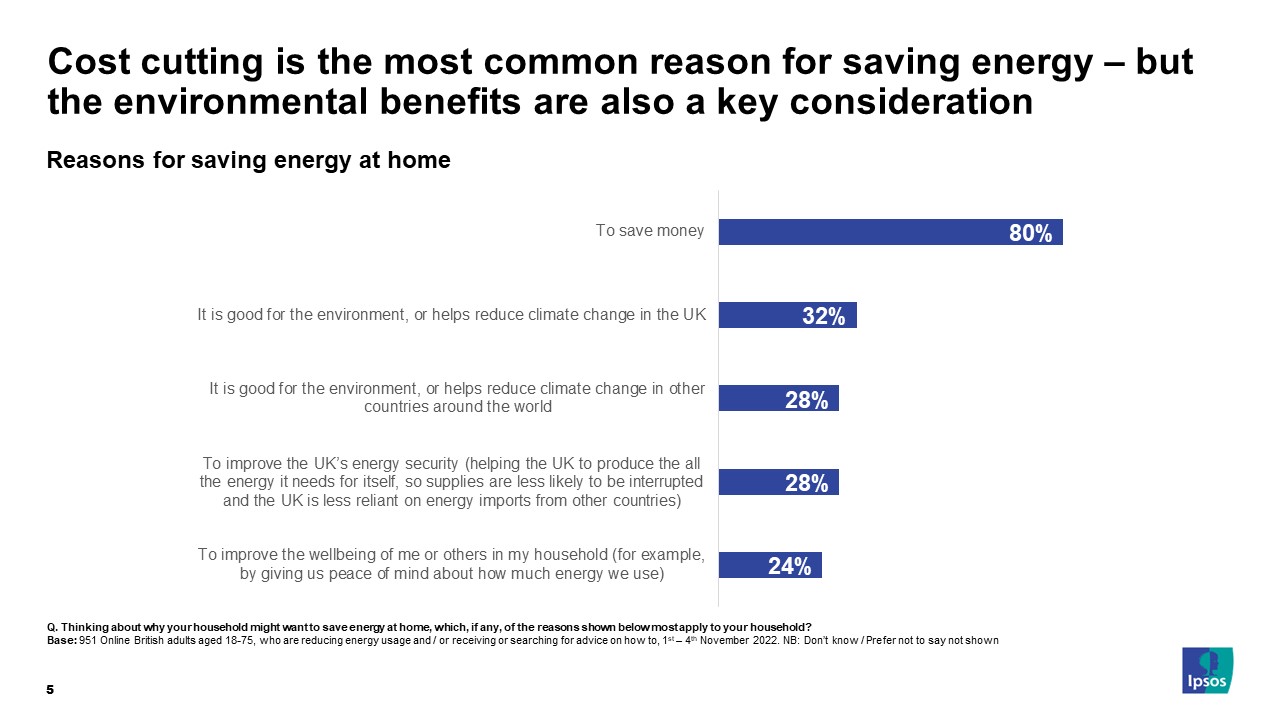 What advice do households want?
With many actively searching for advice on how to save the amount of gas / electricity used at home, we investigated what types of advice consumers would need. Responses indicated that they would welcome both advice on simple energy saving behaviours, as well as advice on more substantial changes they could make to their homes. 
Around a fifth want advice on day-to-day behaviours such as reducing energy use while cooking, or using appliances or lighting more effectively. A quarter (24%) say they would need advice on accessing lower price energy tariffs (e.g. off-peak), making energy efficient home improvements or accessing grants to make such changes.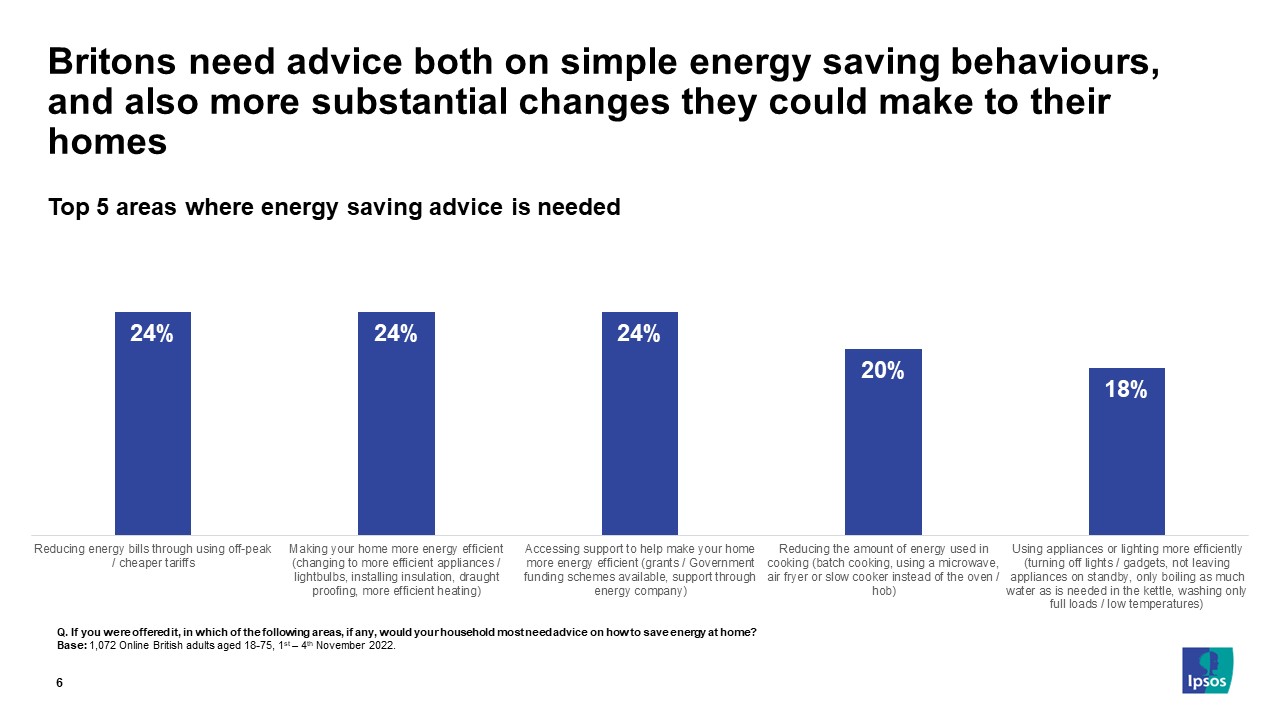 When asked why they would not want energy saving advice, very few indicated that they did not want to receive advice because they feel it would be an infringement on their own personal choice. Of all Britons, only one in twenty (6%) said they do not want to receive advice and that this is because they feel it's their choice how they use energy at home.  Most commonly, consumers felt they already know how to save energy (13%) and around one in eight (12%) say they are already doing all they can to cut their usage.
Who should be giving energy saving advice? 
Two in five Britons say energy companies (43%) or the UK Government (41%) should be most responsible, while a quarter (25%) feel Ofgem should be providing such advice. Last month, Ofgem announced a new public information campaign on energy saving that they will be coordinating with energy companies and other groups such as Citizen's Advice.  Ofgem's partnership approach fits well with who consumers say they would trust most to give advice on saving energy at home. Consumer organisations or websites like Citizens Advice, Money Saving Expert and Martin Lewis were most trusted (36%) and a quarter would trust specialist organisations like the Energy Saving Trust (24%) or scientists, academics or researchers (22%).  While the public think the Government and energy companies should provide energy advice information, few would trust them to do so.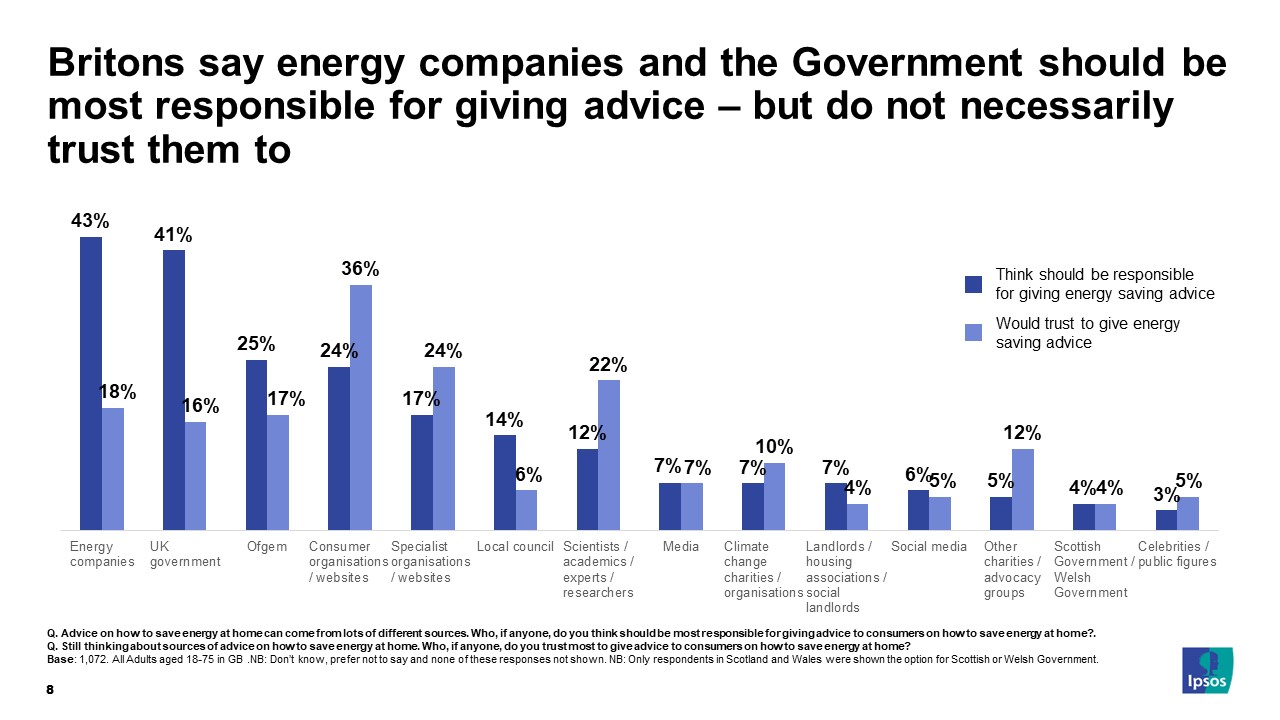 Rachel Brisley, Director of Energy & Environment at Ipsos says: 
With households feeling the financial squeeze, there is clearly an appetite among the British public for advice on how to cut costs by using less energy. Some Britons do feel they need advice on the smaller actions they can take. Yet the larger actions that will continue to save them money in the long run – such as improving energy efficiency by installing insulation, including help to fund these changes – are the ones which feel perhaps the most daunting and where they need better guidance. 
This is also seen in our Net Zero Living research with CAST, which shows that policymakers need to be clear about both the costs but also the cost saving benefits of net zero policies – like switching from coal and gas boilers to low carbon heating – when communicating with the public. The gap between who the public feel should be giving this advice and who they would actually listen to indicates a need for a cross-party communications approach. Bringing together Government, regulators, businesses and the third sector will be key to helping Britons feel better equipped to weather the storm this winter.
Note to Editors
Ipsos interviewed a representative quota sample of 1,072 adults aged 18-75 in Britain using its online i:omnibus on 1st – 4th November 2022.
The sample obtained is representative of the population with quotas on age, gender, region and working status. Data are weighted to the known offline population proportions for age, working status and social grade within gender, and for government office region and education, to reflect the adult population of Britain. All polls are subject to a wide range of potential sources of error.
Where percentages do not sum to 100 this may be due to computer rounding, the exclusion of "don't know" categories, or multiple answers.
Questions are asked of the total sample of n=1,072 unless otherwise stated.
 
Download