Support for EU membership highest for 23 years, even as UKIP rises in the polls
Ipsos polling shows increasing numbers backing Britain's EU membership, despite UKIP's rise
New polling from Ipsos shows the majority of Britons would vote to stay in the European Union in a referendum, indicating the highest support for British membership since 1991, before the signing of the Maastricht Treaty which officially renamed the 'European Community' the 'European Union'. Some 56% would vote to stay in the European Union, compared with 36% who would vote to get out; eight percent answer that they do not know how they would vote. This translates to 61% support for Britain's EU membership and 39% opposing after excluding 'don't knows'. This is the highest support since December 1991, when 60% said they would vote to stay in the European Community and 29% wanted to get out.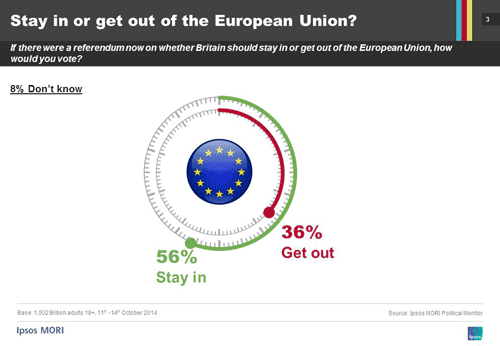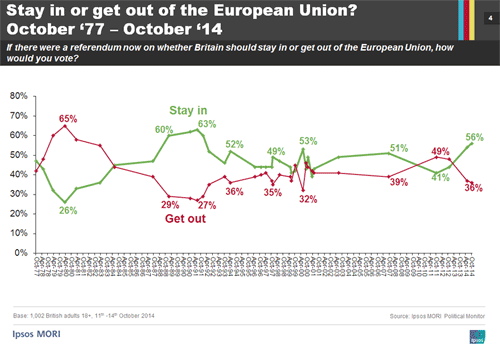 Support for staying in the EU has grown over the period where UKIP has strengthened in the polls
. In November 2012, when support for UKIP was at just three percent, more backed leaving the EU (48%) than staying in (44%). This month UKIP hit a record high vote share in Ipsos's polls of 16%, but while they have risen 13 percentage points in the polls, the number wishing to leave the EU has fallen by 12 points.
Supporters of the three main parties are all on balance in favour of staying in the EU: 51% of Conservatives, 73% of Labour supporters and 82% of Liberal Democrats support British EU membership. But only 11% of UKIP supporters want to stay in, compared with 82% who would vote to leave. Support for staying in the EU is highest in London (66%) and Scotland (60%).
The public are still divided over the detail of what Britain's role in Europe should be, however. One in three (34%) would like Britain to be a part of an economic community without political links, while 29% would like Britain's relationship with Europe to stay broadly the same as it is now. One in six (17%) would prefer to leave the EU altogether, while 14% would like to move into closer political and economic integration with EU member states.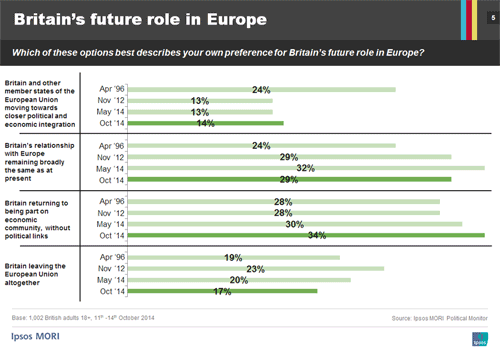 Gideon Skinner
, Head of Political Research at Ipsos said:
"With the debate about Britain's relationship with the EU a hot topic right now, our poll shows support for Britain's membership is up significantly since the depths of the Eurozone debt crisis in 2011 – although that does not mean that the public simply want the relationship to stay the same.  There is a polarisation in views - UKIP supporters are twice as likely to say Europe is going to be important to their vote in the next election (although it is still some way behind immigration) and are much more sceptical, while supporters of the other parties put the issue lower down on their list and are more in favour of membership."
Downloads
Technical note:
Ipsos interviewed a representative sample of 1,002 adults aged 18+ across Great Britain. Interviews were conducted by telephone 11th – 14th October 2014.  Data are weighted to match the profile of the population.