How News About Coronavirus Disruptions Is Spreading on Social Media
Where Americans are talking the most about empty grocery stores shelves and closed restaurants and bars.
First it was schools, museums, and office buildings. Now entire cities and states in the United States are going into lockdown mode to contain the spread of the coronavirus.
As it became evident that people might have to quarantine themselves for a period of two weeks of more, Americans raced to supermarkets to stock up on essential items. Shoppers are arriving at grocery stores to find empty shelves and many essential items, like toilet paper and hand sanitizer, out of stock.
Additionally, states and cities have moved to close down bars and restaurants in an effort to minimize person-to-person transmission of the virus. New York, San Francisco, and Washington, D.C. are just a few of the cities that have banned public gatherings and shut down dine-in service at restaurants and bars in just the past few days.
The Ipsos Biosurveillance Atlas is tracking mentions of empty grocery store shelves along with bar and restaurant closures on Twitter and Facebook to understand how news is spreading across the United States.
Conversations about picked through supermarkets spiked on Facebook and Twitter in urban areas on March 15th. County level data from the Ipsos Biosurveillance Atlas shows the most volume of mentions in metro areas like Chicago, Los Angeles, New York, Miami and Memphis on that date. In part, this volume can be attributed to the population density in these areas, but it also came about as local leaders and businesses began making plans to seriously curtail activity.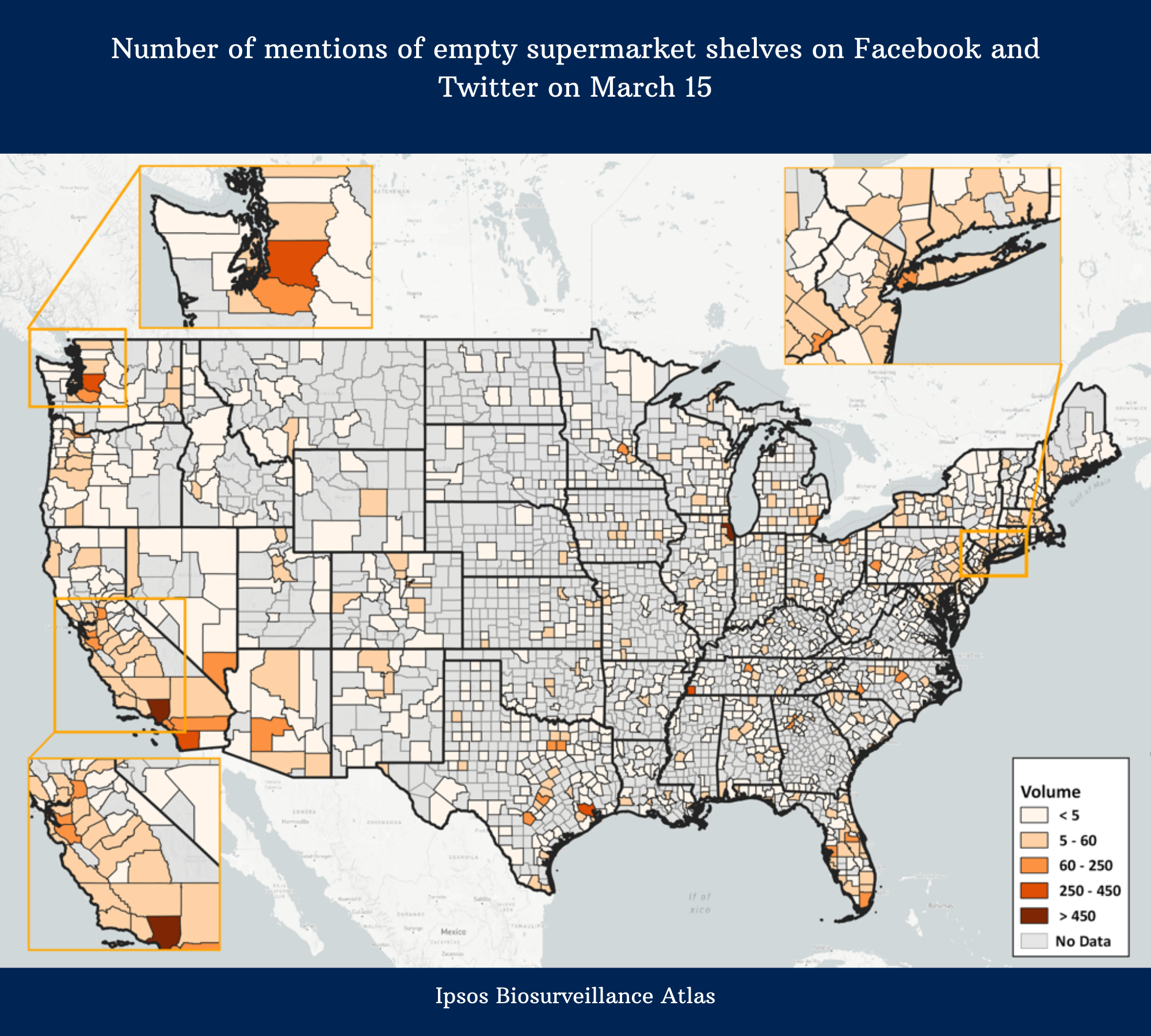 Talk of empty shelves began earlier in the week, from March 7-14, but was more muted and primarily localized in urban areas.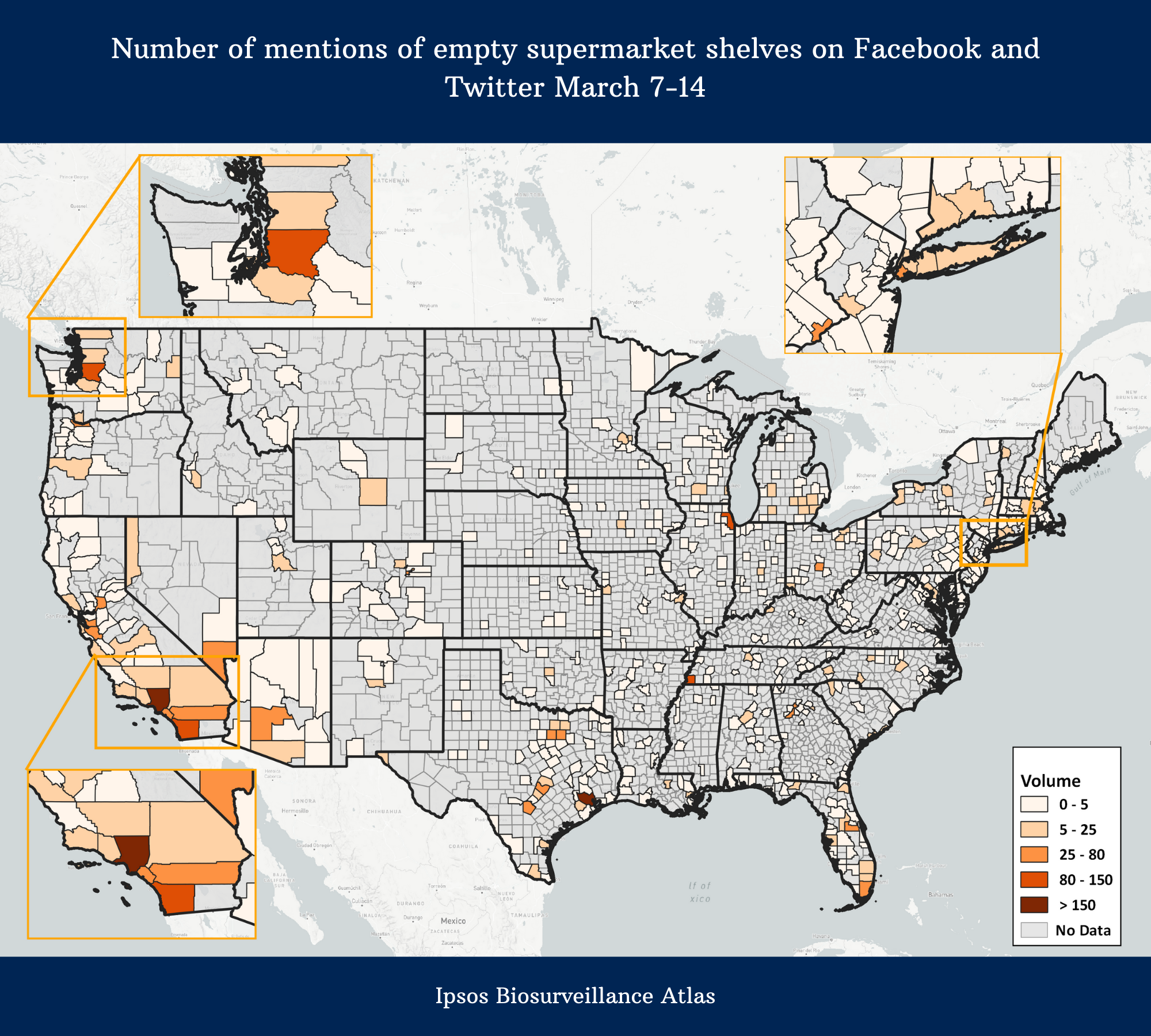 By comparison, conversations about bar and restaurant closures are more widespread, animating social media networks in both rural and urban counties. Most activity took place in the same cities talking about empty supermarkets, like New York, Seattle, Los Angeles and Las Vegas. Similarly, these are areas with a higher population density and more restaurants and bars.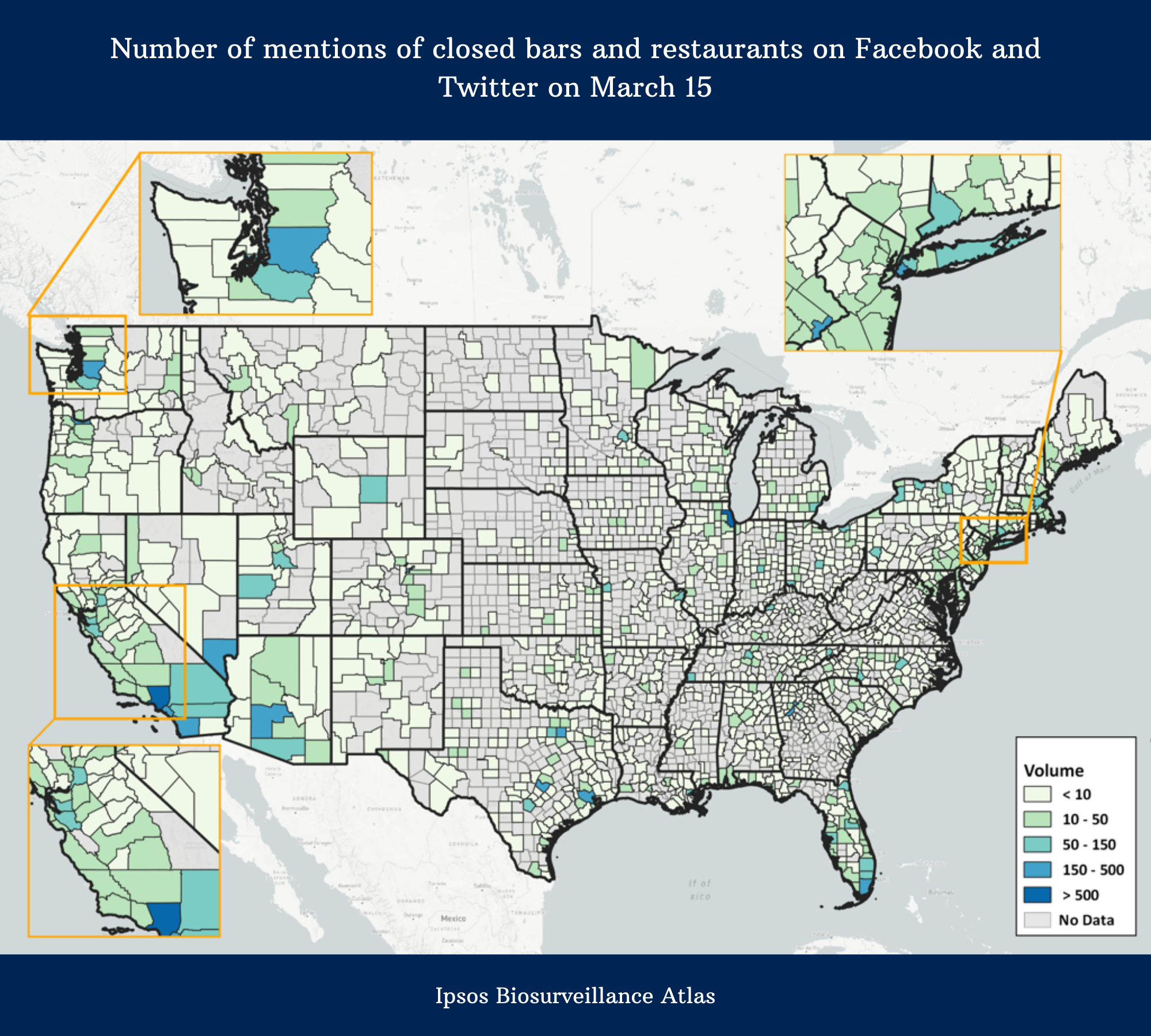 According to Ipsos Biosurveillance Atlas analysis, the emotions most frequently expressed on Twitter and Facebook about supermarket shelves being empty and bar and restaurant closures are fear and distrust of the government. Bar and restaurant closures are generating more sadness and anger than fear. Empty shelves in grocery stores and supermarkets are generating a greater sense of alarm than sadness or anger.