Historic House Speaker vote does little to instill confidence in Congress, McCarthy
New USA Today/Ipsos poll also finds that Americans expect gridlock in Washington for the next two years
Washington, DC, January 15, 2023 – Coming out of a tumultuous start for the new Congress, many Americans did not pay attention to the historic Speaker of the House vote. Even so, Americans are split on whether Kevin McCarthy was the best choice for Speaker of the House and whether the means the new Congress took to get there were the right ones. Looking ahead, most Americans anticipate gridlock in Congress for the next two years and expect the uncompromising and polarized nature of American politics to continue.
Detailed Findings
1. Around half of Americans did not follow the vote for Speaker of the House closely, and general sentiment around its impact is split.
Fifty-one percent of Americans report following the election for Speaker of the House at least somewhat closely. Over a fifth (22%) say they have not followed the election at all.
Baby Boomers (65%) are more likely than their younger counterparts to have followed the vote for Speaker of the House. Additionally, Democratic voters [1] (67%) and Republican voters [2] (60%) are significantly more likely than voters of neither party [3] (26%) to have followed these events.
Americans are split on the selection of Kevin McCarthy as Speaker. Around one in three Americans approve (33%), disapprove (35%), or don't know (33%) of McCarthy as Speaker.

Just 34% agree that McCarthy did the right thing giving in to the demands of his Republican opponents, potentially contributing to the low approval of his selection.
Nearly half (48%) believe that moderate Republicans in Congress should have struck a deal with moderate Democrats to elect a moderate Republican Speaker of the House.

In the same vein, there is no majority opinion on what drove the differences within the Republican Party. A plurality believe personal grudges, ambition or ego (39%) were at the root of the differences. Twenty-nine percent say Republicans had sincere differences on policy and governing, while one in three don't know (32%).
2. While Americans are divided or unsure around many of the events around the Speaker of the House election, a majority agree on one thing: there will be a lot of gridlock in Congress for the next two years.
Three in five (61%) Americans agree that Republicans and President Biden are less likely to get anything done over the next two years as a result of the fight for Speaker of the House.

Democratic voters (76%) are more likely than Republican voters (61%) to share this sentiment.

A similar percentage agree that it seems unlikely Republicans will do any compromising with Democrats over the next two years (58%).
Along these lines, only a quarter of Democratic (26%) and Republican (25%) voters believe that their respective parties can get their legislative agendas advanced in Congress.
Two in five Democratic voters (39%) believe their party is more focused on governing than party politics, compared to just 31% of Republican voters.
Lastly, while a majority of Americans do expect gridlock, around two in five (42%) say that the fight over Speaker of the House will have little impact on their life.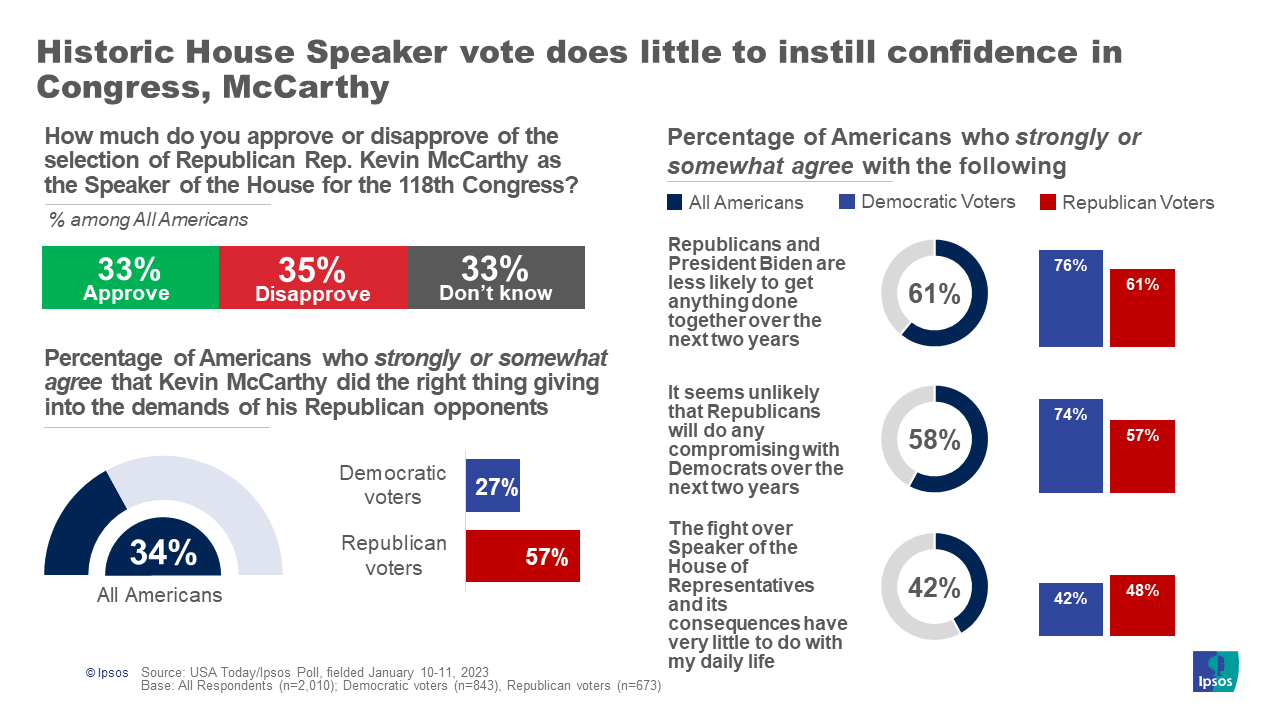 [1] Defined as those who say they vote at least occasionally and when they do, typically vote for Democratic candidates
[2] Defined as those who say they vote at least occasionally and when they do, typically vote for Republican candidates
[3] Either someone who never/almost never votes OR typically votes third party
About the Study
These are some of the findings of a USA Today/Ipsos poll, conducted between January 10-11, 2023. For this survey, a sample of 2,010 adults age 18+ from the continental U.S., Alaska, and Hawaii was interviewed online in English. The sample includes 673 Republican voters, 843 Democratic voters, and 494 voters that don't vote for either party or are non-voters.
The sample was randomly drawn from Ipsos' online panel, partner online panel sources, and "river" sampling and does not rely on a population frame in the traditional sense. Ipsos uses fixed sample targets, unique to each study, in drawing a sample. After a sample has been obtained from the Ipsos panel, Ipsos calibrates respondent characteristics to be representative of the U.S. Population using standard procedures such as raking-ratio adjustments. The source of these population targets is U.S. Census 2019 American Community Survey data, except for 2020 vote history, which comes from the Federal Election Commission. The sample drawn for this study reflects fixed sample targets on demographics. Post-hoc weights were made to the population characteristics on gender, age, race/ethnicity, region, education, and past vote.
Statistical margins of error are not applicable to online non-probability polls. All sample surveys and polls may be subject to other sources of error, including, but not limited to coverage error and measurement error. Where figures do not sum to 100, this is due to the effects of rounding. The precision of Ipsos online polls is measured using a credibility interval. In this case, the poll has a credibility interval of plus or minus 2.7 percentage points for all respondents. Ipsos calculates a design effect (DEFF) for each study based on the variation of the weights, following the formula of Kish (1965). This study had a credibility interval adjusted for design effect of the following (n=2,010, DEFF=1.5, adjusted Confidence Interval=+/-4.2 percentage points).
The poll also has a credibility interval of plus or minus 4.6 percentage points for Republican voters, plus or minus 4.1 percentage points for Democratic voters and plus or minus 5.4 percentage points for voters that don't vote for either party or are non-voters.
The results of this poll are trended against the following previous polls:
August 18 – 22, 2022; N=2,345; CI: +/- 4.2
November 15 – 16, 2022; N=2,004; CI: +/- 4.2
For more information on this news release, please contact:
Chris Jackson
Senior Vice President, US
Public Affairs
+1 202 420-2025
[email protected]  
About Ipsos
Ipsos is one of the largest market research and polling companies globally, operating in 90 markets and employing over 18,000 people.
Our passionately curious research professionals, analysts and scientists have built unique multi-specialist capabilities that provide true understanding and powerful insights into the actions, opinions and motivations of citizens, consumers, patients, customers or employees. We serve more than 5000 clients across the world with 75 business solutions.
Founded in France in 1975, Ipsos is listed on the Euronext Paris since July 1st, 1999. The company is part of the SBF 120 and the Mid-60 index and is eligible for the Deferred Settlement Service (SRD).
ISIN code FR0000073298, Reuters ISOS.PA, Bloomberg IPS:FP www.ipsos.com
Download