Global Vaccines Research
As the race to develop a COVID-19 vaccine continues at speed, the world faces many more questions than answers – not only about when we might have a vaccine, but who will get it first, how will they get it and are they willing to have it? And how far will it take us on the journey back to 'normal'…?
As we await the most anticipated vaccine in modern history, Ipsos continues to conduct research among consumers, healthcare professionals and other stakeholders to understand the dynamics around COVID-19 vaccines – and hence, the future outlook – through the eyes of society, markets and people.
Find our latest insights and opinions and an overview of our global vaccines research offer below.
Polls & Reports | Articles & Papers | Services

Polls & Reports
Articles & Papers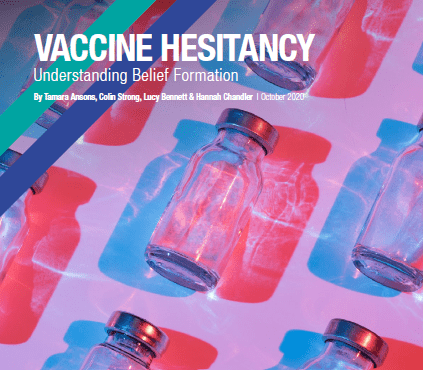 Vaccines hesitancy: Understanding belief formation – As we await the progress of COVID-19 vaccines, one question we can usefully consider now is how vaccination beliefs and behaviours are formed and maintained. This paper looks at the issue of vaccines hesitancy from a behavioural science perspective and asks whether the discussion to date has been overly focused on the individual, underestimating the role of cultural and political situations and other social drivers.
Great expectations: Developments & dynamics of a COVID-19 vaccine – coming soon
Informed by insights from Ipsos research and other sources, this paper summarises our current situation and the dynamics surrounding COVID-19 vaccines in development, the likely future uptake and, ultimately, impact.
Services
Click here to learn more about Ipsos' global vaccines research capabilities, and how we can help answer your key questions: