New report examines people's attitudes towards climate change and how they translate into action
The report from Ipsos and the Centre for Climate Change and Social Transformations (CAST) presents the key findings of this rich and detailed study and its implications for public policy across government at national and local levels.
A new report by Ipsos and the Centre for Climate Change and Social Transformations (CAST) takes an in-depth look at the public's attitudes towards climate change, how this translates into action and how policymakers can increase support for and participation in sustainable policies.
The report shows that concern about climate change has risen in recent years, with a record high in November 2021 coinciding with the UK's hosting of COP26 in Glasgow, and the public are supportive of a range of policies that would bring fundamental transformations in terms of the food we eat, the way we travel, the way we heat and cool our homes, and how we consume goods and services.
However, their support is fragile, and falls sharply when potential lifestyle and cost implications are presented. On the other hand, by focussing on co-benefits of net zero policies, such as enhanced air quality, job creation or health improvements, support increases.
Policies receive higher support if they are seen as fair and which embody the 'polluter pays' principle, for example frequent flyer levies. Support is also likely to be higher for policies that involve choice and incentivisation rather than coercion.
For example, while the public is generally supportive of increasing the provision of vegetarian / vegan options through public food provisioning choices (e.g., school meals), more coercive measures, such as taxes on red meat and dairy, enjoy less support.
Similarly, support was higher for electric vehicle subsidies (62%) than restricting car-based travel by creating low traffic neighbourhoods (53%). Both policies would reduce carbon emissions from transport and decrease air pollution.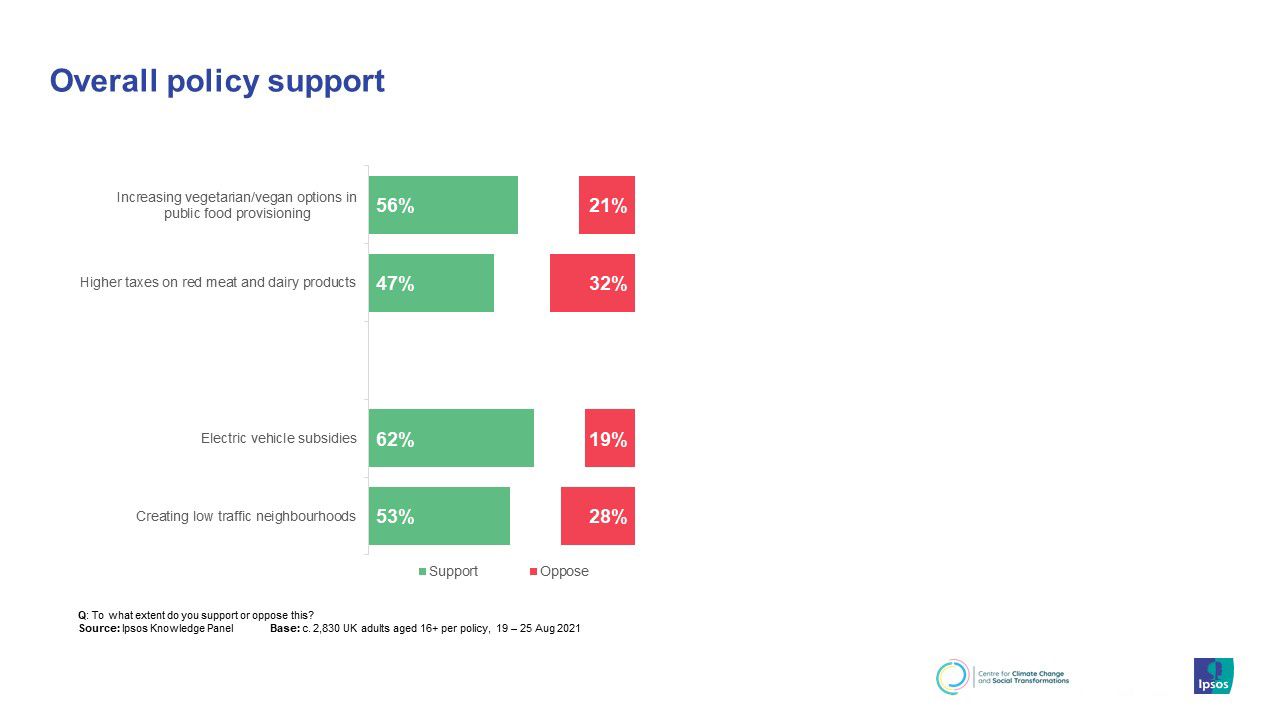 In terms of co-benefits, the public are more convinced by arguments around increased health green jobs than the environmental benefits of these policies. For example, 86% were convinced by the argument that electric vehicle subsidies would improve air quality and cut the health risks of air pollution. Seven in ten (69%) were convinced by the argument that increasing vegetarian and vegan options would create jobs in the plant-based food sector.
The fragility of public support means policy makers need to understand what concerns the public have around the implications of net-zero policies in order to address them and be able to communicate the benefits (and co-benefits) properly as well as engaging with the public to raise awareness of the societal transformations needed to reach net-zero.
The report seeks to help policy makers at national and local levels, as well as businesses, navigate a route to achieve net zero emissions fairly and effectively.
Rachel Brisley, Head of Energy and Environment, Ipsos, said:
Transitioning to net zero will require us all to change how we work, live and enjoy our leisure time. Net Zero Living provides valuable insights for policy and decision makers regarding the types of changes the public are willing to make and where they are concerned about the financial and lifestyle implications.
Professor Lorraine Whitmarsh, environmental psychologist at the University of Bath and Director of the Centre for Climate Change and Social Transformations, added:
Our report shows that the public does support net zero policies, but that this support is fragile and influenced by how these policies affect individuals personally and whether they see them as fair. There is a clear need for policy-makers to engage with the public on the societal transformations needed to reach net zero and to ensure policies are affordable and fair.
Technical note
Survey data has been collected by Ipsos's UK KnowledgePanel, an online random probability panel which provides gold standard insights into the UK population, by providing bigger sample sizes via the most rigorous research methods. Ipsos interviewed a representative sample of 5,665 adults aged 16+ in the UK between 19th and 25th August 2021.
Data are weighted by age, gender, region, Index of Multiple Deprivation quintile, education, ethnicity and number of adults in the household in order to reflect the profile of the population of the UK. All polls are subject to a wide range of potential sources of error.
Where percentages do not sum to 100 this may be due to computer rounding, the exclusion of "don't know" categories, or multiple answers.
Questions are asked of the total sample of n=5,665 unless otherwise stated.