There's bipartisan support for pandemic relief, but can the federal government roll it out in time?
Next week, an extra $600 per week in unemployment benefits runs out. Roughly one in five workers are collecting unemployment benefits just as the virus is getting worse, not better across most of the country.
Congress is drafting proposals to continue some of these benefits, like direct payments to individuals and families, forgivable Payment Protection loans for businesses, and incentives for employers to retain employees even while business contracts. There are new add-ons too, like money for schools to reopen fully and liability legislation that protects businesses from COVID-19 related lawsuits.
For starters, Americans of all stripes clearly want to see continued economic relief. Republicans and Democrats show strong support for the stimulus checks, with nearly all (85%) of Democrats supporting the payments while about three in four Republicans (72%) back them, Reuters/Ipsos polling finds.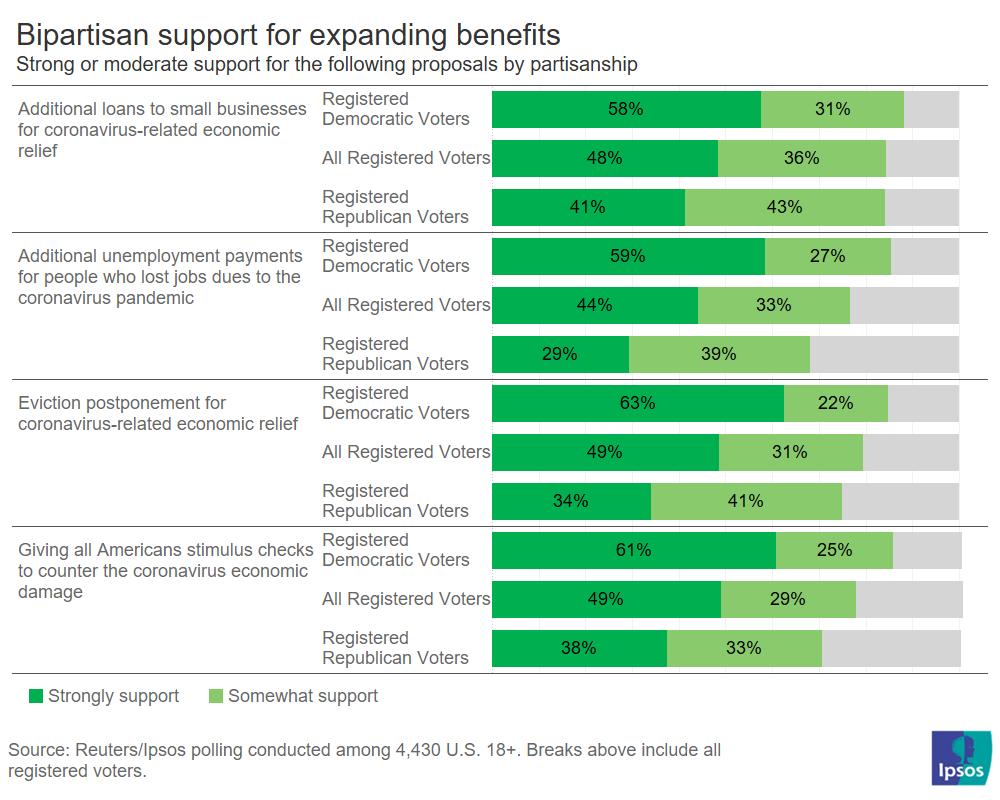 Additional unemployment is also a winning issue for both sides. Over two-thirds of Republicans favor added unemployment benefits, while 85% of Democrats are behind it. Majorities from both parties also back eviction postponement as an add-on in a COVID-19 economic relief package.
Whether any of these benefits gets to Americans who need it is less clear. The rollout of these expanded benefits in April—like all things the pandemic touched—was bumpy at best. The Axios-Ipsos Coronavirus Index finds that it took till the middle of May for a majority of people (65%) to get their stimulus check.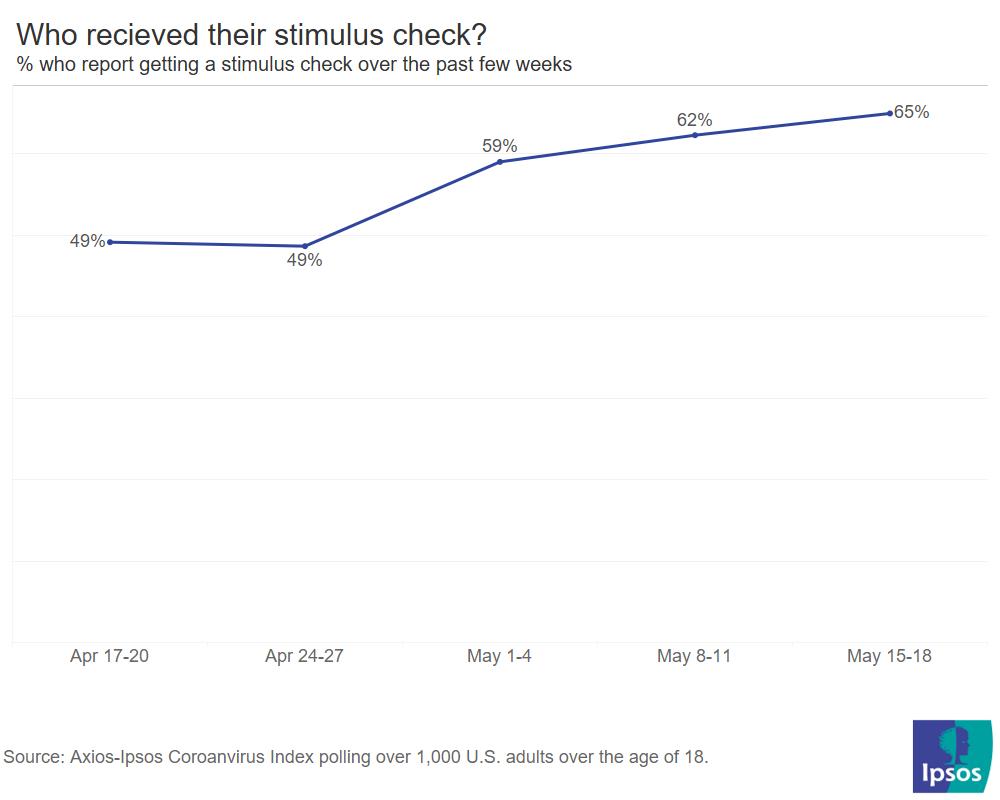 Right now, 159 million payments were made through the program Congress set-up, according to the most recent account from the Treasury Department at the beginning of June. It's unclear how many families that has gone to and how many more there is to go.
Reaching low-income people was an issue during the first round of payments. People who don't file tax returns or receive federal benefits are hard to reach as those are the two avenues people receive payments through.
The stimulus check was used as intended. Among people who got the stimulus check at the beginning of May, four in ten people used it to pay for food and basic household goods or pay their rent or mortgage. An additional, 35% put it in their savings account, according to the Axios-Ipsos Coronavirus Index.
Most people can't wait weeks for financial assistance. Even with the additional $600, 42% of Americans are extremely, very or somewhat concerned about paying their bills. 71% of unemployed people are concerned with paying their bills based on findings from the most recent wave of the Axios-Ipsos Coronavirus Index.
Beyond the issues of getting payments to people, many small businesses also haven't been able to access the loan and paycheck protection program Congress set up for them.
As of the end of May, only 15% of small businesses had applied to and received their COVID related loan over the past month, the Met Life/ US Chamber of Commerce/ Ipsos Small Business Index found. An additional 14% had applied but not yet received it (7%) or applied and was unsuccessful (7%). Yet, in April the same Index found that 47% of small businesses reported that the Paycheck Protection Program was critical for keeping their business open.
For small businesses, not being able to stay afloat has real consequences for business owners. Some economists estimate that more than 100,000 small businesses have permanently closed since the pandemic. 42% of small businesses believe they can continue operating between three months to a year before they must shut down permanently, according to the most recent report from the Met Life/ US Chamber of Commerce/ Ipsos Small Business Index.
To prevent that, small businesses report that securing loans and getting safety guidance are the two top priorities that will help them in the short-term future. Three in ten report needing more safety guidance in the next few months followed by one in four (26%) small businesses that anticipate needing more loans and financial assistance. Legal help was not a priority for small businesses, with only 15% seeing that as an area they might need help with in the coming months.
Helping small businesses wins bipartisan support too. 84% of Republicans back small business loans, with about 41% of Republicans strongly supporting such a measure. A nearly identical share of Democrats favors supporting small businesses as well.
The question of receiving assistance can make or break families around the country. There are 14 million more unemployed people than there are jobs right now, according to the Economic Policy Institute. Employees at bigger companies, like Walgreens, United Airlines and Wells Fargo are also cutting thousands of jobs on top of the decimation of small businesses throughout the U.S.
"We should be very concerned about what's going to happen in August and beyond" Mathieu Despard, a faculty director at the Social Policy Institute at the Washington University in St. Louis told Axios. Nearly all Americans back economic assistance for those most vulnerable to the pandemic induced economic downturn, but can Congress and the federal government deliver in time?