Three in four Americans support national policies to reduce single-use plastic
Washington, DC, February 23, 2023 — A new public opinion survey, conducted by Ipsos on behalf of Oceana, shows broad bipartisan support for national and local policies that would reduce single-use plastics. The poll also shows many Americans are concerned about plastic pollution and its impact on the environment and the ocean. 
Detailed Findings
Three-quarters of Americans (76%) are concerned about plastic pollution and its impact on the environment and the ocean. This includes 79% of registered voters, 90% of Democratic registered voters and 69% of Republican registered voters. 
Seven in ten Americans say that elected officials should support policies that reduce plastic pollution, including 82% of Democratic registered voters and 67% of Republican registered voters. 
Three-quarters of Americans (77%) and 79% of registered voters support local and state policies that reduce single-use plastics, and 75% of Americans and 77% of registered voters support national policies that reduce single-use plastics. 
Seventy-one percent of Americans support a pause in allowing new plastic production facilities to be built. 
Seventy-five percent of Americans would like to see the private-sector offer plastic free options, and 72% agree that the companies should stop producing and using so much single-use plastic. 
Additionally, 79% of Americans support shifting the cost of cleaning up plastic pollution from taxpayers to the companies that make and use plastic. 
There is also support for policies that reduce specific single-use plastic items, like plastic packaging from online shopping (68%), plastic beverage bottles (66%), plastic bags (67%) and plastic straws (64%).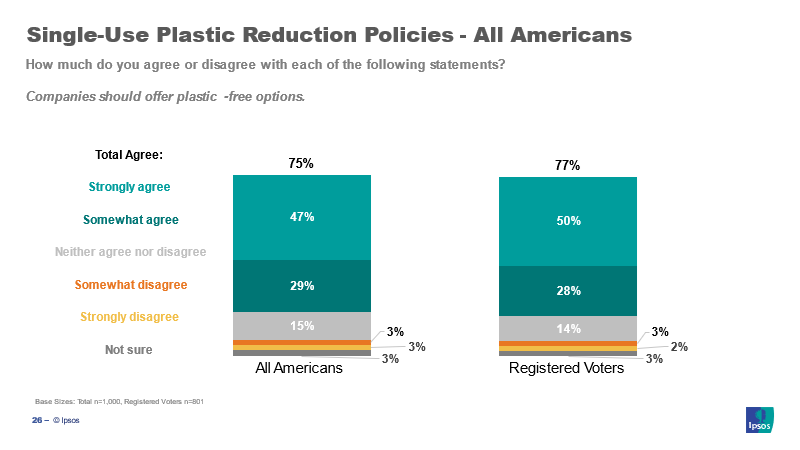 About the Study
These are some of the findings of an Ipsos poll conducted between December 12-19, 2022, on behalf of Oceana. For this survey, a sample of roughly 1,000 adults age 18+ from the continental U.S., Alaska, and Hawaii, was interviewed online in English. The sample includes 801 registered voters.
The sample was randomly drawn from Ipsos' online panel, partner online panel sources, and "river" sampling and does not rely on a population frame in the traditional sense. Ipsos uses fixed sample targets, unique to each study, in drawing a sample. After a sample has been obtained from the Ipsos panel, Ipsos calibrates respondent characteristics to be representative of the U.S. Population using standard procedures such as raking-ratio adjustments. The source of these population targets is U.S. Census 2021 American Community Survey data. The sample drawn for this study reflects fixed sample targets on demographics. Posthoc weights were made to the population characteristics on gender, age, race/ethnicity, region, and education.
Statistical margins of error are not applicable to online non-probability polls. All sample surveys and polls may be subject to other sources of error, including, but not limited to coverage error and measurement error. Where figures do not sum to 100, this is due to the effects of rounding. The precision of Ipsos online polls is measured using a credibility interval. In this case, the poll has a credibility interval of plus or minus 3.8 percentage points for all respondents. Ipsos calculates a design effect (DEFF) for each study based on the variation of the weights, following the formula of Kish (1965). This study had a credibility interval adjusted for design effect of the following (n=1,000, DEFF=1.5, adjusted Confidence Interval=+/-5.3 percentage points). .
The poll also has a credibility interval plus or minus 4.2 percentage points for registered voters.
For more information on this news release, please contact:
Chris Jackson
Senior Vice President, US
Public Affairs
+1 202 420-2025
[email protected]
Annaleise Lohr
Director, US
Public Affairs
[email protected]
About Ipsos
Ipsos is one of the largest market research and polling companies globally, operating in 90 markets and employing over 18,000 people.
Our passionately curious research professionals, analysts and scientists have built unique multi-specialist capabilities that provide true understanding and powerful insights into the actions, opinions and motivations of citizens, consumers, patients, customers or employees. Our 75 solutions are based on primary data from our surveys, social media monitoring, and qualitative or observational techniques.
Founded in France in 1975, Ipsos is listed on the Euronext Paris since July 1st, 1999. The company is part of the SBF 120 and the Mid-60 index and is eligible for the Deferred Settlement Service (SRD).
ISIN code FR0000073298, Reuters ISOS.PA, Bloomberg IPS:
FP www.ipsos.com