Back-to-school shopping won't be back-to-normal anytime soon
Many parents are playing a wait and see game with back-to-school shopping as finances and school openings remain up in the air.
Do you need a Frozen backpack during a pandemic? Are new pants necessary for virtual school, or just zoom-friendly shirts? These are the questions parents are asking themselves as they try and figure out back-to-school shopping during one of the strangest summers on record.
While backpacks styles may seem trivial, back-to-school shopping is a major retail event, second only to the holiday season. This year it is especially important for retailers given the dismal first half of the year the economy experienced.
But, as many schools opt for distance learning or attempt an in-person schedule, how parents spend for their kids this school season— if they can— is shaping up to be far different than in previous years.
For starters, consumers may be taking a wait-and-see approach to shopping.
With parents unsure of whether kids are returning to an in-person or virtual classroom, or some combination, many aren't jumping on the back-to-school deals. Over the past week, 60% of parents in the Axios-Ipsos Coronavirus Index aren't buying school supplies, and nearly the same share (59%) aren't buying new clothes for their kids. A National Retail Federation survey from the beginning of July found that over half of back-to-school shoppers (54%) hadn't completed their shopping list because they were unsure of what they would need.
What parents are spending on is also different. Deloitte projects reduced spending from parents in clothing and accessories, which they project will be offset by increased spending in technology making the total spend on back-to-school flat year-over-year.
Personal hygiene equipment is another new category on the back-to-school list too. Nearly two-thirds (67%) of parents see sending their kids back-to-school as a large or moderate risk, and 72% of parents are worried about their child getting sick, the most recent wave of the Axios/Ipsos Coronavirus Index finds.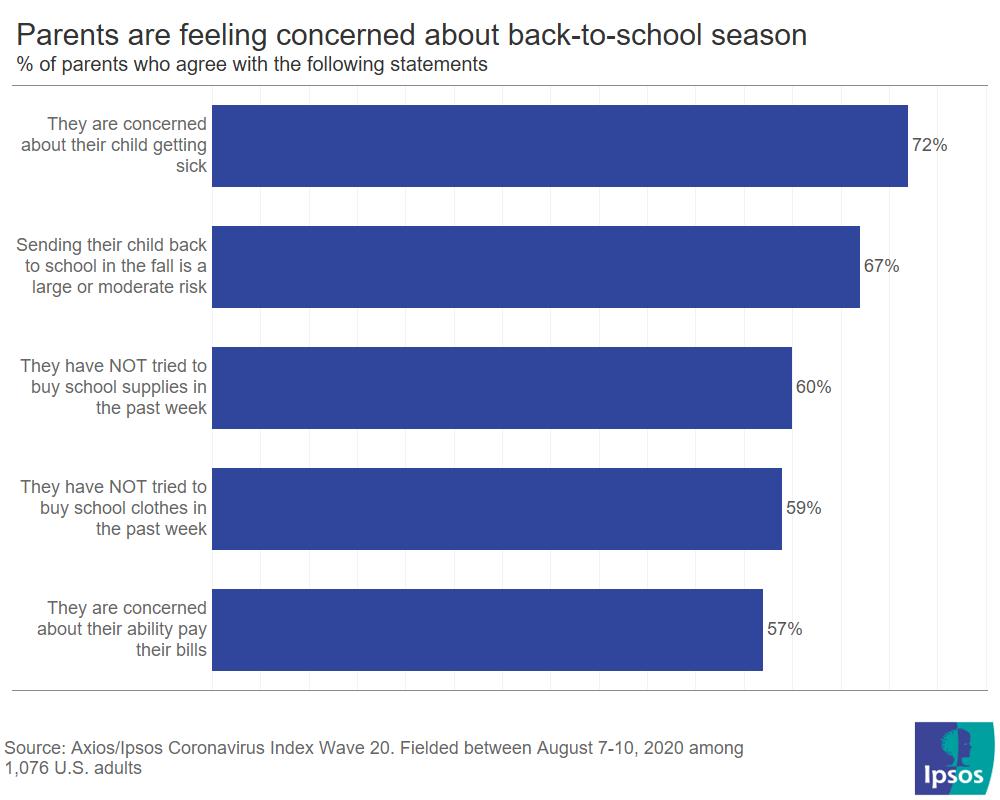 Parents are spending more on personal protective equipment like masks, hand sanitizer and gloves than households without children. That same study found that 44% of parents bought masks and gloves in the past week compared to just three in ten people without kids.
For hand sanitizer, the gap between parents and those without kids is even larger. 55% of parents bought hand sanitizer in the past week compared to just a third (34%) of households without kids, Ipsos polling with Axios uncovered.
These changing habits and concerns are throwing an industry already in free fall into a frenzy during one of its most important times of year. Policies governing who is going to school in person changes district by district, so anticipating consumer needs and stocking up on that inventory promises to be a major challenge for retailers.   
Beyond that, how parents shop this season is also changing. 57% of parents see shopping at a retail store as a large or moderate risk right now, according to most recent wave of the Axios/Ipsos Coronavirus Index. Going to different stores to price compare is most likely not an option. "With consumers cautious about how much time they spend out in public, there is likely to be less going store-to-store to comparison shop this year," Prosper Insights Executive Vice President of Strategy Phil Rist said to NRF.
As a result, parents are going to be moving online in a significant way, and how they shop is vastly different than households without children. Parents seem to do more much research into their purchases, relying heavily on online reviews. 58% use review sites like Yelp and Amazon reviews when making purchase decisions compared to just 46% of people without kids in their household, Ipsos' Consumer Tracker finds.
Parents are also more likely to trust articles or reviews posted online from friends or family. That same survey found that 41% of parents trust this form of review compared to just 22% of non-parents.
Not only do changing commerce channels, unclear procedures and fear of the coronavirus hinder parents' ability to make purchasing decisions for their kids, but the overall economic landscape may be holding consumers back.
Unemployment is still in the double digits, and households with children are struggling. The Axios/Ipsos Coronavirus Index finds that 57% of parents are concerned with how they are going to pay their bills, 14-points ahead of non-parents.
Cashing in on any government assistance seemed to be an issue that hit parents particularly hard. It took roughly four months for the federal government to send out an additional $500 payment to people who filed with dependents but did not receive their initial payment in April or May.
Between delayed payments and the stalled stimulus check being negotiated by Congress, parents are relying on their own financial safety net, one that polling suggests is much thinner than households without kids. Newsy/Ipsos polling from April found that 14% of households with children could make it more than 6 months without income or financial assistance due to COVID-19 related closures. For households without children, 30% could make it half a year in the same circumstance.
Retail companies and parents are both waiting and watching to see what government officials and school districts decide on the stimulus and back-to-school.
With all the stress, uncertainty and fear, one thing is clear: parents aren't getting out of their pjs. 43% of people with children in their household said they are wearing pajamas more during the day since the pandemic began. Just a quarter of people without children in their household tell Ipsos' Consumer tracker the same thing.
At least those at some of the most difficult intersections of the pandemic can stay comfortable more often while figuring out this new normal.