Bloomberg Fails to Make a Splash, So Far
A Reuters/Ipsos poll shows 4% support for the former mayor of New York among Democrats.
Media magnate and former New York mayor Michael Bloomberg's announcement that he has taken steps towards entering the Democratic primaries appears to have been met with a collective national shrug, other than a series of commentaries detailing his record with women, New York's infamous stop-and-frisk policy, and so forth.
While Bloomberg has not yet captured the heart and soul of America, he might have an influence on other candidate's chances at winning the Democratic presidential primaries. A nationally representative Reuters/Ipsos poll asked Americans how they would vote with and without Bloomberg in the mix.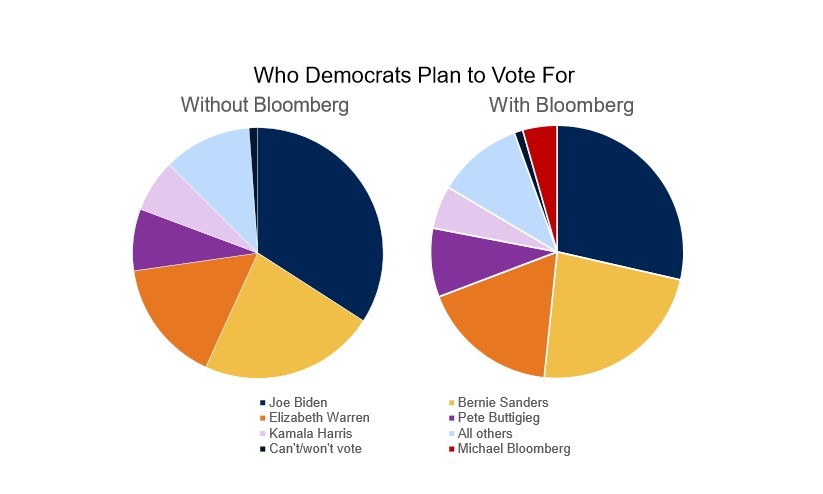 Source: Reuters/Ipsos poll conducted November 12-14
Bloomberg's primary impact appears to be weakening support among Democrats and all Americans for current frontrunner, former Vice President Joe Biden, while mobilizing minimal support for himself.
Without Bloomberg in the race, 30% of Democrats said that they would vote for Biden. With Bloomberg added to the list of contenders, 26% of Democrats say that they plan to vote for Biden. In other words, the minimal support that Bloomberg does have appears to come at Biden's expense.
Additionally, Bloomberg is not universally beloved among Democrats, with only 7% saying that they view him "very favorably," compared with candidates like Elizabeth Warren (26%), Joe Biden (27%), Bernie Sanders (32%), and Pete Buttigieg (18%). Instead, more Democrats are likely to say that they "lean towards favorable" (38%) and "lean towards unfavorable" (29%) when asked about Bloomberg.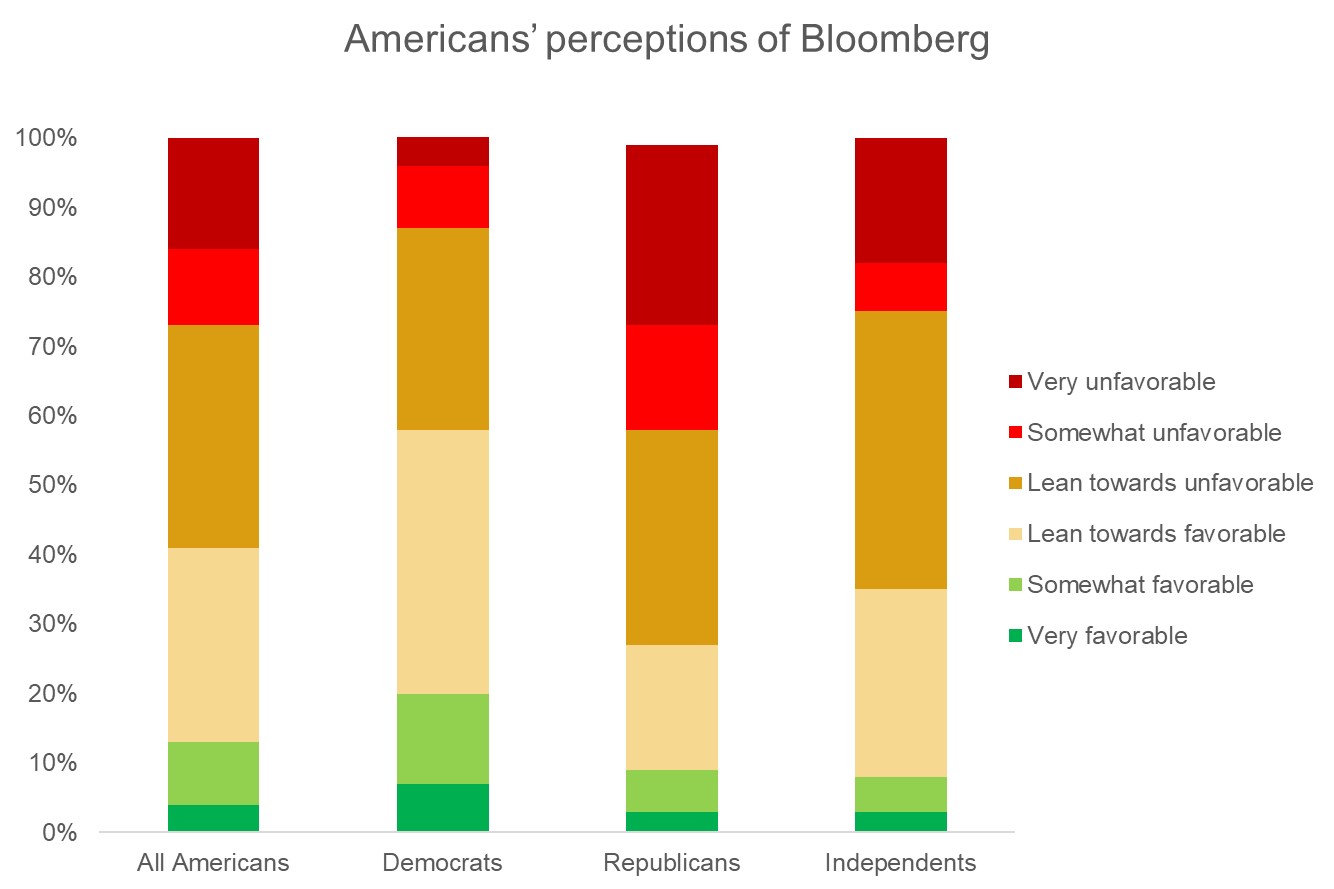 Source: Reuters/Ipsos poll conducted November 12-14
Bloomberg's personal wealth may be a liability, particularly among Democrats. According to an Ipsos poll conducted in October 2019, a majority of Democrats (55%) said that they strongly agree that the "American economy is rigged to advantage the rich and powerful," while 49% of Democrats said that the United States "needs a strong leader to take the country back from the rich and powerful."
As the founder and CEO of media and financial services company Bloomberg LP with an estimated net worth of $53.2 billion, Bloomberg certainly could be described as rich and powerful. While many of the current candidates vying to win the Democratic primaries are in comfortable financial positions, Bloomberg is far wealthier than even fellow billionaire Tom Steyer ($1.6 billion), also running for the nomination.
Even so, Bloomberg has already garnered enough support to put himself ahead of candidates like Andrew Yang and just behind Kamala Harris: 3% of all respondents and 4% of all Democrats said that they would vote for Bloomberg.
Ultimately Democrats will be swayed by whether a given candidate has the potential to take down President Trump, despite whatever concerns they may have about their wealth. So far, the candidate who appears to have the best shot at that is Biden. The recent Reuters/Ipsos poll bears this out, with 39% of Democrats predicting that Biden is the most likely to beat Trump in a general election. If Bloomberg is to make more of an impact, he will need to convince voters that he is the strongest contender against the sitting president.