Americans' trust in law enforcement, desire to protect law and order on the rise
USA Today/Ipsos poll shows shift in views of George Floyd's death ahead of the trial of Derek Chauvin; however, deep partisan and racial divisions remain
Washington, DC, March 5, 2021 — Ahead of the trial of Derek Chauvin, the police officer charged with the murder of George Floyd, and the one year anniversary of the death of Breonna Taylor, a new USA Today/Ipsos poll shows shifting views among the American public when it comes to trust in law enforcement and Black Lives Matter, the right to protest, and the circumstances around Floyd's death last May.
In comparison to a USA Today/Ipsos poll from last June, which was conducted as protests unfolded outside of the White House, Americans now are much less wedded to protecting the right to protest, perhaps indicating that the events at the U.S. Capitol on January 6th may still be fresh in people's minds. Furthermore, trust in law enforcement and police unions has grown, while trust in Black Lives Matter has declined. Finally, when it comes to the circumstances surrounding the death of George Floyd, fewer characterize it as murder, while more are simply unsure. In spite of this, a majority of Americans hope Chauvin is convicted.
---
Detailed Findings
1. As more Americans now wish to preserve law and order over the right to protest, they are also more trusting of law enforcement, less trusting of Black Lives Matter, and continue to support fully funding police departments.
Half (49%) of Americans believe law and order is the most important thing to ensure, even if it means limiting peaceful protests, while 31% feel the right to protest is the most important thing to ensure. In June, in the midst of protests across the country, the American public was evenly split (45% preserve law and order vs. 44% right to protest).
Sixty-nine percent of Americans trust local police and law enforcement to promote justice and equal treatment for people of all races (up from 56%), and 52% feel the same about police unions (up from 40%).
At the same time, trust in Black Lives Matter has dropped 10 percentage points (now at 50%, down from 60%).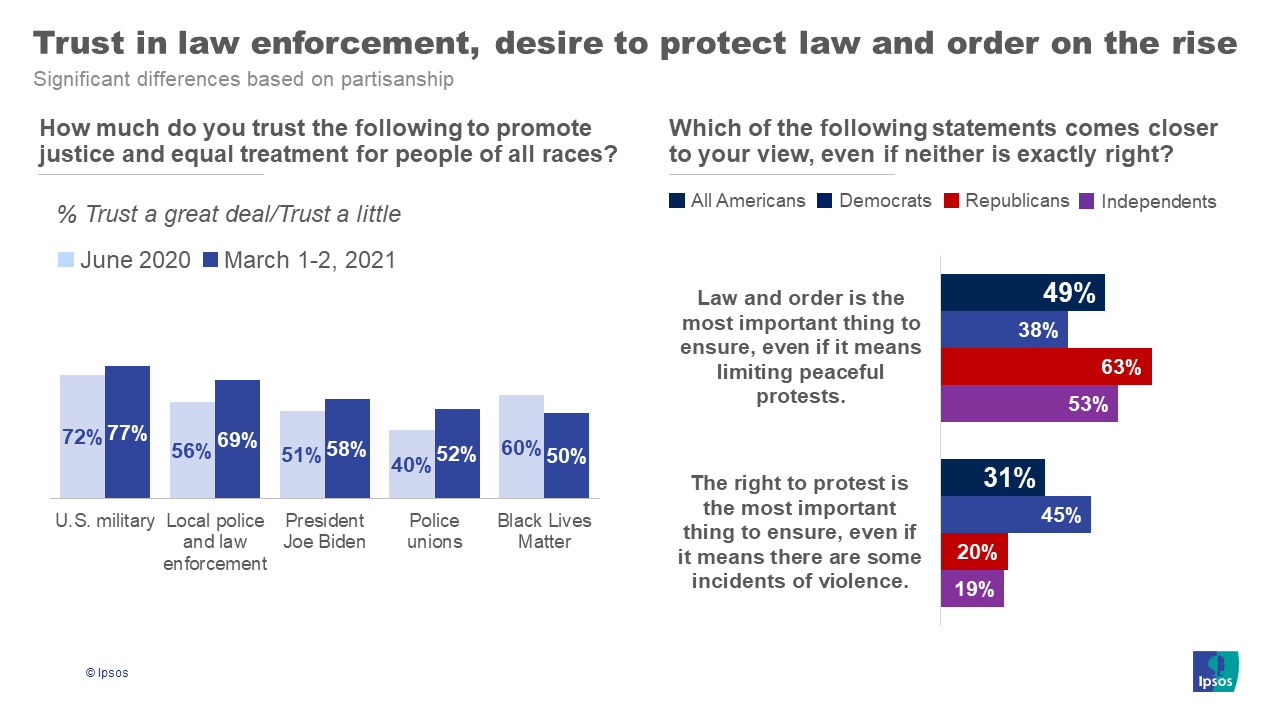 2. As we are more removed from the protests that took place over the summer, the public's views are a bit less crystallized than they were last year. Now, more Americans are unsure about various issues related to racial injustice and civil unrest.
For example, now, far fewer Americans personally believe George Floyd was murdered (36%) compared to last summer (60%). Though slightly more believe it was an accident (8%, up from 3%), much of this shift has been to respondents saying they don't know. Currently, 17% say they don't know how to characterize Floyd's death, up from 4% in June.
Similarly, one in five Americans are unsure about whether it is more important to protect law and order or the right to protest, up eight percentage points from June.
More than one-third (36%) say they have either heard nothing at all or are unsure about the trial of Derek Chauvin for his role in the death of George Floyd.
3. In the past year, significantly more Americans feel race relations in this country have worsened rather than improved. In addition, there are significant racial and partisan divisions on issues ranging from defunding the police, to equitable treatment of Black Americans, to trust in law enforcement.
March 13 marks one year since the death of Breonna Taylor. In the past year, nearly half of Americans (47%) feel race relations have neither improved nor worsened.
However, the number of people saying race relations have worsened is nearly four times the number saying improved (40% and 13%, respectively). This gap is particularly wide for Black Americans: 54% say race relations have worsened in the past year, while 10% believe they have improved.
In general, there continue to be significant differences of opinion on issues related to policing and racial equality, as we also saw in the June survey. For example, there is a more than 50-point difference between Democrats and Republicans on the belief that incidents of police misconduct against Black Americans reflect systemic racism in law enforcement (74% of Democrats agree vs. 20% of Republicans). There is a nearly 40-point difference between white and Black Americans on whether George Floyd was murdered (64% of Black Americans agree vs. 28% of white Americans). These differences extend to nearly every question in the survey.
4. A bare majority supports reforming the police, but there is little support for the "defund the police" movement. Furthermore, when forced to choose, more Americans wish to fully fund the budget for police in their community.
Overall, 51% of Americans support reforming the police, while 19% oppose. Though white and Black Americans aren't too far apart on this (51% and 59% support, respectively), there is a sizeable gap between Democrats (73% support) and Republicans (33%).
Though the concept of reforming the police is a net positive, "defund the police" is not. Fewer than one in five (18%) support the movement to "defund the police." Across all demographic groups, support is highest among Democrats – but even they are primarily opposed (34% support, 39% oppose).
Support for abolishing, or eliminating, the police is even lower: 11%.
Nearly three in five support fully funding the budget for police in their community, when given the choice between that and redirecting a portion of the police budget for social services (57% vs. 43%). This is similar to views expressed in an Ipsos poll conducted last August (53% fully fund, 47% redirect).
About the Study
These are some of the findings of an Ipsos poll conducted between March 1-2, 2021 on behalf of USA Today. For this survey, a sample of 1,165 adults age 18+ from the continental U.S., Alaska, and Hawaii was interviewed online in English. The sample includes 788 white Americans, 178 Black Americans, 598 Democrats, 374 Republicans, and 135 Independents.
The sample was randomly drawn from Ipsos' online panel, partner online panel sources, and "river" sampling and does not rely on a population frame in the traditional sense. Ipsos uses fixed sample targets, unique to each study, in drawing a sample. After a sample has been obtained from the Ipsos panel, Ipsos calibrates respondent characteristics to be representative of the U.S. Population using standard procedures such as raking-ratio adjustments. The source of these population targets is U.S. Census 2018 American Community Survey data. The sample drawn for this study reflects fixed sample targets on demographics. Post hoc weights were made to the population characteristics on gender, age, race/ethnicity, region, and education.
Statistical margins of error are not applicable to online non-probability polls. All sample surveys and polls may be subject to other sources of error, including, but not limited to coverage error and measurement error. Where figures do not sum to 100, this is due to the effects of rounding. The precision of Ipsos online polls is measured using a credibility interval. In this case, the poll has a credibility interval of plus or minus 3.3 percentage points for all respondents. Ipsos calculates a design effect (DEFF) for each study based on the variation of the weights, following the formula of Kish (1965). This study had a credibility interval adjusted for design effect of the following (n=1,165, DEFF=1.5, adjusted Confidence Interval=+/-4.8 percentage points).
The poll also has a credibility interval of plus or minus 4.0 percentage points for white Americans, plus or minus 8.4 percentage points for Black Americans, plus or minus 4.6 percentage points for Democrats, plus or minus 5.8 percentage points for Republicans, and plus or minus 9.6 percentage points for Independents.
For more information on this news release, please contact:
Mallory Newall
Director, U.S., Public Affairs
Ipsos
+1 202 420-2014
[email protected]
Kate Silverstein
Media Relations Specialist, U.S., Public Affairs
Ipsos
+1 718 755-8829
[email protected]
For more information on COVID-19 please click here
About Ipsos
Ipsos is the world's third largest Insights and Analytics company, present in 90 markets and employing more than 18,000 people.
Our passionately curious research professionals, analysts and scientists have built unique multi-specialist capabilities that provide true understanding and powerful insights into the actions, opinions and motivations of citizens, consumers, patients, customers or employees. We serve more than 5000 clients across the world with 75 business solutions.
Founded in France in 1975, Ipsos is listed on the Euronext Paris since July 1st, 1999. The company is part of the SBF 120 and the Mid-60 index and is eligible for the Deferred Settlement Service (SRD).
ISIN code FR0000073298, Reuters ISOS.PA, Bloomberg IPS:FP www.ipsos.com