Think seniors are most at risk? Women, younger people more likely to self-isolate amid COVID-19
Four in five women across 15 countries say they are in quarantine or self-isolation.
Months into the coronavirus pandemic, deaths worldwide are more than 100,000 people as more stringent social distancing and self-isolation measures are enforced by governments to flatten the infection curve.
There's also a lot of information being released about who is most at risk from the outbreak including data showing deaths from the virus are higher among older people and men.
But our latest Global Advisor survey of 29,000 respondents across 15 major countries shows that younger people and women are more likely to stay in quarantine or isolate themselves at home whether it's by choice or government order.
In an average of the 15 countries, four in five women (80%) say they are in quarantine or self-isolation, compared to three in four men (75%).
The top countries where women are most likely to say this are Spain (96%), which currently has the second highest number of infections globally, followed by Brazil (92%), France and Mexico (90%) and Russia (89%). On the other end of the spectrum, men are the least likely to isolate themselves in Japan (13%), Germany (63%), Australia (67%), Canada (69%), and Italy (74%).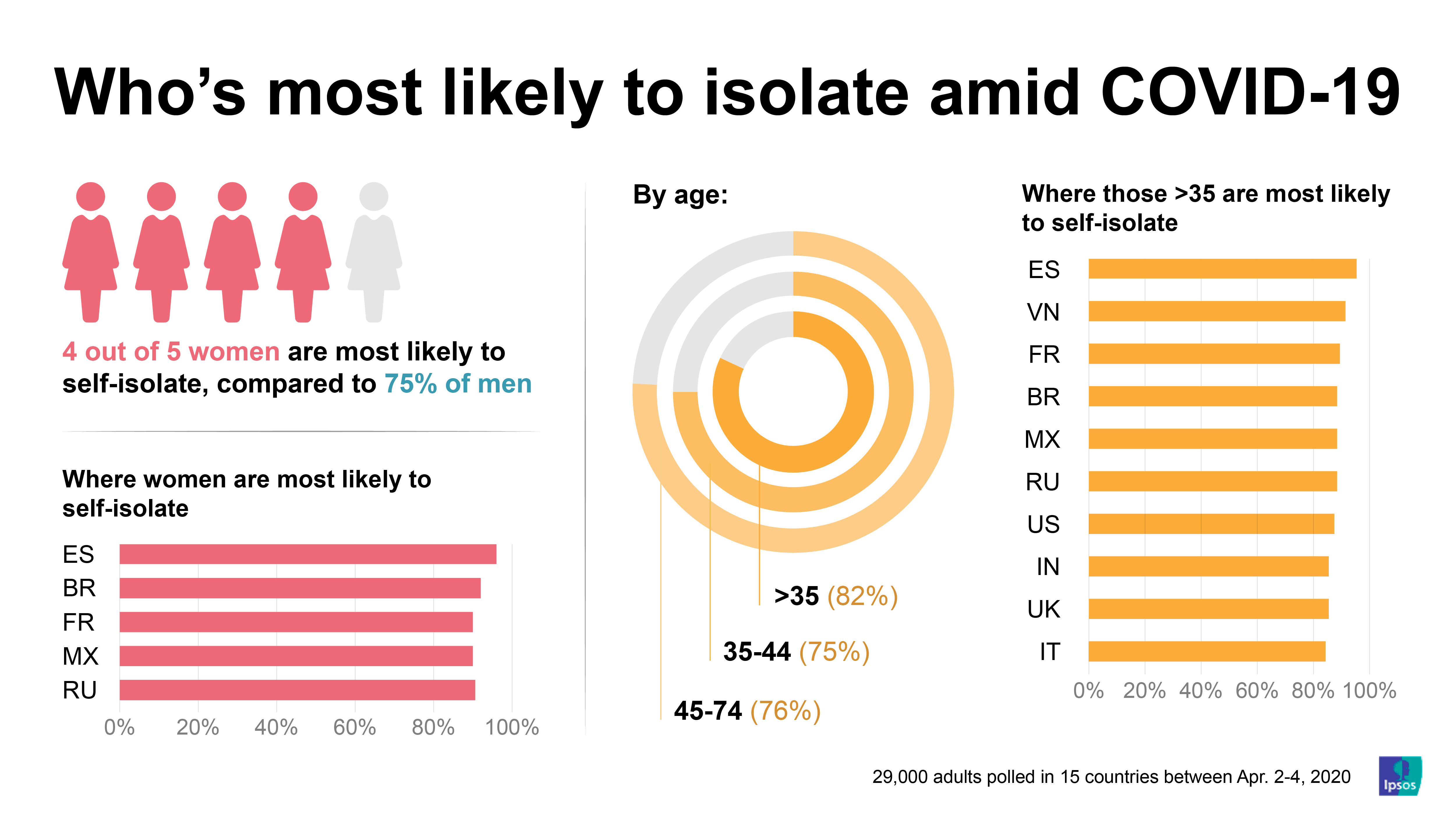 Megan O'Donnell, Assistant Director, Gender & Senior Policy Analyst at nonprofit think tank Center for Global Development in Washington, D.C. says the findings reflect what we know more broadly about the social drivers of risk-taking behaviour.
"Norms around masculinity in many contexts push men and boys to engage in risky behaviours that extend far beyond neglecting COVID-19 health risks," said O'Donnell. "We see this in men's higher levels of substance abuse to their higher likelihood of having traffic accidents."
When we teach a particular gender that they're strong to the point of invincibility, that socialisation can backfire in these unintended consequences, added O'Donnell.
In Japan, where only 13% of male respondents say they are in quarantine or self-isolation, more than 70% of deaths in the country from COVID-19 are of men, a government official said in a press conference on Thursday.
But O'Donnell also points out that people, regardless of gender, are unlikely to quarantine or socially isolate where financial necessity or limitations on physical space prevent them from doing so.
"In low-income settings where this is a serious risk, women are even more economically vulnerable than men," she said.
Younger people practice social distancing
In terms of younger people taking action to protect themselves, on average across the 15 countries, more than four in five (82%) under age 35 said they are in quarantine or self-isolation. That compares to 75% of those aged 35 and older.
Respondents under 35 most likely to do this are in hard-hit European countries and emerging markets ̶ Spain (96%), Vietnam (92%), France (90%), Brazil, Mexico and Russia (89%).
Meanwhile, respondents aged 45 and older in Japan (12%), Germany (64%), and Australia (66%) are least likely to isolate themselves.
In early April, the World Health Organization (WHO) said more than 95% of people who have died from COVID-19 in Europe were over the age of 60, but the global agency has also warned that young people should not be complacent.