Data breach hits 100 million: How worried are you about online security?

Online security is at the top of mind for many right now after news that the personal information of about 106 million credit card customers was hacked at U.S. bank Capital One Financial – in one of the biggest bank data breaches ever.
Personal information such as bank account and social security numbers, addresses, birth dates and reported income were stolen through a firewall on a cloud service.
It's certainly not the first time such a massive data breach has made headlines. In 2017, credit-reporting company Equifax reported the hacking of 150 million peoples' data, and in November last year, hotel chain Marriott International said the data of 500 million customers were stolen.
In an age where cyber security is a major issue for many companies, Ipsos Global Advisor asked nearly 19,000 people across 26 countries from October to November last year how they felt about sharing their personal information with businesses and governments.
Just over a third (36%) said they trust organizations with how they handle their personal data, while only one in three people (35%) had a good idea of how much personal data companies hold about them, and what they do with it (32%).
Concerns over sharing data
Nicolas Boyon and Henri Wallard, authors of the report, said the majority of people (67%) would be more comfortable sharing personal information with a company if it was clear how the data would be used.
"The findings suggest that organizations can address fears from consumers by being transparent about what they do with their personal data, by offering guarantees of confidentiality, having a clean security record, or offering financial compensation," the authors said.
Almost two-thirds (64%) of the respondents said they would be more comfortable sharing their data if they were promised the information would not be shared with third parties or told the company has never experienced security breaches (62%).
Nicolas Boyon, Senior VP of Ipsos Public Affairs U.S., said it's clear customers want to know if the companies they're dealing with have been the victim of a hacking.
"Disclosing this information is an opportunity for the company to engage with its customers and signify to them that it takes their concerns seriously," said Nicolas. "Not doing so can be perceived as a snub and hurt the company's reputation."
The report also found that consumers value privacy and compensation more than they see the benefits of sharing personal information.
Most agreed (62%) that they should be able to refuse letting companies use their personal information. Added to that, more than half (54%) thought they should be paid or rewarded for the use of their information.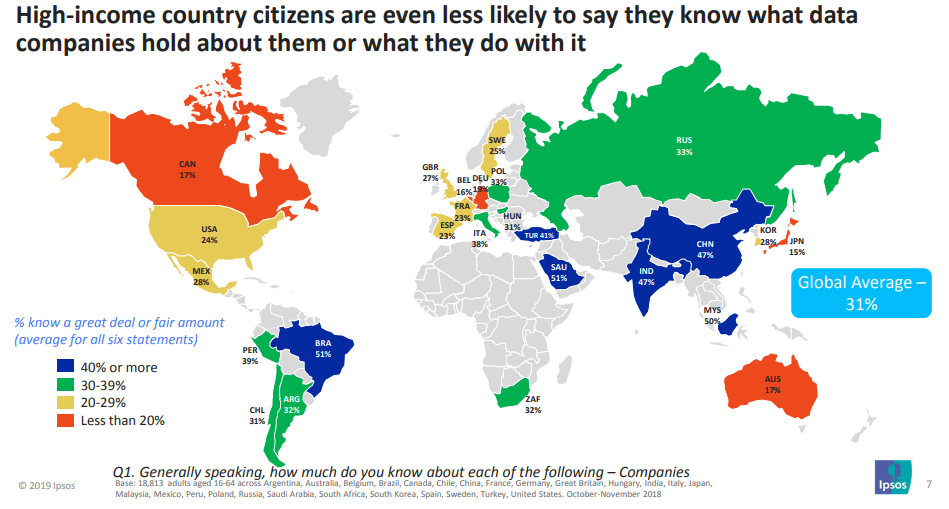 Other findings:
• Perceived knowledge of what companies do with personal information is lower (less than 20%) in countries where personal data is more regulated – Japan, Australia, Belgium, Canada and Germany. It's more than 45% in China, India, Malaysia and Saudi Arabia
• Just about one third (35%) think sharing data helps them save time, and even less think (28%) think it helps them save money
• Only one in five (23%) said companies using their data does not bother them
For more information, click here.
Methodology: These are the findings of an Ipsos Global Advisor survey on attitudes toward data privacy in partnership with the World Economic Forum. In total, 18,813 interviews were conducted October 26 – November 9, 2018 among adults aged 18-64 in the United States and Canada, and adults aged 16-64 in all 24 other countries. The survey was conducted in 26 countries around the world via the Ipsos Online Panel system. The countries reporting herein are Argentina, Australia, Belgium, Brazil, Canada, Chile, China, France, Germany, Great Britain, Hungary, India, Italy, Japan, Malaysia, Mexico, Peru, Poland, Saudi Arabia, South Africa, South Korea, Russia, Spain, Sweden, Turkey and the United States of America. Note that some of the questions were not asked in all 26 countries. The precision of Ipsos online polls is calculated using a credibility interval with a poll of 1,000 accurate to +/- 3.5 percentage points and of 500 accurate to +/- 5.0 percentage points.