A rapidly changing landscape: Social media discussions of COVID-19
With the situation changing daily, the focus of online COVID-19-related conversation is constantly evolving in response.
Every hour – sometimes every minute – there is some new piece of COVID-19-related news. It is impossible to escape what might be the biggest event of most of our lifetimes. Unsurprisingly, people are using social media as a source information, entertainment and a way to connect when they can no longer do so. And COVID-19 is there too.
Social media discussions about COVID-19 across the world are growing in Latin America and Africa.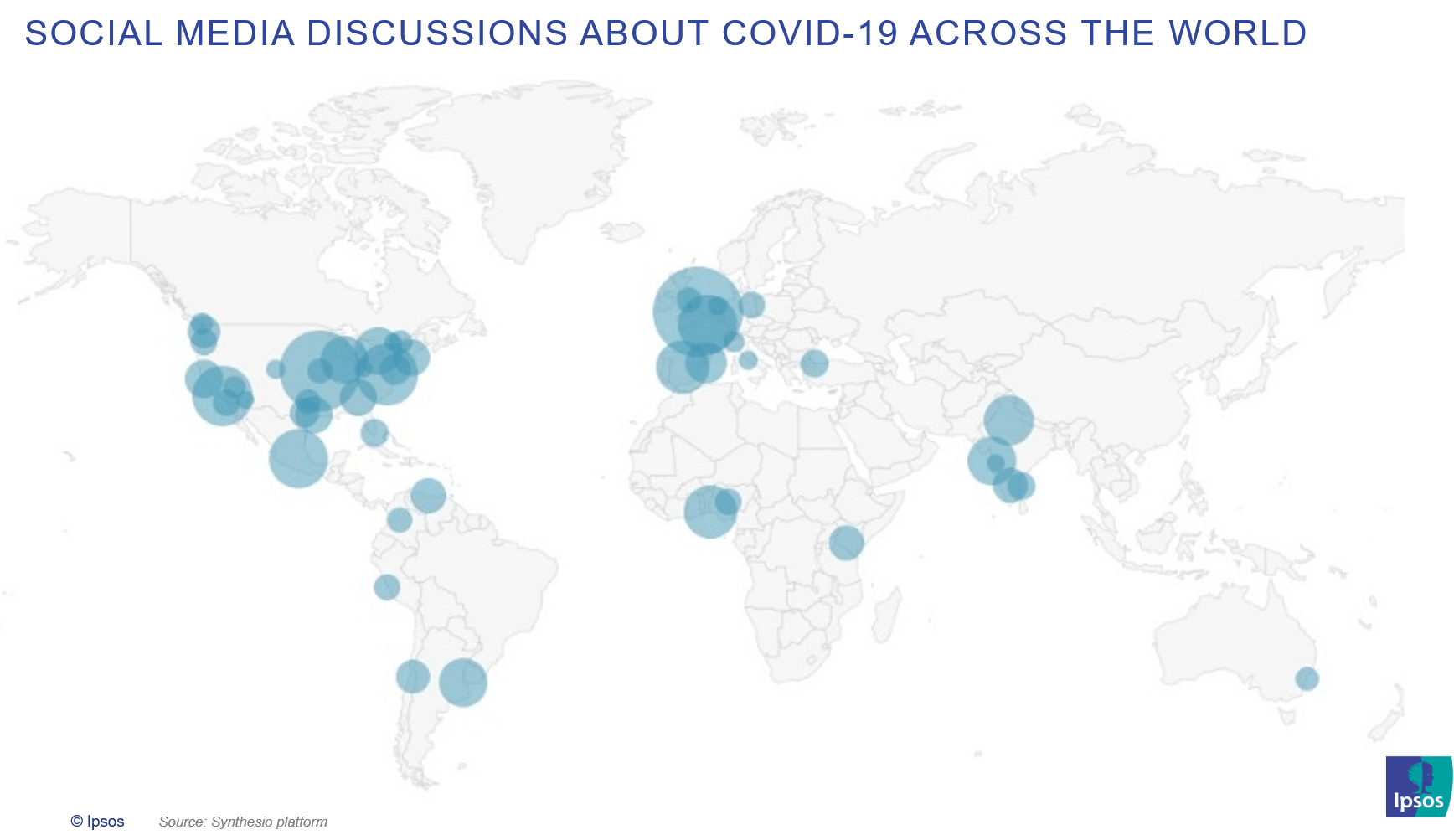 With the situation changing daily, the focus of online COVID-19-related conversation is constantly evolving in response. When we look at English-language mentions, we see how much difference a day can make. Looking at the use of hashtags, on 23rd March, meme and entertainment related hashtags were highly used: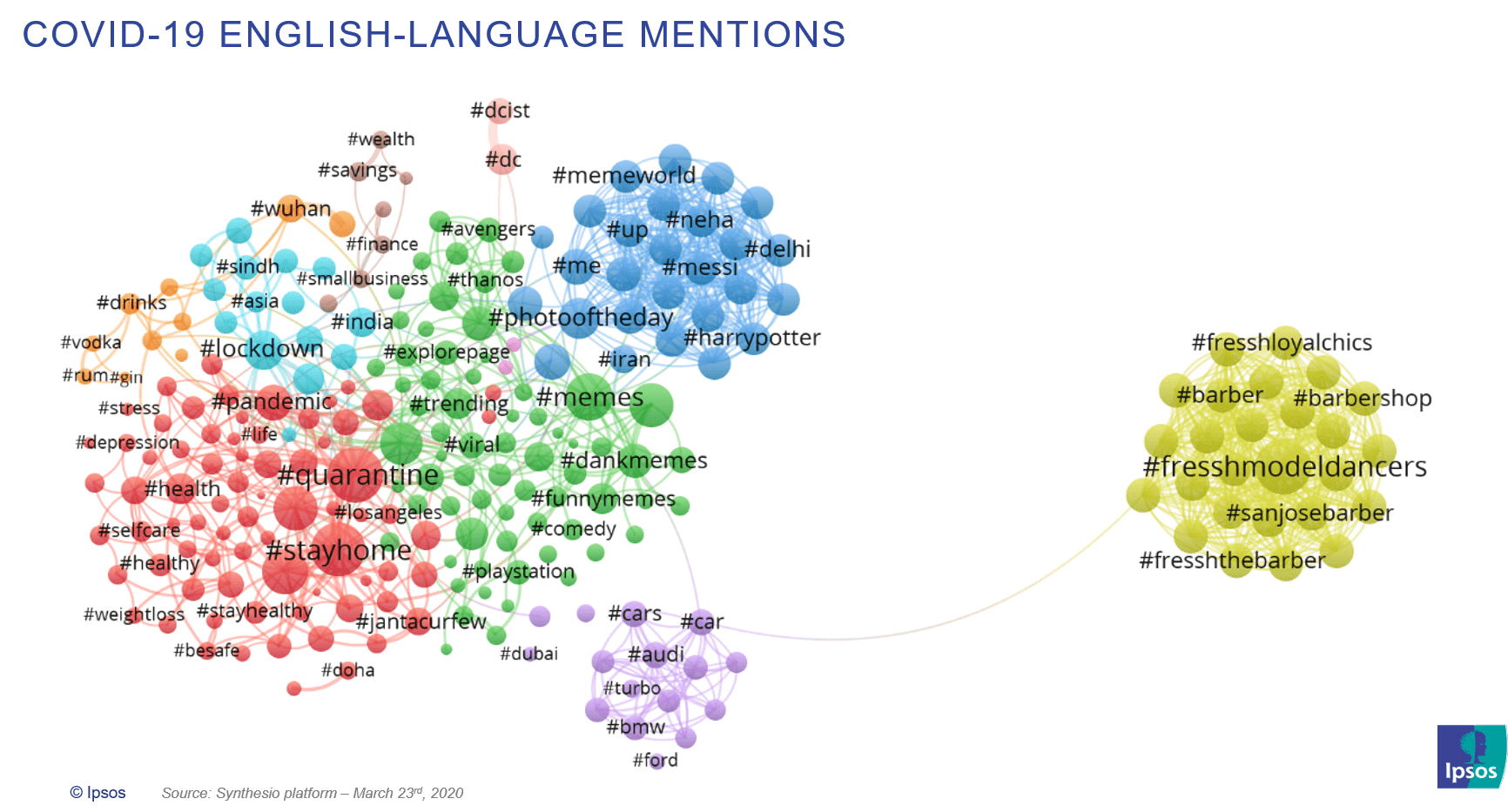 Our English-language topic modelling (see above and below) also revealed a spike in humour on this day, driven largely by tweets following the news of the Spain army being deployed to help out in affected areas with images of them in tight clothes – causing many to deem them the latest 'thirst trap'.
While this humour and #meme sharing still existed on the following day, it became a smaller portion of the total with hashtags related to #stayathome becoming even more prominent, with call for more lockdown coming through.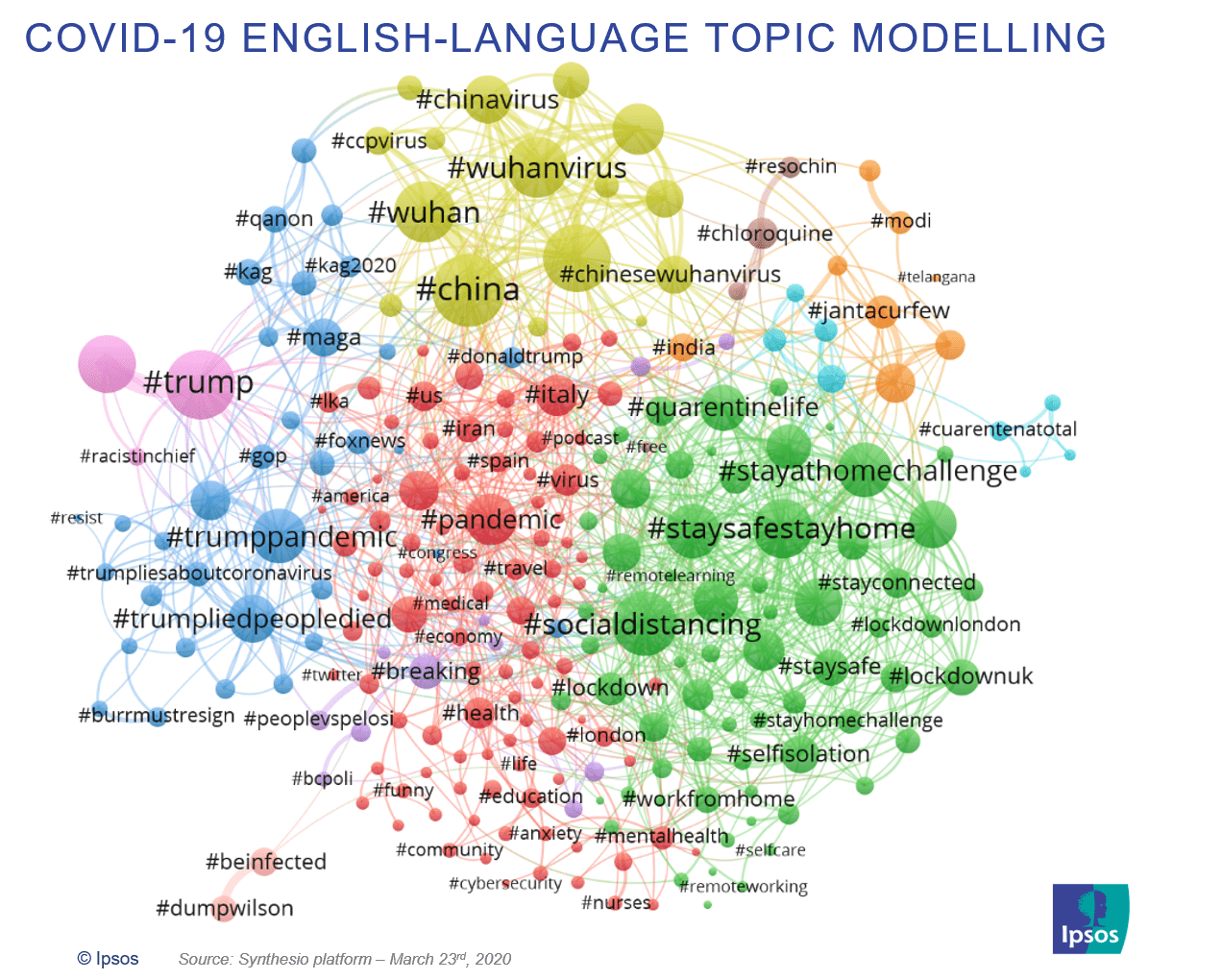 Topics people discuss are also changing. At the highest level, the topics are broadly similar. Sharing of news stories, discussions about politics and more social mentions remain among the top topics over a week-long period.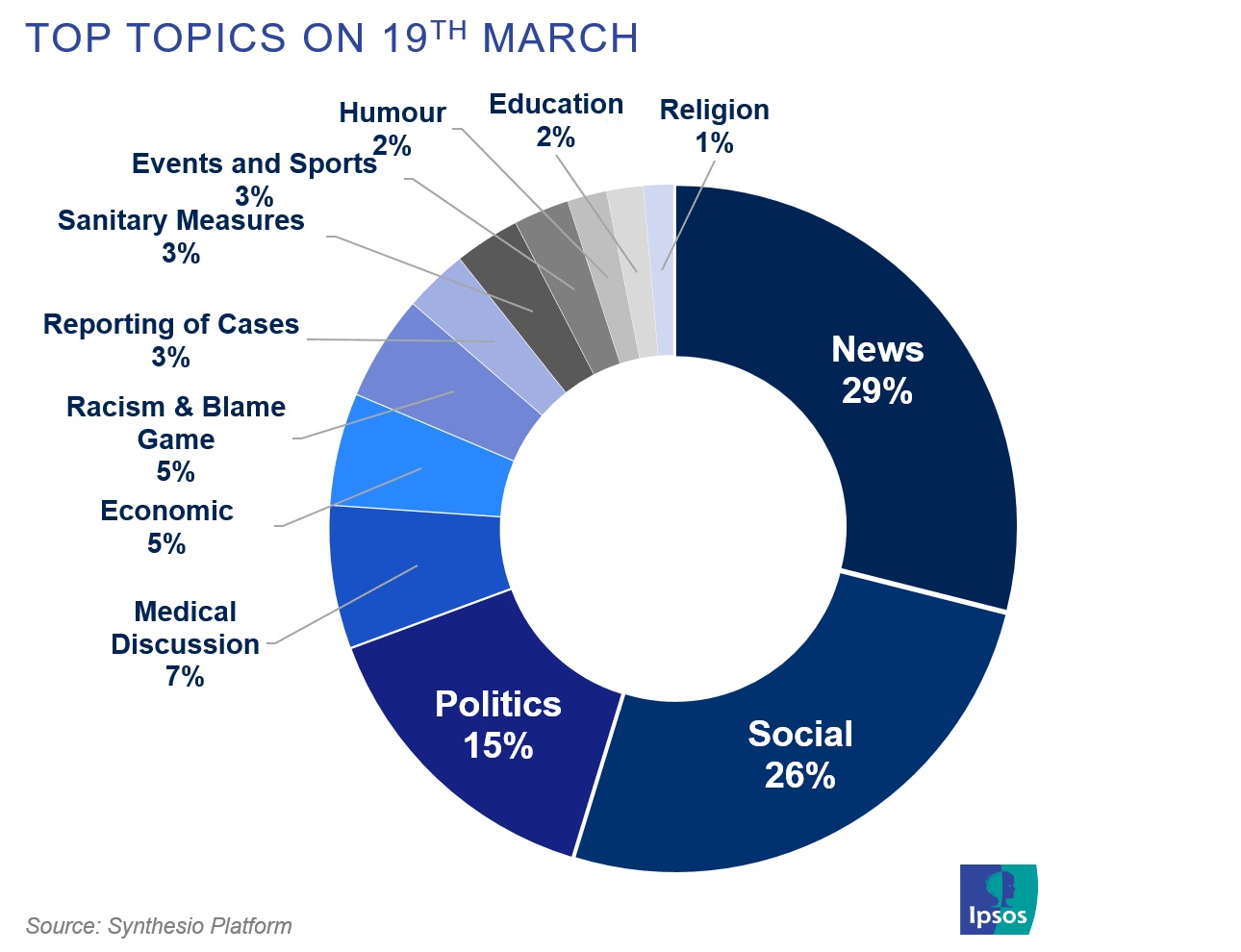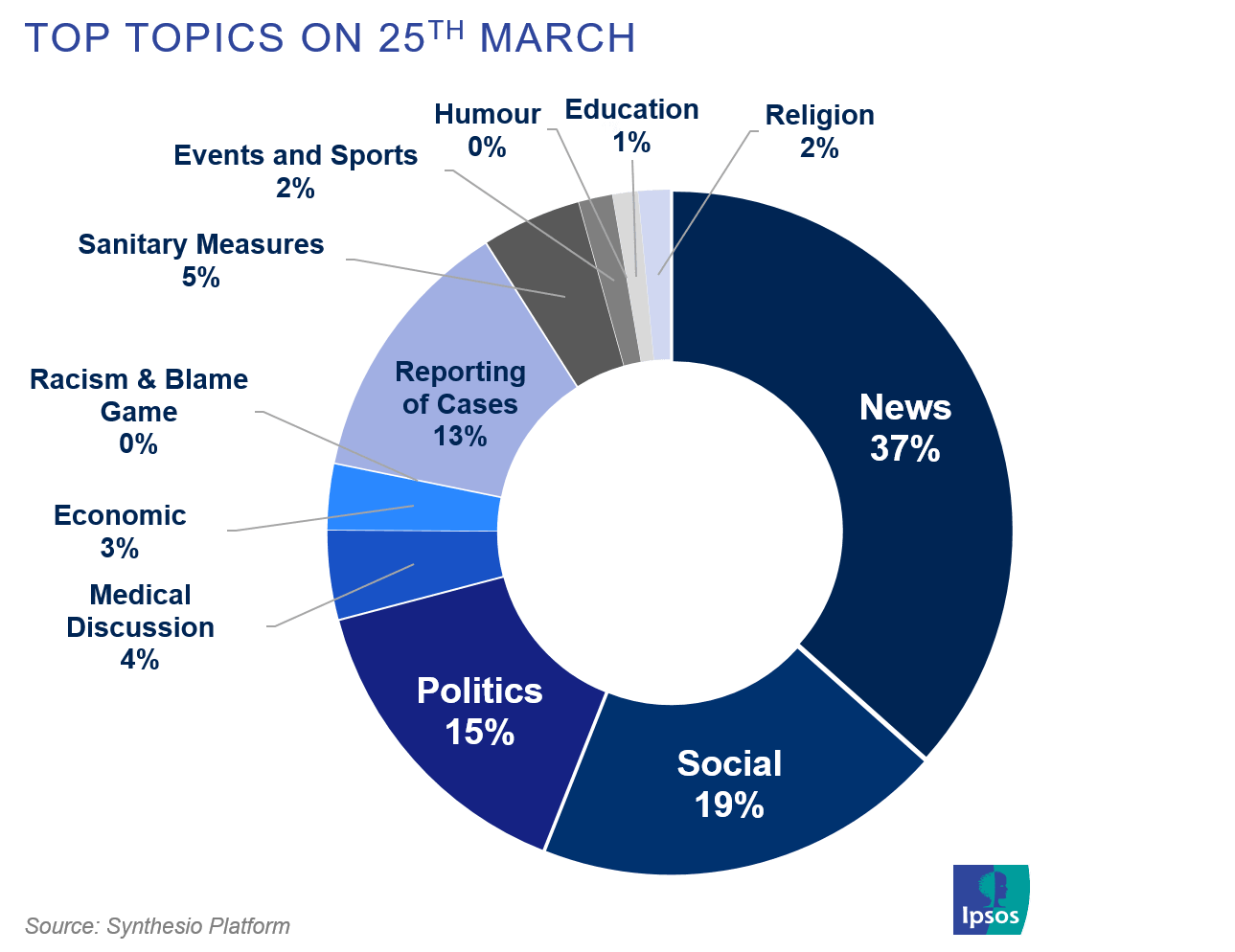 But humour posts, always a small percentage anyway, have disappeared as a main topic, and we see an increase in reporting of specific cases, driven especially by more discussion about Prince Charles contracting COVID-19.
When we look beneath the surface, the picture is very different and much more volatile. For example, the conversation around anti-malarial drugs started off hopeful as Trump suggested that they showed promise as a treatment, which quickly turned into worry in the following days when associated deaths began being reported from home use. However, when their use was banned by a Nevada governor in response on Tuesday 24th, this conversation switched to outrage around laws standing in the way of finding a treatment.
Similarly, over the weekend, annoyance at Spring Breakers refusing to stop partying occupied a large part of online conversation, but this evolved quickly into anger as Spring breakers tested positive on March 23rd.
Over the week we have seen an increase in reporting of death tolls, and with this, rising concern around underreporting and low availability of test kits. Rapper Cardi B has been influential in fuelling this conversation by suggesting that celebrities were being paid to say they have the virus on March 23rd and then questioning why celebrities seem to all have access to these kits while the average person does not on March 24th, both occupying online conversation each day.
Overall, it is clear that the nature of social conversation about COVID-19 changes rapidly, showing us many signals of what's most on people's minds. We expect this volatility to continue. Equally, however, given the volatility, it is difficult to predict how exactly the crisis affect people's lives and decisions over the long term. For now, we need to get comfortable with keeping on top of what's happening and being able to pivot quickly to answer people's needs.
More on Social Intelligence Analytics | Explore Synthesio social listening tools