The Retail Rollercoaster
Riding the ups and downs of today's omnichannel shopper landscape.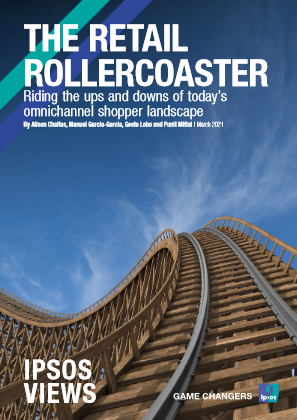 We used to say that retail was going through unprecedented times of change. But now it feels as though we have moved from a ride on the teacups to a full-scale rollercoaster.
Shoppers and retailers alike have been dealing with new dynamics throughout the pandemic. Indeed, shopping is one of the everyday activities that has been turned upside down by COVID-19 and non-essential retail is among the most disrupted sectors. While it is important to recognize the magnitude of the changes we are seeing and will continue to see in the future, it's important not to be drawn into hyperbole.
Health and safety is an entirely new focus with unprecedented operational challenges brought on by the pandemic. Other notable retail shifts we have observed during this time include reduced and focused footfall, dramatic shifts to eCommerce and growth of Direct-To-Consumer (DTC) retail. These are not entirely new but an extension of existing trends. The difference is the pace of change, which has been dialed up to 11.
This paper presents some of our key observations of retail in pandemic times and explores whether we are indeed moving in new and unforeseen directions or are instead seeing acceleration of anticipated trends. Looking at what this all means, we set out ways for retailers, and the products that stock their shelves and websites, to stay on track during the ups and downs to come.
Download