Trend Obs MENA 2018
Emerging trends, drivers of future life and consumption in North Africa and Middle-East.
Trend Obs is an observatory, conducted annually by Ipsos for the past 15 years, that uncovers emerging trends. It detects and deciphers the international way of life and consumption changes. Based on trend-setter interviews in "mature" markets, it helps brands to better understand tomorrow's society and to find their best positioning.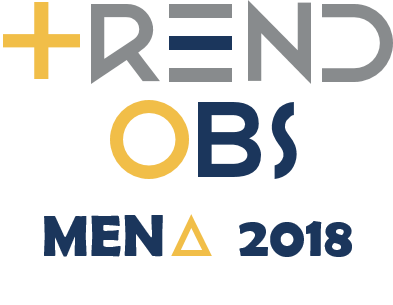 This year, Ipsos Trends & Prospective Department decided to produce a special edition of Trend Obs in a fast-changing region: Middle-East and North Africa (MENA). 6 countries are covered: Algeria, Morocco, Saudi Arabia, Egypt, Iran and Turkey. The study aims to better understand the North African and Middle-Eastern millennial trend-setters' way of life, dreams, fears and life strategies.
5 key trends in the MENA zone
GUIDELINES: Find What Is Real, Stable
CONTROL: Adapt, filter, strengthen
RE-ALLIANCE: Evolve within positive communities
SELF INNOVATION: Invent yourself, experiment with new things
INFLUX: Believe, hope
Trend Obs MENA: a brand new and amitious study
There are numerous behavioural studies full of facts, but no prospective work highlighting the ways of life and consumption of North African and Middle-Eastern youth.
In order to offer a more specific perspective, Ipsos Trends & Prospective Department conducted a trend survey with millennial trend-setters in 6 countries. Trend Obs MENA identifies their desires, dreams, fears and life strategies and compares these with their consumption habits.
With the help of geopolitical experts and local correspondents, Ipsos identified 5 common mega-trends with numerous local sub-expressions for each one, all illustrated with trend-setter interviews.
Today: a complex situation, a new turning point
The MENA region is evolving in a tense sociological and geopolitical climate. A difficult economic transition, complex relations with other countries, the rise of Islamist opposition (particularly among the poorest members of society), growing popular anger… The hope of the Arab Springs has given way to a deep sense of disillusionment and the word "revolution" has lost its appeal. There is a real thirst for peace in a chaotic situation, where feelings of oppression, danger and insecurity are omnipresent.
Social pressures compound this sense of national tension. Society is resistant to individual liberties and difference. Family and ancestry is extremely important. People become obsessed with how others see them; they feel judged, rejected, condemned by their neighbours.
Although the new generation is manifesting a desire for liberty, self-actualisation, and even a chance to step onto the international stage, the young are still quite attached to their culture and weighed down by their situation.
How do they feel about their situation? What sort of future are they building?
A life strategy through 2 objectives
Understanding trends requires understanding trend-setters' life strategies. Ipsos has identified 2 objectives that they will need to work towards to implement this strategy.
The feeling of living under constant threat makes it difficult to achieve personal stability. Trend-setters need to establish a level of personal security in a country where obstacles are present at every level (government, wars in the region, economic and social context, etc.).
The growing desire for individual achievement is driving trend-setters to develop a positive dynamic, drawing inspiration from other places to experience change without loss of identity.
The 6 countries studied can be divided into two distinct groups in which these trends are being activated and expressed in specific ways. Algeria, Saudi Arabia, Morocco and Egypt all demonstrate a will to be guided by higher authorities, while remaining loyal to community, family and country. In Iran and Turkey, the trend is more individualistic and self-focused.
5 key trends for a common goal: positive change
Guidelines
The crushing, oppressive context is driving trend-setters to seek stability around certain pillars: religion, humanism, beauty and active involvement.
They rely on positive values like sharing, tolerance and respect. These values help them progress both individually and collectively. Religion and family are central to life in the region, although the new generations in Iran and Turkey are less inclined towards religion. These generations feel more compelled to get involved in major causes.
Trend-setters' quest for meaning is also expressed through their aesthetics and their art. Street art and other artistic forms are booming: "Moroccans see those who create art as having a sacred gift, one that may not bring financial wealth, but that enriches the soul and encourages individual liberties" (local correspondent, Morocco).
Control
Faced with instability, external aggression and constant judgement, trend-setters attempt to protect themselves, "filtering" input from their surroundings to keep them from feeling overwhelmed. In this way, they create a personal code of conduct to facilitate their own growth and to behave better in relation to themselves and their fellow humans. This self-improvement can be seen not just in their behaviour and their state of mind but also in their healthy lifestyles. Attendance at gyms and fitness centres is on the rise. Alongside religious worshippers, there are now those who worship at the altar of fitness.
"I stay on track, I work on improving myself and I keep at it; I wake up early, head to class, and then to work. Soon I'll have my diploma and my parents will be proud" (trend-setter, Algeria).
The study includes insights on the 3 other trends:
Re-alliance
Evolve in positive communities.
Self innovation
Invent yourself, experiment with new things.
Influx
Believe, Hope.
To discover the complete Trend Obs MENA study:
Contact us