What worries the world - March 2023
Inflation has now been the top global concern in our What Worries the World survey for the last 12 months.
Rising prices is a concern for four in 10 (42%) people, on average across 29 countries. 
Our monthly What Worries the World survey explores what the public thinks are the most important social and political issues, drawing on more than ten years of data to place the latest scores in context. This wave was conducted between 17th February – 3rd March, 2023.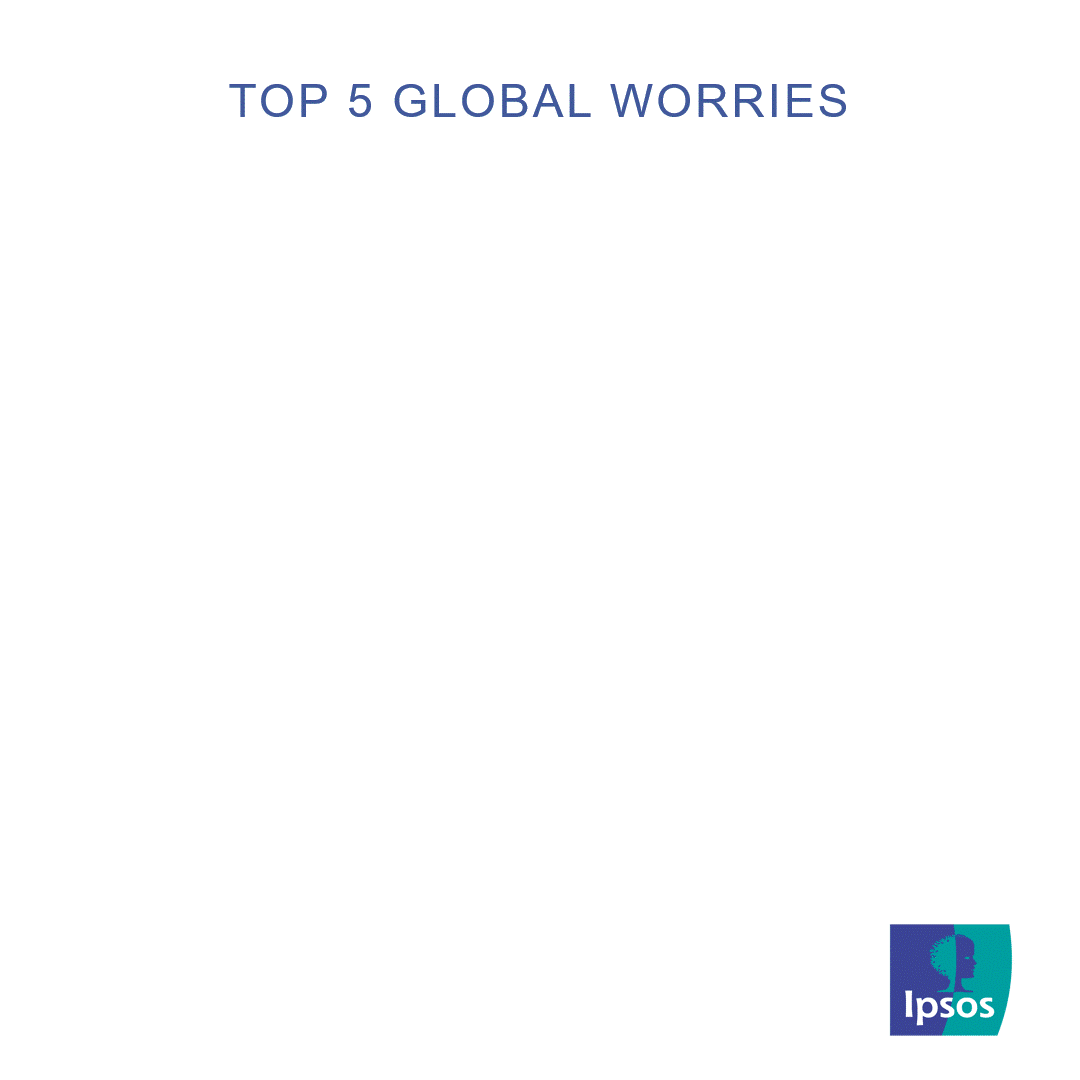 Key findings
This month has seen inflation as the top concern for an entire year. However, it is down slightly, by 1pp, from last month to 42%, on average.
12 nations – Argentina, Australia, Canada, Colombia, France, Germany, Great Britain, India, Poland, Singapore Turkey and the US have rising prices as their biggest concern.
Across all countries, worry about inflation is followed by poverty & social inequality (31%), crime & violence (29%), unemployment (28%) and financial & political corruption (26%) which together make up the top five global worries.
Concerns around Coronavirus are at the lowest level recorded since it was added to our survey in April 2020.
Coronavirus worry has dropped to 16th out of 18, with less than one in ten (6%) picking it, which marks a 3pp fall from February.
Just over six in ten (62%) believe their country is heading in the wrong direction, which is unchanged from February, rising to 87% in Argentina and 86% in South Africa.
Argentina has broken its 20-month run as having the most pessimistic outlook this month, after a 2pp rise in those thinking the country's economic situation is "good" (9%). Japan is now the gloomiest country in the survey when it comes to assessments of how the economy is doing.
Inflation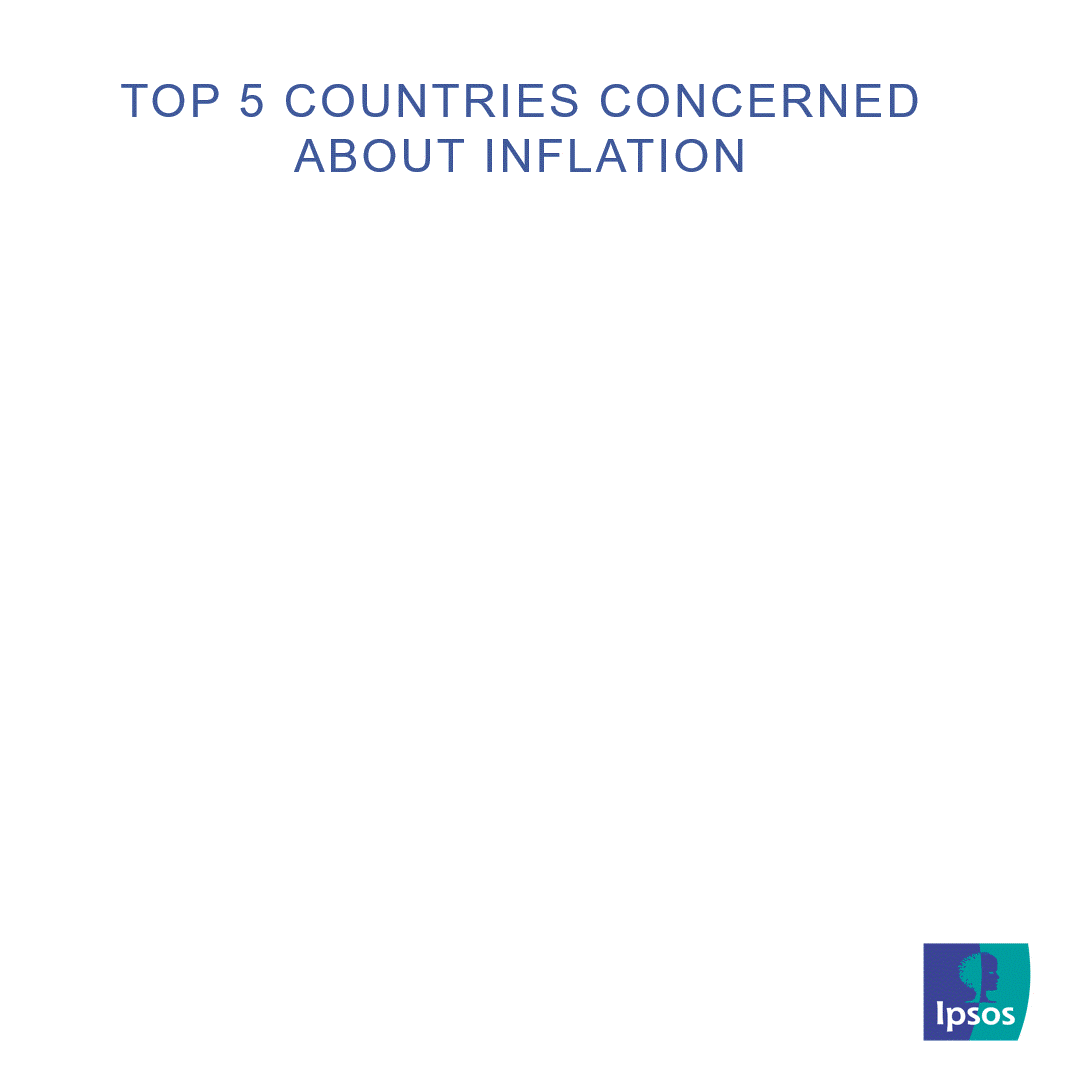 Over four in ten (42%) globally say inflation is one of the biggest issues affecting their country – down 1pp. It has been in the top position for a year now.
Argentina (66%) is again the most worried country about inflation. However, concern has fallen slightly, down 4pp from 70% in February.
In February, Colombia, France, and Australia all saw their level of worry about inflation pass one in two for the first time. In March, worry about the cost of living in France (54%, +4pp) and Australia (52%, +2pp) has continued to climb. While Colombia has seen a slight decline (47%, -4pp).
Hungary (49%), the US (47%), South Korea (38%) and Italy (31%) all recorded their highest level of concern ever last month but have since seen worry fall. In particular, Hungary has seen worry fall by 9pp.
This month, 12 nations (Argentina, Australia, Canada, Colombia, France, Germany, Great Britain, India, Poland, Singapore Turkey and the US) have inflation as the single biggest concern. This is three less than last month with Belgium (poverty and social inequality), Hungary (healthcare) and South Korea (unemployment) leaving the group.
Climate change
One in six (15%) globally choose climate change as one of the biggest issues affecting their country. It remains eighth out of the 18 issues featured in our survey.
France is now the most worried country about climate change, with 29% choosing it as an issue. After a 5pp rise in concern this month, it is now the country's second biggest worry, behind inflation. This is only the second time France has been the most concerned country about climate change, after it was previously top in September 2022.
Belgium has also moved into the top five most worried countries about climate change after a 4pp increase compared to February 2023.
Coronavirus
This month marks the lowest worry about coronavirus since it was added to What Worries the World in April 2020. This is the second month in a row concern for the pandemic has reached a new low. It now ranks 16th of our 18 worries, between the rise of extremism and maintaining social programmes.
It has fallen 3pp since February, with only 6% concerned about Covid-19. This time last year, the pandemic scored 24%.
The Asia-Pacific markets were quite high in concern last month but have all experienced drops this month. Concern in Japan (18%) has fallen sharply since last month when Covid was its fourth highest worry. It has decreased 13pp since last month. Thailand (10%) has dropped 9pp and Malaysia (14%) has seen a 5pp fall in March.
With worry about Coronavirus reaching new lows on consecutive months, do people feel the pandemic is behind them? Darrell Bricker, Global Head of Public Affairs, Ipsos, highlights this could be the case: "While the Covid-19 pandemic may not be over for some health care experts or those suffering from the long-term health consequences of the disease, our Global Advisor "What Worries the World" results show it is over in the eyes of global citizens."
"Whether this is due to the virus subsiding, fear fatigue, a strong desire to get back to something resembling pre-Covid life, or likely a combination of all three, the world has moved on. This begs the question, what has the world has moved on to? Some observers claim we have moved on to a new "polycrisis." Have we though? Our data provide some clarity on this question. It is true that Covid no longer dominates the public consciousness as it once did, but the public hasn't moved on to multiple crises as the polycrisis implies. Rather, they have replaced one monocrisis with another. Covid has been replaced by inflation, or as real people call it, the cost of living. This replacement started in March of 2021 and has continued steadily until today.
"As for the other issues on the public agenda (poverty, inequality, climate, etc), it is striking how little they moved during the pandemic and how little they have moved since. They hang on, they may dominate in a few specific countries, but they aren't the global consensus crisis that either Covid was, or inflation now is."
Poverty & social inequality
Around one in three (31%) across 29 countries choose poverty & social inequality as one of the biggest issues where they live. In March, the worry level is slightly down 1pp on last month's score.
Inequality has been second on our list of 18 worries every month since inflation overtook it in April 2022.
The three most worried countries are: Thailand, Hungary, and Indonesia. However, none of these countries choose inequality as their biggest concern. It is the top worry for Brazil, Belgium, the Netherlands, and Japan. Last month the level of taxation was Japan's top worry, but concern for inequality has taken over top spot in March after a small 2pp rise.
Satisfaction with the economy
On average across 29 countries, a third of people describe the current economic situation in their country as "good", down 1pp from last month. Top of the table is Singapore, where 77% are positive about the country's economy.
Since last month, the "good" economic score has risen most in Hungary (+7pp to 19%), Chile (+6pp to 23%) and Italy (+4pp to 27%).
Meanwhile, Australia has seen the third largest month-on-month drop in its good economic score, down 9pp this month. Spain and India follow, both down 5pp this month.
Meanwhile, a rise in Argentina's score (+2pp to 9%) and a slight decrease in Japan's score (-1pp to 9%), has brought Argentina's 20-month streak as the most economically pessimistic country to an end.
---
About the study
Ipsos' What Worries the World survey tracks public opinion on the most important social and political issues across 29 countries today, drawing on over 10 years of data to place the latest scores in context.
20,570 online interviews were conducted between 22 December 2022 and 6 January 2023 among adults aged 18-74 in Canada, Israel, Malaysia, South Africa, Turkey and the United States, 20-74 in Indonesia and Thailand, and 16-74 in all 21 other countries.