When Difference doesn't mean Different: Understanding cultural bias in global CX programmes
Ipsos' Customer Experience team examines the approaches organisations can take to continue to benefit from global studies and gather reliable, efficient and effective results in the face of cultural response bias.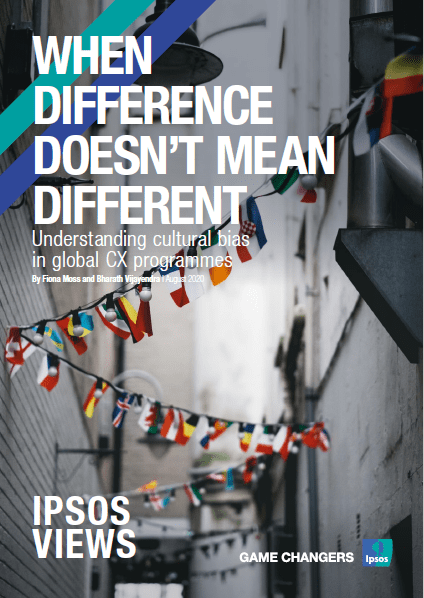 Running global Customer Experience studies provides both better value for money than individual country studies and a degree of standardisation across markets. However, their validity remains at risk from an age-old research problem: cultural response bias.
Cultural response bias makes it very difficult to compare results between countries and reliably gauge whether disparities are the result of true differences in the performance measured, or simply due to cultural response styles. It typically applies to attitudinal questions where response scales are used, manifesting itself as a country-specific tendency to consistently use a specific rating in the scale, or set of ratings, regardless of what is asked.
Here, Ipsos' Customer Experience team updates their 2018 paper of the same title with a fresh examination of cultural response bias in the age of coronavirus. They look at whether previously noted response patterns remain true and, through the addition of many more markets, identify new patterns.
Using Ipsos' newly formed Global CX KPI Benchmark Database, 'CX Lens', – which spans more than 100 countries and 30 sectors, this paper illustrates differing cultural response styles and discusses the options available to address them. It explains how, by ensuring that cultural response bias is considered carefully at programme setup – or review for existing studies – its impact can be controlled, and the results of global research studies more reliably interpreted.