World's heating up at record levels – but we're doubtful or behind on policy action
Only four in 10 people think countries are doing enough on climate change.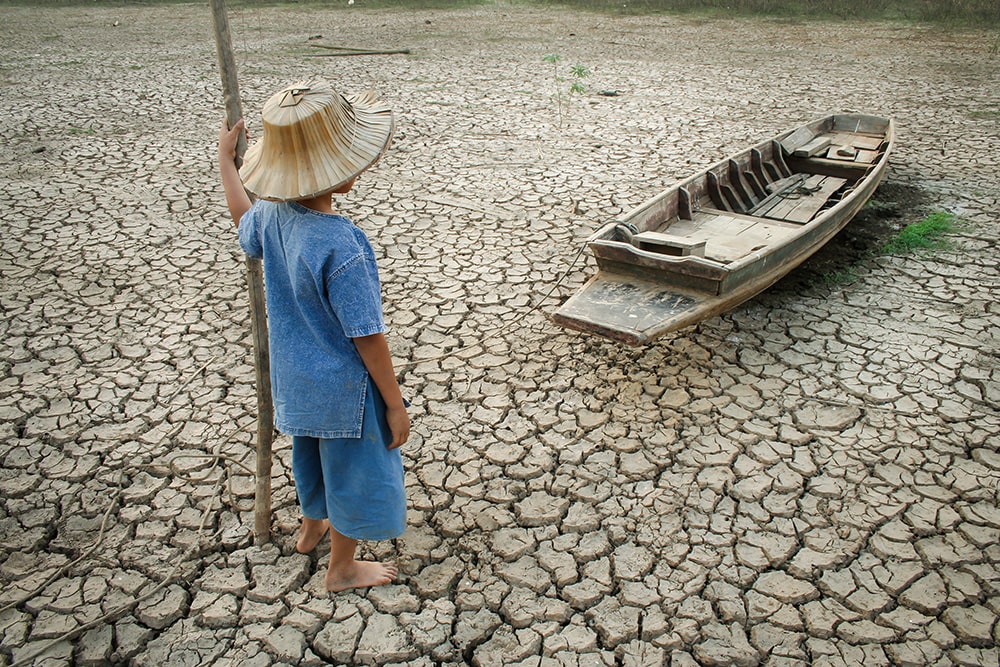 A very real warning on climate change came this week from the World Meteorological Organization (WMO) – a global U.N. agency.
The world hit its warmest average temperature in the last five years on record – rising 1.1 degrees centigrade since the pre-industrial period of 1850, according to the WMO.
The average global temperature rose 0.2°C from the previous five-year period, but it's expected to rise 1.2 to 1.3°C over the next five years. That's close to the 1.5-degree limit that governments around the world agreed to in the 2015 Paris Agreement.
"To stop a global temperature increase of more than 2°C above pre-industrial levels, the level of ambition needs to be tripled. And to limit the increase to 1.5 degrees, it needs to be multiplied by five," said WMO Secretary-General Petteri Taalas in the report that heightened alarm on causes and impacts of climate change.
The WMO says sea levels are rising faster, multi-year ice has almost disappeared, access heat is creating more acidity in oceans and extreme events like natural disasters and heat waves are becoming more deadly.
Given the mass demonstrations around the world in the past week – it's also clear that more people recognize the urgency for action.
Global warming/climate change was the No.1 environmental concern for people across 28 countries – with more than a third (37%) citing this in an Global Advisor poll earlier this year.
In a separate survey just last month, 80% of more than 19,000 people said urgent action needs to be taken to combat climate change and its impact.
But even with this big push in momentum, only four in 10 people globally feel most countries are doing enough on climate change.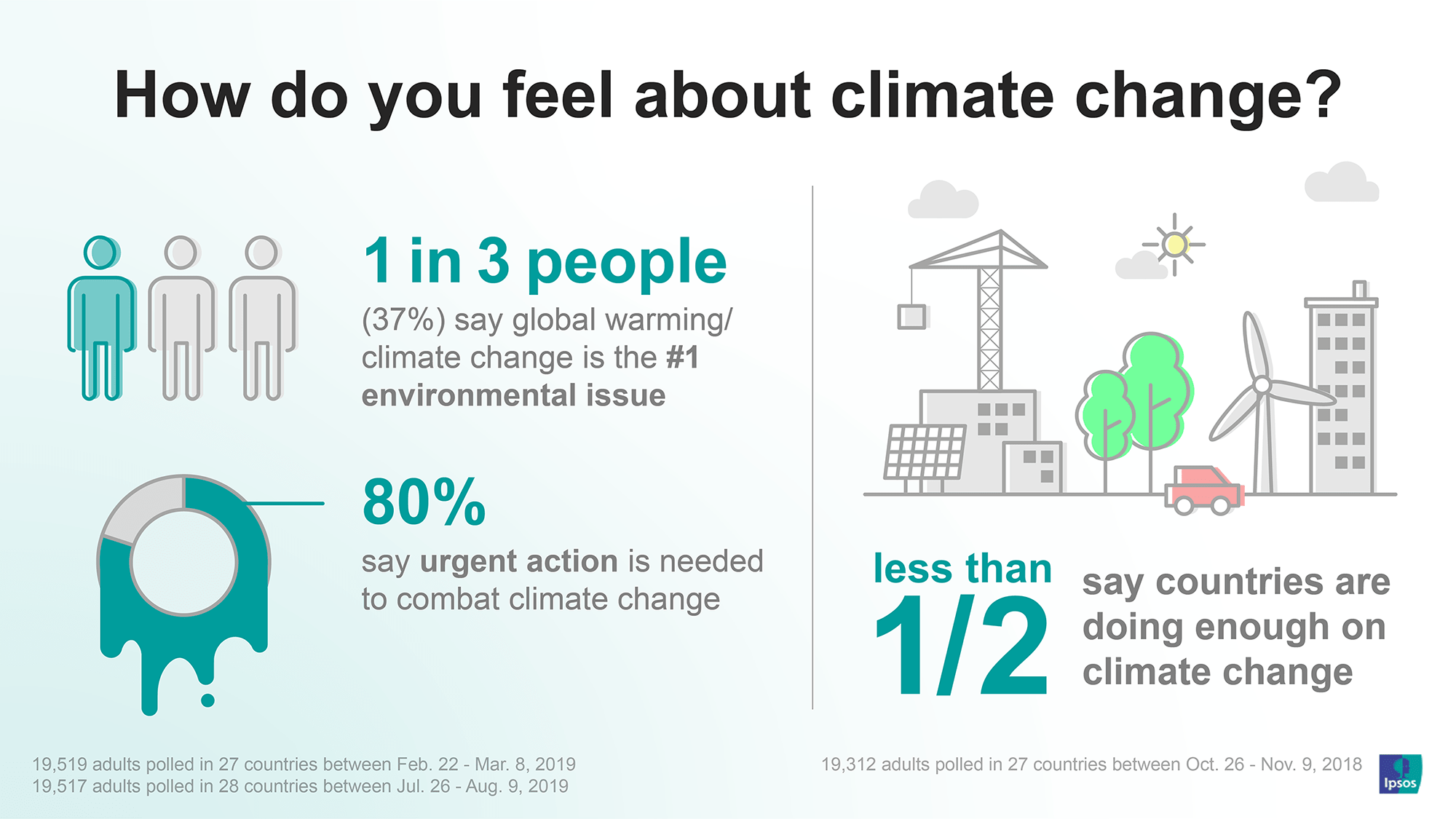 Disconnect between government & people
Antonia Dickman, Research Director at Ipsos MORI focusing on public attitudes to energy & environment, said the survey results show skepticism and a lack of confidence that pledges by countries will be realized in practice.
"Here in the U.K. we've heard various governments/politicians claim an ambition to be the "greenest ever" but the public don't always feel they see such pledges followed up with action," said London-based Dickman.
"There are examples in the U.K. of policy actions being rescinded or amended or changes in government support for various forms of renewable energy, such as wind."
Dickman adds the results also reflect concerns that even very positive policy action in one part of world can be counteracted by contradictory action in another like the U.S. not signing up to the Paris Agreement.
"Overcoming this could be helped by cross-political party/cross-national pledges for action and targets which we know will be maintained under new governments, along with longer-term policy actions and consistency of messaging," said Dickman.
Pay attention to the science
But U.S.-based Kelly Levin, Senior Associate at World Resources Institute's Global Climate Program, thinks policymakers need to do a better job of tying the impacts of climate change to the things that average people care about.
"[It could be] how storm surge will affect their local community, or their ability to grow crops and have secure food and water supplies, or how more extreme weather is coming their way," said Levin. "There are also tremendous benefits of climate action, and policymakers can do a better job showing how a safe climate is in their population's best interest."
The disconnect between governments and the tide of climate activism around the world will continue to grow as people wake up to a rapidly changing climate around them, adds Levin.
"This past summer's extreme weather – from heat wave to more intense hurricanes to vast areas of ice sheets melting – makes it clear that we are living in a very different world than we used to," said Levin.
The WMO reported that more than 90% of natural disasters are related to weather – with dominant disasters of storms and flooding – leading to the highest economic losses. Heatwaves, meanwhile, were the "deadliest meteorological hazard" for the last five years – affecting all continents.
"The 2017 Atlantic hurricane season was one of the most devastating on record with more than US$125 billion in losses associated with Hurricane Harvey alone," the report said. "On the Indian Ocean, in March and April 2019, unprecedented and devastating back-to-back tropical cyclones hit Mozambique."
"There were also widespread fires in the non-renewable tropical rain forests in Southern Asia and Amazon, which have had impacts on the global carbon budget."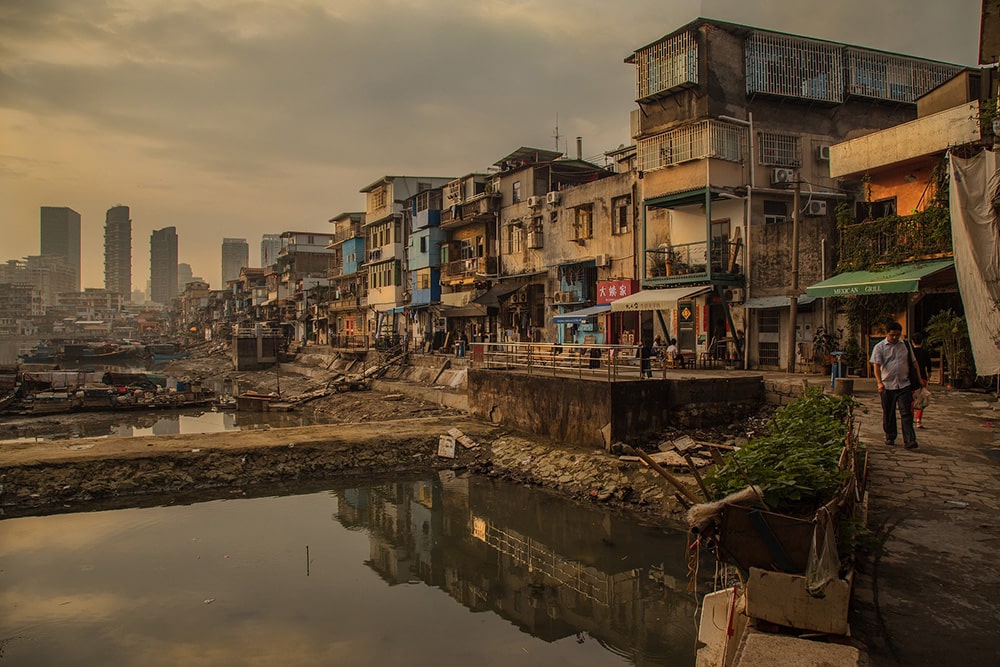 The growth of carbon dioxide in the atmosphere is now nearly 20% higher than in the previous five years, the WMO said.
Tackling a 'monumental transition'
Melbourne-based Jennifer Brook, Director at Public Affairs Australia, who's involved in environmental research, said it will be challenging for people to understand the scale of change required to address climate change even with government action. The transition will be disruptive.
"Responding successfully to address climate change will necessitate fundamental structural changes to our social, environmental and economic systems and include altering our energy supply and use and consumption patterns," said Brook.
"Even for those democratic governments who are clear about the roadmap for this monumental transition, there remains a challenge to be re-elected and oversee change on a scale that has not been experienced previously."
As for why governments have not been faster to act on climate change, Brook said it's not surprising, considering the complicated nature and scale of the task at hand.
"Some of the changes will be unpopular, especially for those of us living in the developed world, who are used to a lifestyle that consumes more energy and resources than the earth could possibly provide," said Brook.
"Tackling climate change may have felt of secondary importance to those governments trying to address poverty, access to clean water and sanitation and access to basic medical care – even though the greatest impact from the environment has been on vulnerable people in the developing world."