China Pulse - December 2016
China's economy showed moderate but steady growth with a year-on-year GDP increase of 6.7 percent at comparable prices in Q3 2016.
Macro Economy Data of Q4 2016 China
China's economy showed moderate but steady growth with a year-on-year GDP increase of 6.7 percent at comparable prices in Q3 2016.
In 2016/Oct., CPI went up by 2.1% YOY, Manufacturing PMI slightly up at 51.7.
In 2016/Sept., CCI slightly down at 104.6.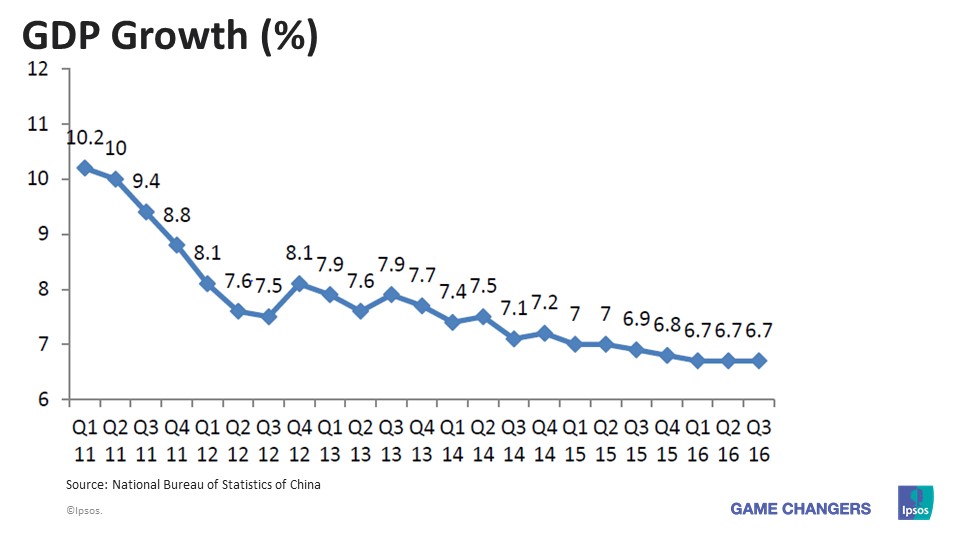 Focusing on the sight of television advertising - Revealing the truth of transmission efficiency through the eye tracking techniques.
In today's world with developed media, we are facing great challenges when trying to measure the impacts of marketing, advertising, creative ideas and Point of Sales publicity materials. In the digital and outdoor environment (cross-channel advertising), it is more difficult to accurately assess the real behaviours of consumers.
How to select the right celebrity endorser
According to the analysis of Ipsos Connect advertising database, 40% of the ads have used spokespersons. The analysis of over 2300 pieces of ads in pre-testing database indicates that ads with s tar spokesperson have slightly higher ad recall and persuasiveness index that those without, which is also consistent with our common sense that "Stars are eye-catching."
Rio Olympics has just ended, but the craze on Olympic athletes has not yet faded. However, do you know that the microblog comments of "Wang Baoqiang Divorce" (10 billion pieces) once surpassed that of "Rio Olympics" during the Olympic Games? It is unprecedented that celebrity gossips should take away the limelight of the Olympic Games. Moreover, Chinese swimmer Fu Yuanhui's exclamation that "I have swum up to my potential" and the news on Ma Long and Zhang Jike, rather than the number of gold medals China won in Rio Olympics, became an Internet hit.
In a time overwhelmed with entertainment and socialising, the public pays far more attention to celebrities and stars than ever. Naturally, smart marketing experts never allow to let any opportunities go. While hyping these hot topics, they would always bring forth their own brands or LOGO as an effort of propaganda.
Now, it's time for us to calm down and reflect upon this question: how to select the right star spokesperson in marketing activities to maximise marketing results?
Reflection on Rio Olympics marketing: ad performance evaluation
Olympic sponsorship tracking involves multi-angle and timely research on enterprises' sponsorship, their marketing activities, the impact on their brand sales and promotion.
Event marketing has been proved to be very effective by many enterprises, and Olympics in particular, as the world's most famous sports event, has unmatched marketing value either to sales or brand building and enhancement, as was proved by Yili, Lenovo, and Coca Cola during the 2008 Beijing Olympic Games. Though the 2016 Olympic Games are to be held in Rio de Janeiro, it will have worldwide influence. Many Chinese enterprises sponsor Chinese Olympic Committee and Chinese athletes to show their support to sports undertakings in China and also to promote their own brand to a higher level.