Country Briefings: China's Affluent Consumers
Chinese consumers account for about one-third of the world's total spending on luxury, but this is expected to increase to 44% by 2025.
It is no surprise that China is a top strategic priority for lifestyle and luxury brands.
Two new briefings on affluent consumers in China aim to better define this segment and suggest how luxury brands can better engage them as they become increasingly important to target.
Firstly, 'Who are China's Affluent Consumers?' uncovers key insights about how certain macro-forces are changing the consumer landscape:
Status-seekers and Appreciators: Two broad consumer groups have emerged as a result of a tension among the Chinese middle class who simultaneously want to project their status and protect their social structures and norms.
 Chinese women as independent consumers of luxury and lifestyle brands: Consumption of luxury goods by Chinese women is set to grow as they consolidate their financial independence and pursue their ambitions.
 Millennials, or Post-90s' in China: The average luxury shopper in China is under 30 years old. Their particular media-consumption habits, sources of influence and expectations are driving change in China's consumer landscape.
Technology: No line is the new normal. Growing use of chat platforms and mobile payments as well as e-commerce and omnichannel models have blurred the online/offline divide.
Customer-centricity is vital in response to these changes. While 86% of Chinese consumers agree that technology makes life better, 81% wish their life was simpler and the majority (56%) would prefer to have a company or expert choose products and services for them.
So, brands need to know what they their audiences want. In comparison to other luxury consumers surveyed, there are heightened expectations in China around what brands should offer; from creative and customisable products to unique and memorable shopping experiences.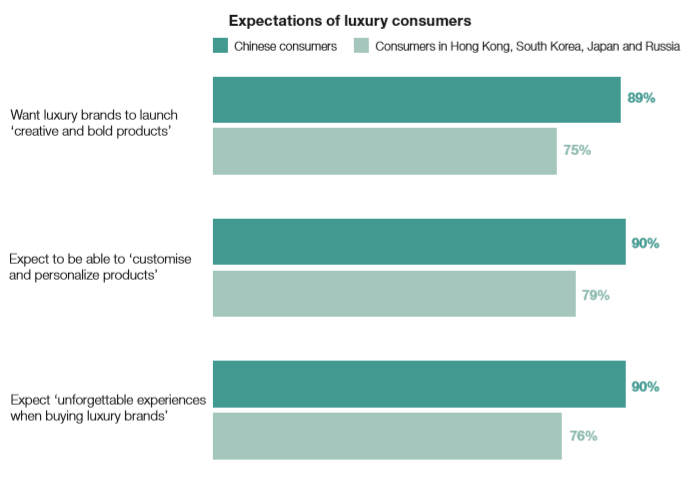 Building on this knowledge, 'Engaging China's Affluent Consumers' addresses some key questions for clients, looking specifically at spending beyond national borders, striking the balance between accessibility and exclusivity, and the future of brick-and-mortar boutiques.
As well as showing what Ipsos knows about the preferences of Chinese consumers, the papers review what luxury (and non-luxury) brands are already doing in China to find out what works.
Innovation, digital commerce and creating compelling online/offline experiences will three key areas for brands to focus on. And Chinese consumers will reward those brand owners brave enough to embrace the new normal.