Trust misplaced?
A report on the future of trust in media.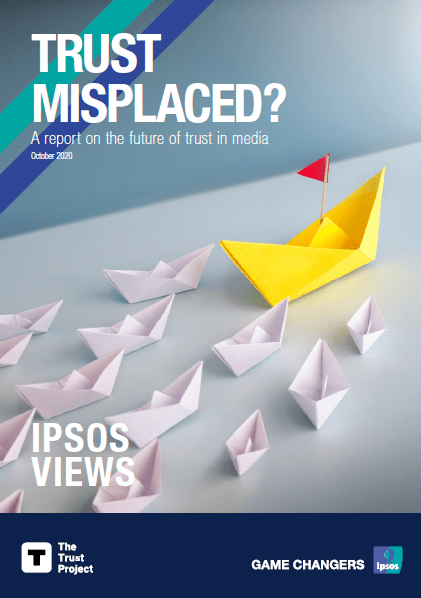 Ipsos has collaborated with The Trust Project to identify and explore the key factors influencing the future of trust and truth in media. These include nationalist and populist sentiment, access and affordability of quality news, technological changes, and ongoing disinformation campaigns.
Our Ipsos Views report, Trust Misplaced?, uses Global Advisor data from across 29 countries to highlight the public opinion that underpins these topics and discover more about people's attitudes and experiences with media.
The report also features a series of interviews with Ipsos leaders and publishers from Trust Project member organisations, discussing the survey findings and examining the conditions on the ground in local markets.
Key takeaways from the research include:
The "Fake News" problem: We know that in today's world "fake news" exists. An important part of media literacy in these times is to be able to tell real from fake. Findings reveal we are roughly twice as confident in our own ability to spot real from fake (59%) as we are confident that others in our country (30%) can.
Finding trustworthy content: Do people actively seek out the truth? The answer seems to be an overwhelming yes. By wide margins in most countries, people "make sure the news [they] read, watch or listen to comes from trustworthy sources". However, there are issues with this. It's human nature for people to trust content they believe to be true, but in many cases, they believe it to be true because it reinforces their world view.
How much are we willing to pay? Roughly two in three people agree with the statement that "I only read news I can access for free." Part of the issue might be cost. Two thirds say they have "easy access to news from sources [they] trust". In a time when so many are struggling to pay the bills in so many parts of the world, buying something that you can ostensibly also get for free might seem like an extravagance.
Meanwhile, this month's What the Future publication focuses on the related topic of Truth, more broadly for brands, media and democracy. See future.ipsos.com for the new issue.