What Is Average About Millennials, Baby Boomers, Uploaders and Globe Trotters?
There is nothing average about Europe's Affluent. Understanding the behaviour of Europe's Affluent is crucial to marketers, not only do they have the majority of disposable income in the region but as early adopters and opinion formers, where they lead others follow. However, it would be a mistake to think of them as in anyway average.
On June 9th Ipsos celebrates the 21st annual release of The Ipsos Affluent Survey Europe. The survey maps the ever changing behaviour of Europe's most Affluent individuals across 21 countries.
Affluent baby boomers (Age 52-70) is a large target audience, well over twice the size of Affluent millennials (18.2 mill vs 8.7 mill). While they may not be quite as sexy as millennials, marketers of luxury goods who ignore them will suffer! Not only are there more of them than millennials but they have more disposable income and they are brand loyal. Baby boomers are in many ways harder to target, they spend less time on media – print, TV, online and social media than their more youthful counterparts.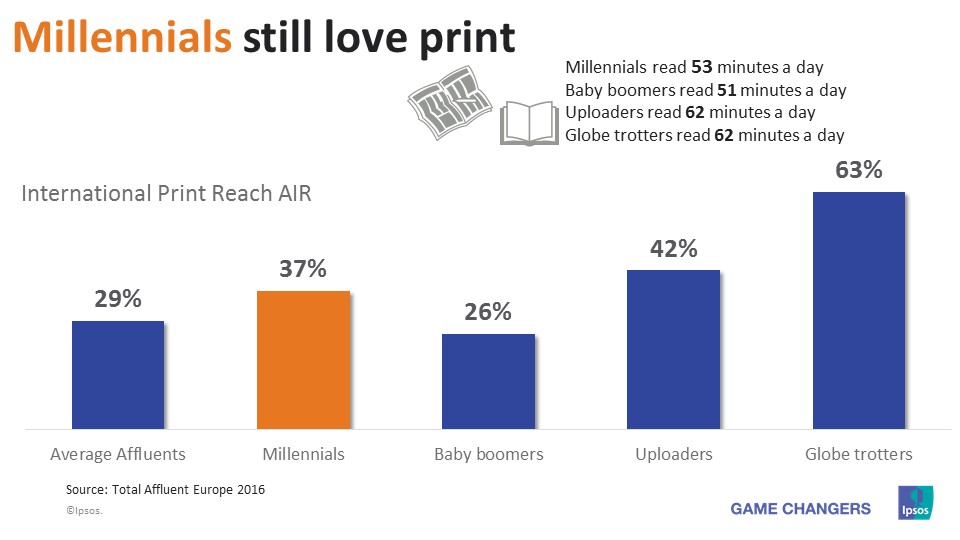 Being a survey of Affluent behaviour, travel is a big feature in the respondents lives. Generation X (age 36-51) our largest group at 22 million fill more airplane seats than either the millennials or the baby boomers (58 mill vs 36 mill, 43 mill international air trips). Across the survey 6.5 million take at least 6+ international air trips per year our Globe trotters, filling hotel rooms, air plane seats, restaurants and duty free shops around the world. They are also one of the wealthiest target groups on the survey and not surprisingly one of the heaviest consumers of international media brands although they are relatively light consumers of mainstream TV. They spend more money online shopping than their counterparts and their top 3 items are: Hotel reservations, Airline tickets and Holidays.
Expanding International media brand consumption
While the multi-screening has made targeting mass audiences harder it has had the reverse effect on targeting Europe's Affluent.
International media brands, which are made up primarily of the English language pan-regional brands have expanded their penetration among Europe's affluent through digital delivery platforms. While baby boomers may still primarily engage with media brands offline, digital delivery has expanded the foot print of these media brands to new audiences.
86% of all Affluent Europeans consume at least one international media brand in an average week, this rises to 89% among our Millennials and 95% among the Globe trotters.
Europe's Affluent have a positive view of EU and future
Europe's Affluent have made it through the recession and now have a positive view not just about their own futures but that of Europe and the EU, 83% want to stay in the EU and 46% would increase the EU's powers compared to 70% and 39% among their less affluent counterparts.
The Affluent are always one step ahead of the game digitally, as early adopters with the cash to purchase the latest tech – they are usually at least 12mths ahead.
The adoption of new tech has increased significantly during the last 12 months, penetration of tablets ranges from between 50% and 70% among Affluents, ownership of a tablet therefore is no longer a differentiator of 'early adopters'. The ownership of 'wearable tech' is now a much clearer differentiator. It will not be a surprise to anyone that Affluent Millennials (ie under 35 and already in the Top 13% of income earners) have high levels of wearable tech - 10%, but it may be a surprise that the survey's Globe Trotters (6+ Intl Air Trips) have even more - 12%.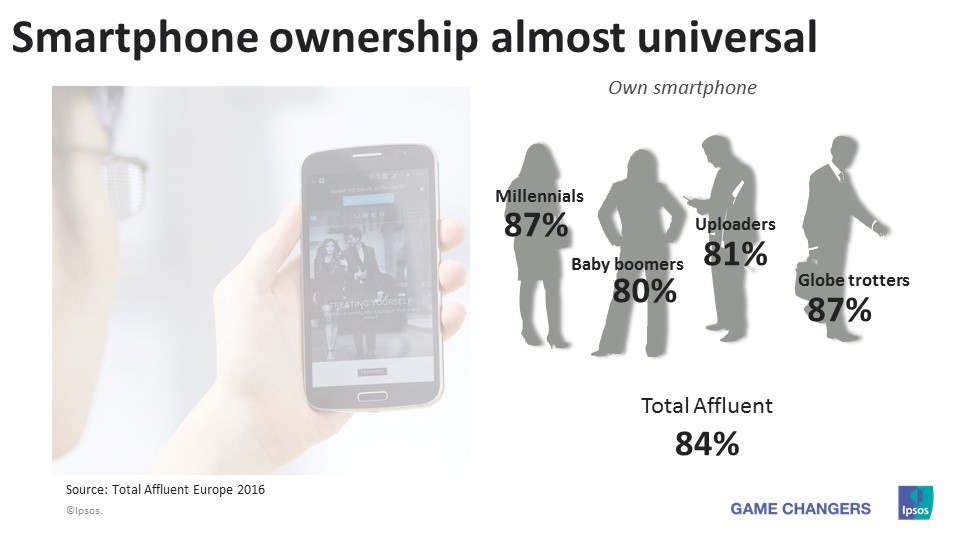 Digital adoption has an impact on what we consider classic 'opinion leader' behaviour. There are three distinct groups:
Classic opinion formers, those who speak at events are interviewed in the media and share opinions in the real world
Uploaders, those who comment / blog / tweet etc online
Uber leaders, those which do both online and real world
Having the latest tech is not a direct indicator of being an 'uploader', neither is time spent online, as much of that time may be passive. It is important to look at actual time spent commenting / blogging / creating content, at Ipsos we define 'uploaders' as spending a minimum of 15 mins a day commenting / blogging etc. A second indicator is time spent on social media, Affluent millennials spend 157 mins a day online and 39 mins a day on social media, whereas our uploaders spend 147 mins a day online but 54 mins a day on social media.