One month ahead, are people ready for Christmas yet?
Black Friday marks the last mile of 2021 – and the "official" start of the Christmas season. (Sh)elves have been dressed in holiday costumes for weeks, and gift-givers have been hard at work preparing for end-of-year celebrations. Now, just one month ahead of Christmas, we wanted to find out what's topping 2021 wish lists and how shoppers are progressing.
Survey and social insights from the United States, Europe and Australia showed that while many have a renewed sense of excitement for Christmas, it doesn't come without the stress of shortages and delays. But across regions, shoppers have already hit the stores - and online sites - to check items off their 2021 shopping lists.
Nearly 40% of adults have finished or are almost done with their Christmas shopping
On average, 39% have already finished or are almost done with their holiday shopping - though some countries are further along than others: the United States, Australia, the United Kingdom and Germany are ahead of schedule this year, and they're more stressed about shortages and delays. They're also certainly affected by the fear of Covid-19 restrictions after recent moves in Europe.
Meanwhile, Latin European adults are less prepared yet. In particular, the majority of Italians have not started yet and appear less stressed about availability and delivery challenges.
Retailers, brands and influencers have been especially active in encouraging early shopping this year. Synthesio's semantic AI capabilities detected an increase in mentions of the phrase "too early" in Christmas and holiday-shopping social conversations. Further analysis revealed consumers are asking, "is it too early?" to start decorating and shopping, while influencers, brands, and retailers insists it's "never too early!" for shoppers.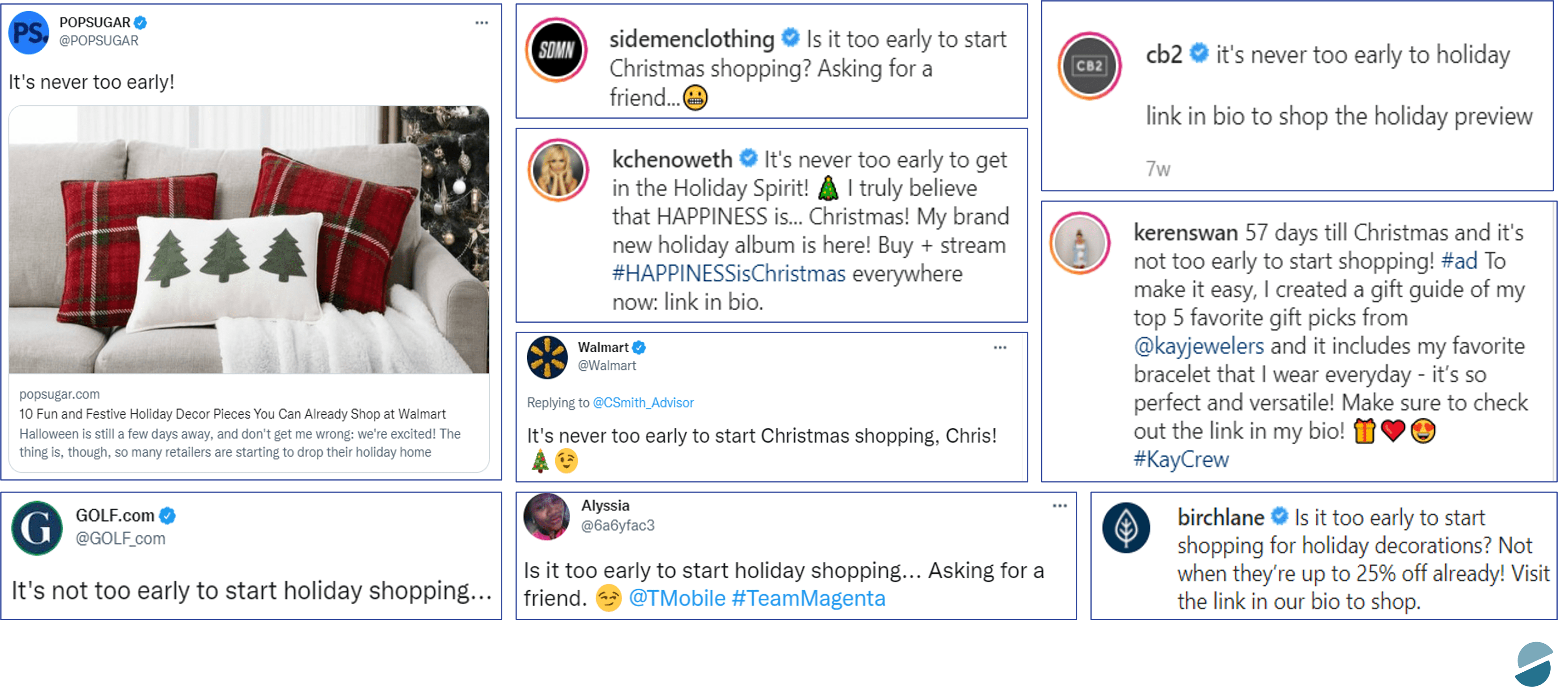 But despite this year's early shopping trend, many still expect a "last-minute Christmas shopping" scramble; on average, 2 out of 10 anticipate doing more last-minute shopping this year than in 2020.
The most popular time to exchange gifts remains the 24th and 25th of December, so shoppers still have time to catch-up. On average across countries, 67% will exchange gifts on the 24th or 25th. Only 16% will need to have their gifts wrapped and ready before the 24th - though more in the UK (25%).
Holiday shopping brings more excitement – and more stress – than 2020
Online conversations about Christmas shopping on social sites, forums, and blogs have nearly doubled this year with 45% more mentions recorded over the same 4-week period (Oct 23 – Nov 23). This increase in holiday buzz is undoubtedly related to the post-pandemic excitement about returning to "normal" celebrations with friends and family - but also to the increased stress felt by consumers about delivery delays and availability issues - likely exacerbated by media alerts.
Analysis of online conversations about Christmas and holiday shopping reveals a range of consumer emotions; while most are feeling joyful, anger and sadness are both widely expressed by shoppers – often related to anxiety about shopping and the frustration of delays.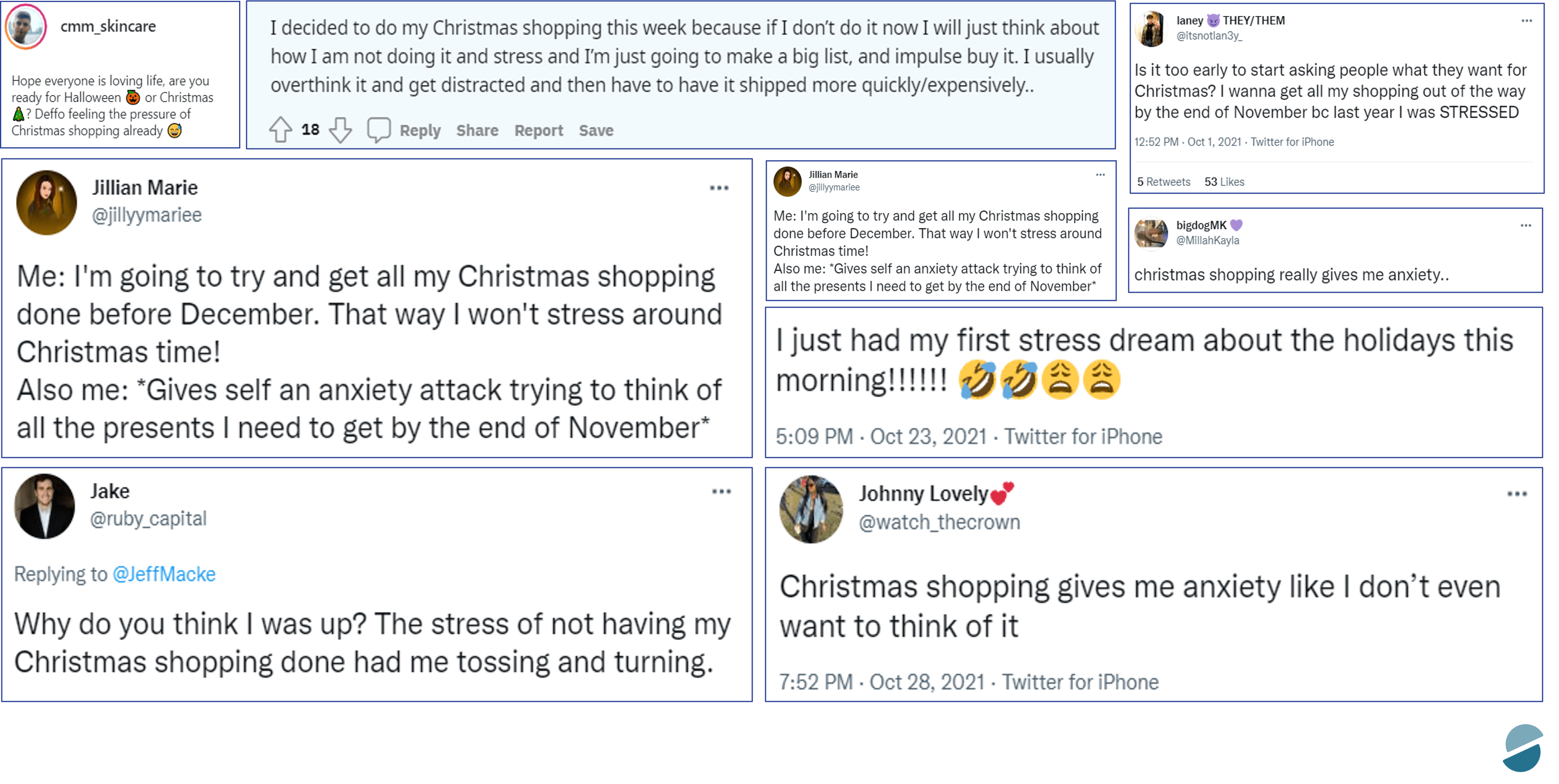 These conflicting emotions observed in social conversations are confirmed by our survey respondents: on average 27% feel more excitement about end of year celebrations as compared to last year, while a similar proportion expresses an increased stress about supply shortages (30%) and delivery delays (28%).
Shoppers in the United States, Australia and Germany report particularly high levels of stress about delivery delays and supply shortages which likely triggered early shopping in these countries. On the other hand, Italian shoppers reporting feeling much less stressed. In France, shoppers are not sharing the same increased energy about celebrating: only 18% claim more excitement than last year but many report higher stress about supply shortages.
Interestingly, the youngsters express more excitement about this year's celebrations and anticipate allocating more time and budget for holiday gifts than last year.
2021 holiday is the season to be gifting gift cards
This year, we asked adults in the UK and Australia a simple question: what are the top 3 items on your wish list? Without a list of options, respondents shared what they're hoping to receive this Christmas in their own words.
In most cases, respondents listed the usual suspects: clothes and apparel (12% mentions), perfumes (9% mentions), books (6%) and chocolates (4%) appeared in wish lists in both markets with subtle differences by country. But this year's wish list winner is money and gift cards with 19% of spontaneous mentions. This signals a significant opportunity for brands and retailers offering gift cards.
Online conversations worldwide reveal that Amazon and other retailers dominate gift card-related conversations, with certain brands like Apple, Starbucks, and Nike also popping up across the globe.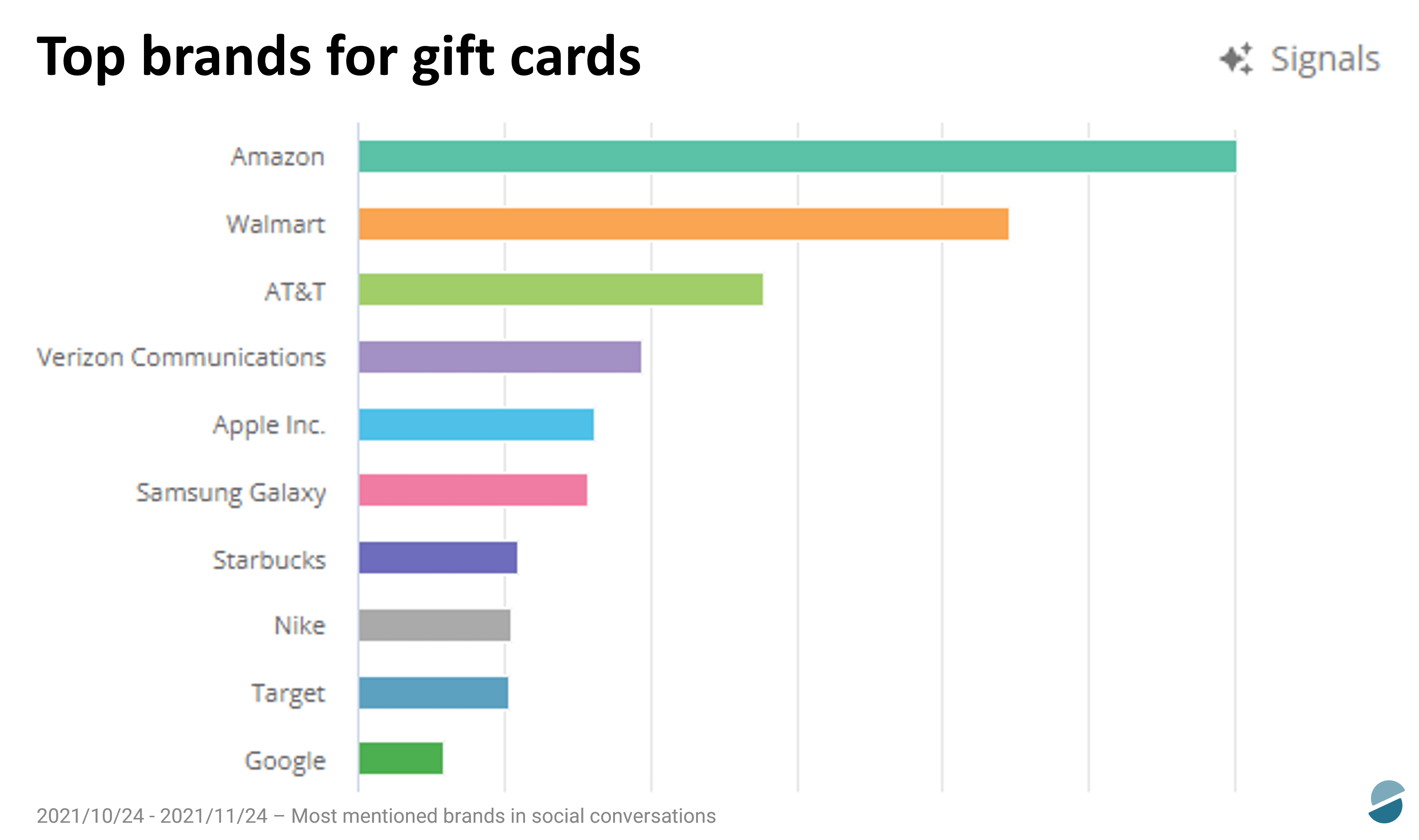 Across retail categories, electronic and tech gifts cards are most mentioned by consumers in online conversations – followed by food and beverages, and apparel and shoes.
This surge in gift card purchases is certainly facilitating the 2021 early holiday shopping trend we are observing.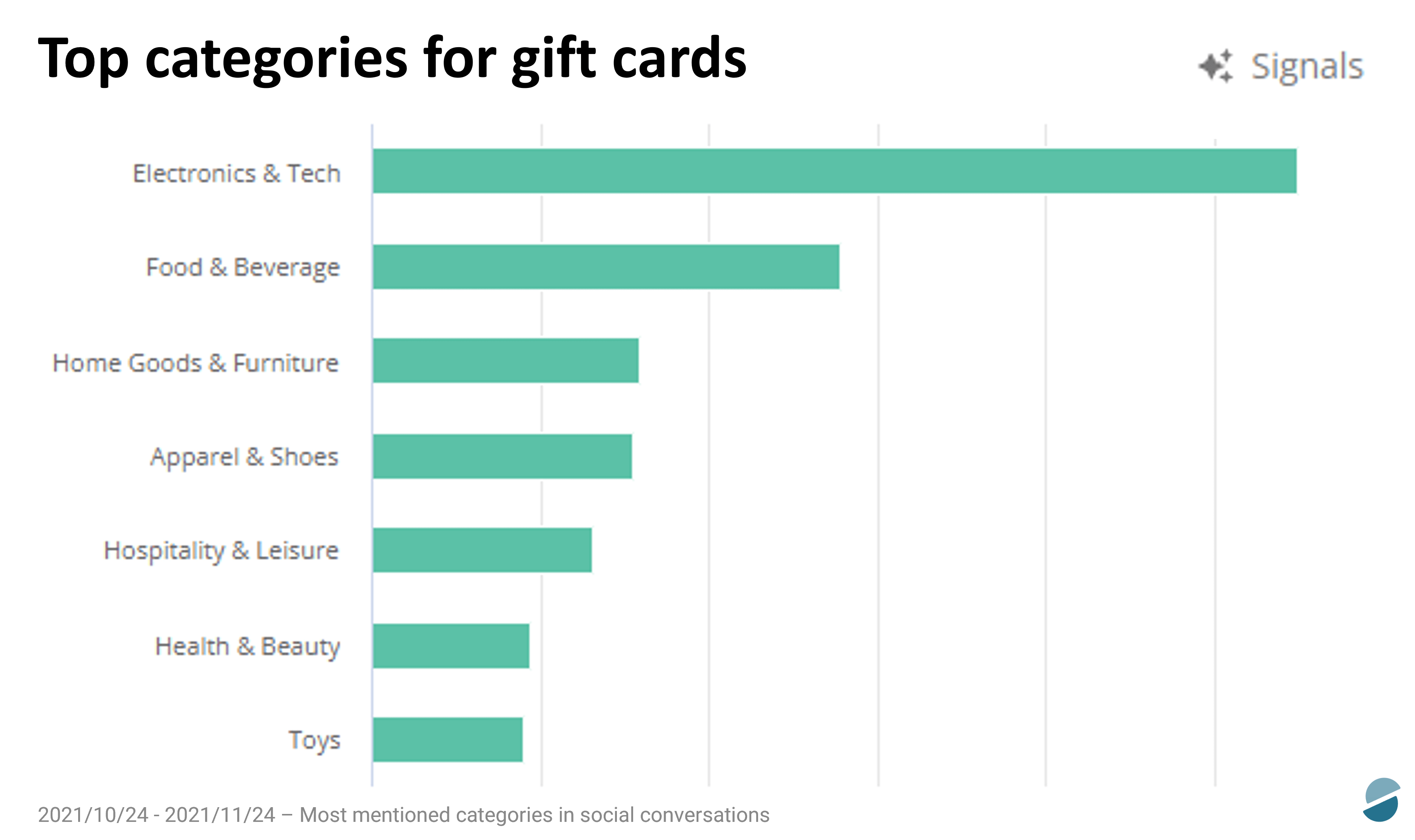 Electronics erupt in Christmas shopping list - bringing excitement and stress
Online conversations about Christmas and holiday shopping reveal electronics and tech as the most-discussed wish list and shopping list items. Social posts show that consumers are excited to receive electronics and gaming gifts this year, but shopper conversations are filled with mentions of stress as many are worried about their electronics arriving on time – or being able to purchase them at all. Parents are especially on edge trying to fulfill kids' and teens' holiday wishes.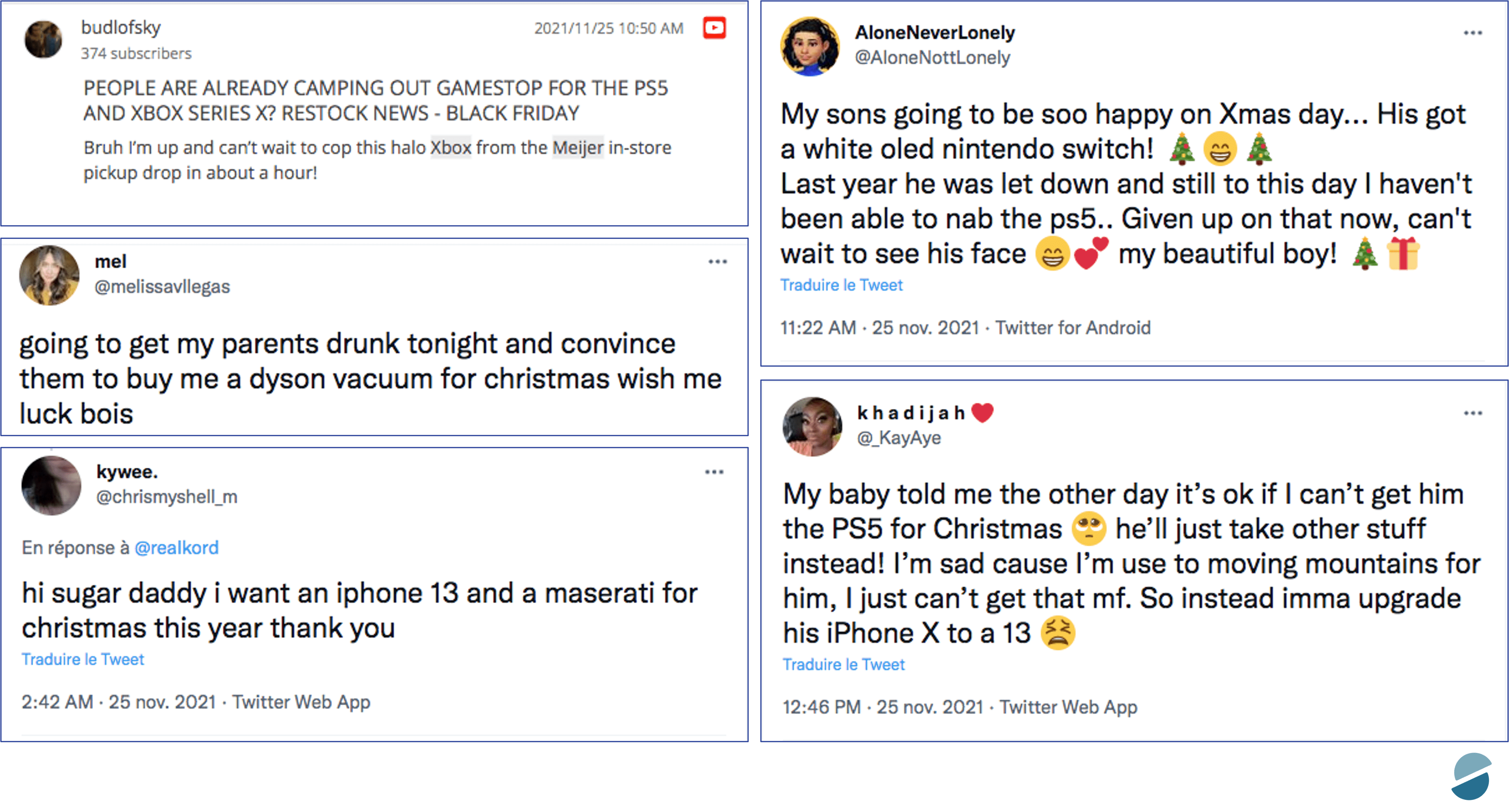 Social insights also reveal the correlation between retail category and purchasing factors like discounts, availability, and more. Our analysis confirmed that "availability" is the top concern expressed in social conversations by electronics shoppers. In fact, it is the strongest correlation across all categories – followed by similar concern in the apparel and shoes category. In 2020, discount pricing was the primary purchasing factor influencing electronics and tech shoppers.
Emotion analysis reveals that "fear" is more associated with electronics and tech than any other retail category.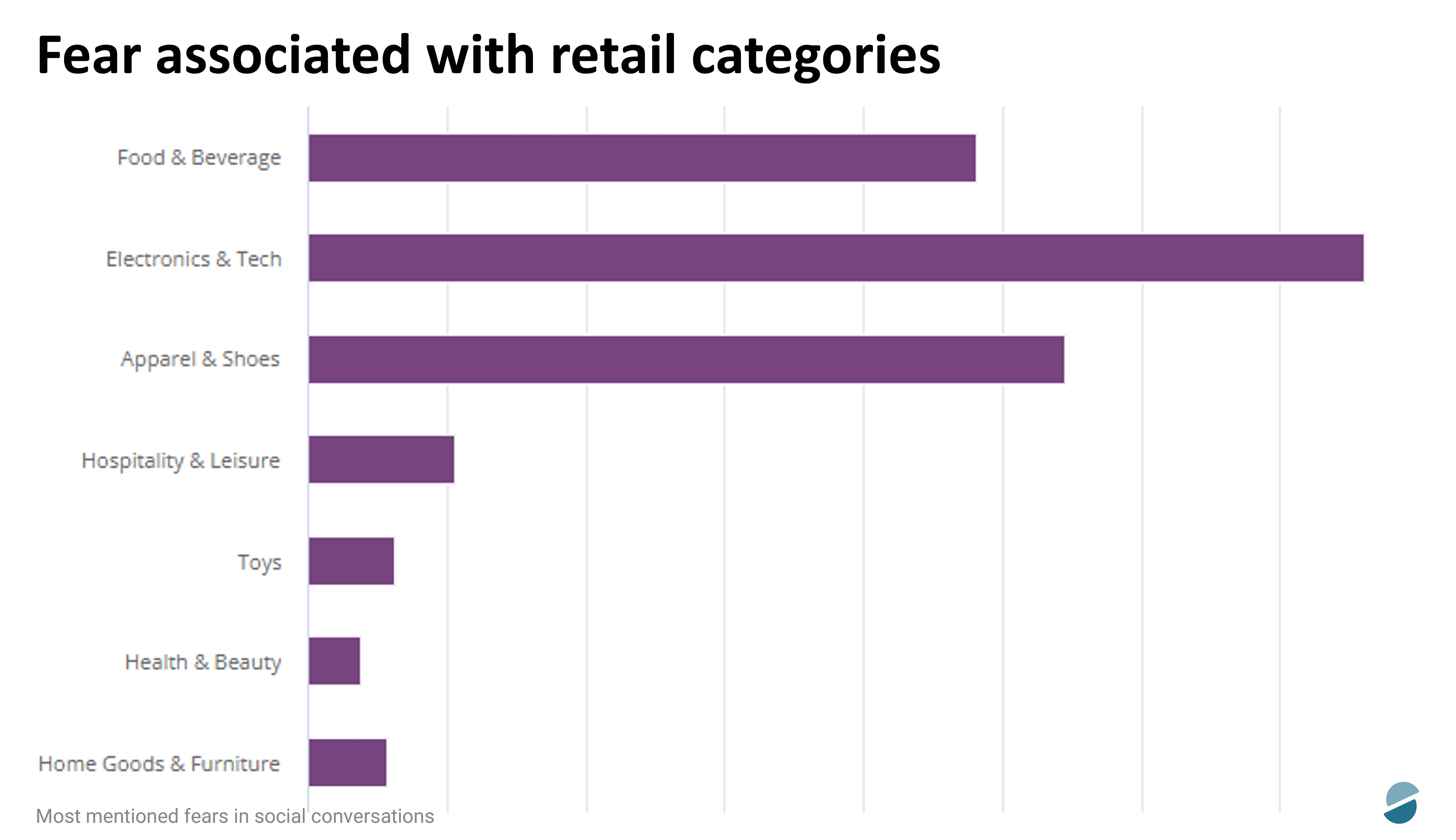 Online & offline shopping co-exist across retail categories
As convergent commerce takes hold, the lines between online and offline shopping continue to blur. While many are returning to stores for the first time this holiday season, online shopping is still a popular option among shoppers. When surveyed, around 20% of shoppers expect to do more in-store shopping this year.

We hope you've found this information useful as you head into the final month of 2021. If you'd like to know more about these insights or have questions as you prepare for the new year, please reach out to us. In the meantime, we are also preparing an insightful syndication to reflect on 2021 cross-traditions celebrations, so you'll know what to expect for 2022!
Want more consumer insights to help you prepare for 2022 and stay ahead of changing shopper behaviors? Visit Synthesio.com or schedule a demo with one of our experts to see how you can turn online conversations into meaningful, actionable insights. And, click Ipsos.Digital to see how Ipsos Omnibus's research-supported survey builder can deliver fast, cost-effective answers you can trust.
This is self-funded research conducted by Ipsos Digital and Synthesio. The Ipsos DIY Omnibus survey was conducted from November 19, 2021 to November 24, 2021 across national representative samples of ~1,000 respondents per country in Germany, Italy, France, UK, Australia, and the US, using the Ipsos.Digital platform. Synthesio's platform collected and analyzed 10 millions of public online posts about Christmas/holiday shopping from October 24, 2020 to November 24, 2021. Sources include thousands of sources, including top social networks like Facebook, Instagram, Twitter, Reddit and popular review sites, forums, and blogs.