Talking about family at work? Not such a good idea if you're a woman
Twice as many think women who talk about family are likely to have their career harmed compared to men.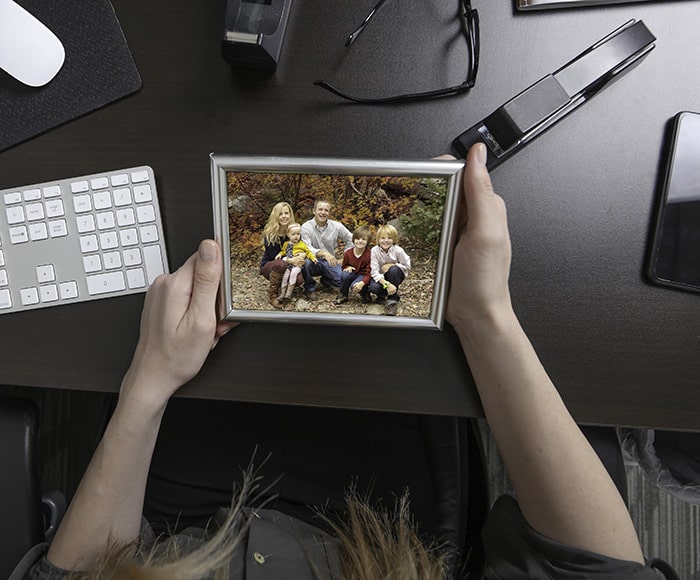 Women facing hurdles at work is an issue as old as women entering the workforce, but despite the progress that's been made in recent years to level the playing field between genders, our new survey suggests traditional biases still run deep in the office.
There's been a notable increase in efforts by governments and companies to encourage women's participation in the workforce while raising children by promoting flexible hours or working from home, having childcare on site to increased family or maternity/paternity leave.
But if you use these benefits or services, does it damage your career? Or, is the question; how much damage does it do?
In a global poll across 27 countries, more than a third (35%) of 20,000 people say having childcare responsibilities during the working day is more likely to damage a woman's career. That compares to just 8% for a man.
Added to that, a quarter of people (25%) say prioritising your family over your job is more likely to harm a woman's career, compared to just 9% for a man.
Even something as trivial as talking about your family at work is seen as more than twice as likely to hurt a women's career (14%), compared to a man doing the same thing (6%).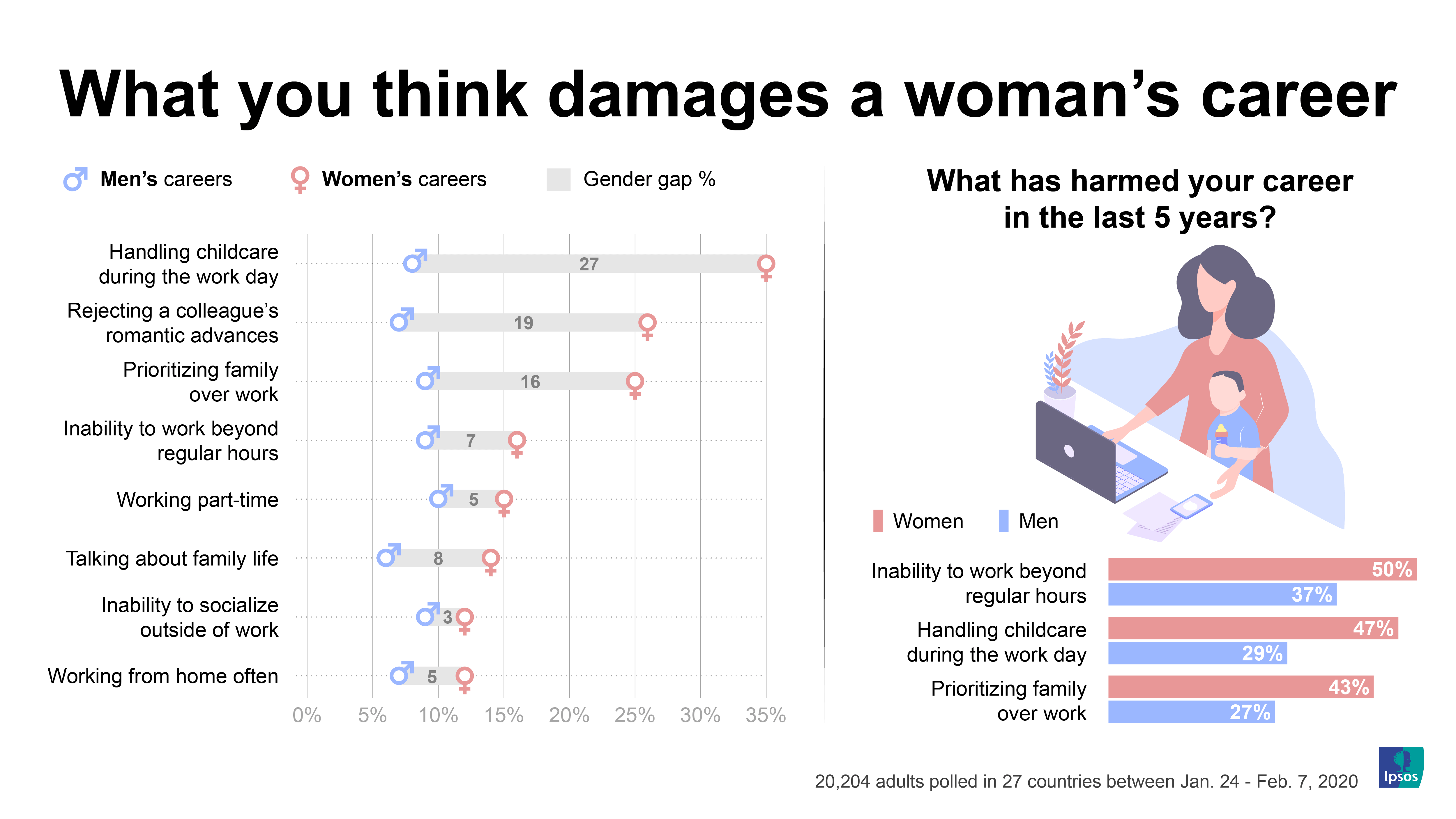 The cost of having children
Rebecca Paluch, Assistant Professor at University of British Columbia's Sauder School of Business in Canada, said it's not entirely surprising that people still believe women have to hide their family life in order to be successful at work.
"While we've certainly made progress towards equality in work and family roles, the traditional separation of women into the home and family domain and men into the work domain are still held both consciously and subconsciously in people's biases," said Paluch, who teaches about gender and diversity in leadership.
"By talking about their family life at work, women may reinforce these traditional biases and unintentionally lead colleagues to believe they are less committed to or less serious about their work."
Men aren't traditionally associated with the family domain, adds Paluch, which is why they often get "bonus points" for contributing to their home life since many may view this as going above and beyond their traditional responsibilities.
In a study released last year by Canada's biggest bank – Royal Bank of Canada – government statistics showed that women, especially younger ones, were paid less than they would otherwise have been for up to five years after giving birth to a child. Meanwhile, men actually saw an increase in earnings after they became fathers.
Kully Kaur-Ballagan, Research Director at Ipsos MORI in the UK and an author of the survey, said data has shown that women's careers have been damaged, because they are still the primary caregivers in families.
"I think the way to address this is to equalise things like maternity and paternity benefits - so childcare is seen as everyone's responsibility equally," said Kaur-Ballagan. "There's also things like encouraging men to work more flexibly so things like working part time isn't just seen as something women do."
The demand on workers' time
But while developing countries around the world have taken the lead in implementing and encouraging childcare benefits like maternity and paternity leave, sentiment in those countries about family life damaging a women's career seem to be highest.
The top countries where most people said prioritising your family over work is more likely to damage a woman's career are Spain (48%), Italy (38%), Great Britain (36%), Sweden (34%), and the U.S. (31%). At the bottom of the list are a lot of emerging markets.
Similarly, those most likely to think a woman's career could be damaged by talking about her family life are in Spain (29%), South Korea (19%), Sweden, Italy, the U.S., and Canada (18%). Again, emerging markets are at the bottom.
Kaur-Ballagan said this in part may be due to the fact that these issues are more likely to be a focus or be recognised in developed markets.
"There is, therefore, higher expectations to resolve them given that there are structures in place to address them," said Kaur-Ballagan.
But Prof. Paluch said the increased gender-biased sentiment as well as greater support for raising children in developed markets may be tied to a similar underlying cause – cultural expectations for demands on workers' time.
"Research shows occupations that have greater demands on worker time have larger gender pay gaps," said Prof. Paluch. "It may be this underlying demand for time that also motivates developed markets to provide more allowances and support for raising children in order for the worker to dedicate more time to work."
Paluch adds that this demand on worker time reinforces traditional beliefs about gender roles as well as provides support for raising children.
In terms of what more needs to be done to end the stigma and deep-seated traditional biases that women with families face in the workplace, experts agreed that both genders have roles to play in this.
"Men, and particularly those in more senior roles, need to publicly demonstrate their commitment to family domains, so that we can change the assumption that the responsibility of raising a family falls to women," said Prof. Paluch.
However, Kaur-Ballagan is quick to point out that even when child-friendly policies are offered to men – many don't take them up.
Meanwhile for women, there needs to be more examples of successful women in senior leadership roles that have managed to balance their families and careers paths.
"When it becomes the norm that women can, in fact, have a family as well as climb the corporate ladder, it will help break down stigmas that women can only be successful in one domain," said Prof. Paluch.