Year in review: Our biggest stories on social media in 2019
These are the stories that you got you talking, sharing and engaging with us online.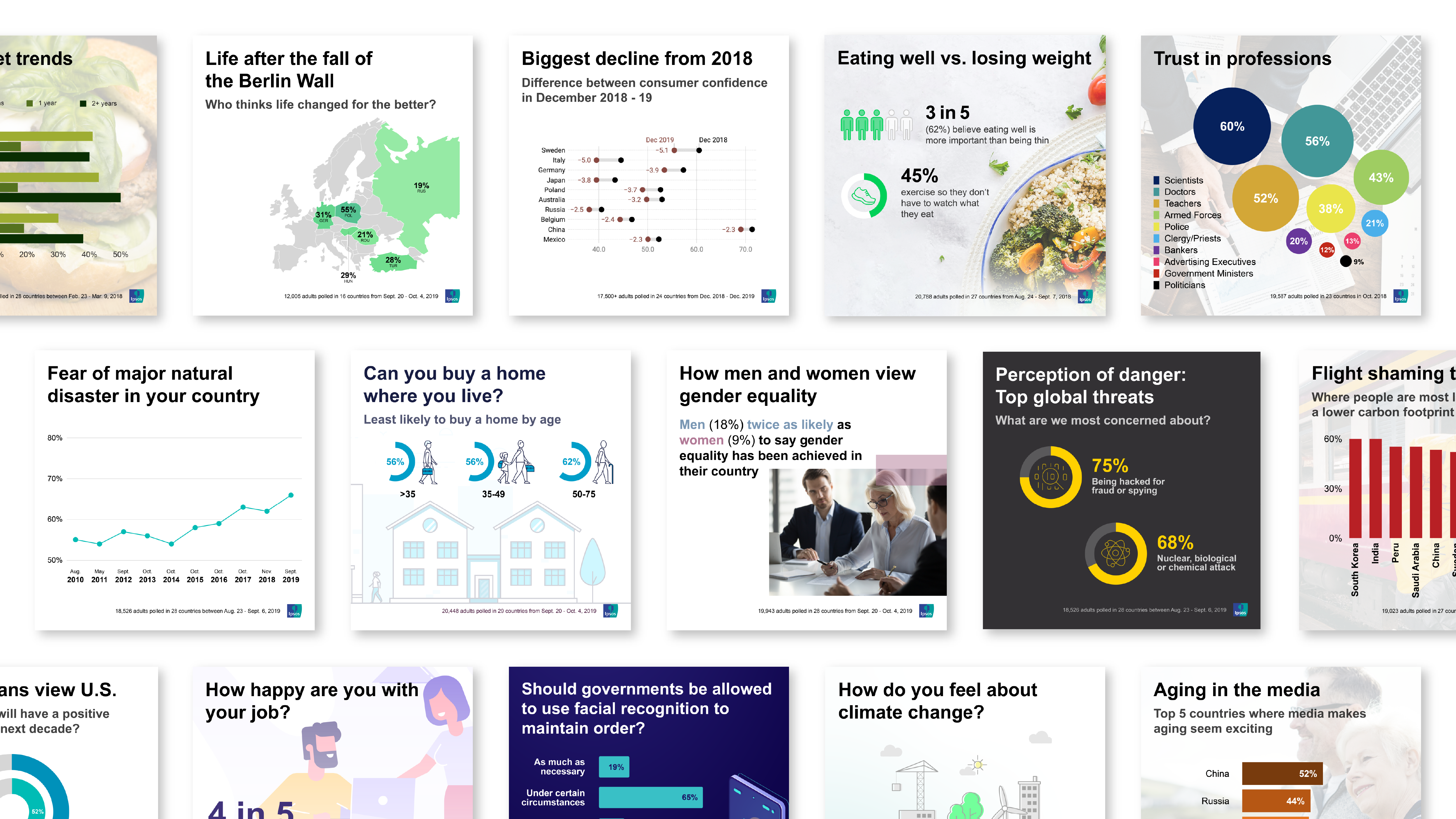 We started doing things a bit differently on our Global Advisor platform in 2019 and you noticed.
We made news with our reports, surveys and polls and you rewarded us by engaging with us more on social media and sharing our content.
We hit a wide range of topics from aging and fake meat to the environment, flight-shaming and gender equality to name a few. Some stories and videos really took off on social networks.
With that in mind, we've gathered some of our biggest stories on Twitter, LinkedIn, Facebook and Instagram to show what you liked and why it resonated with you.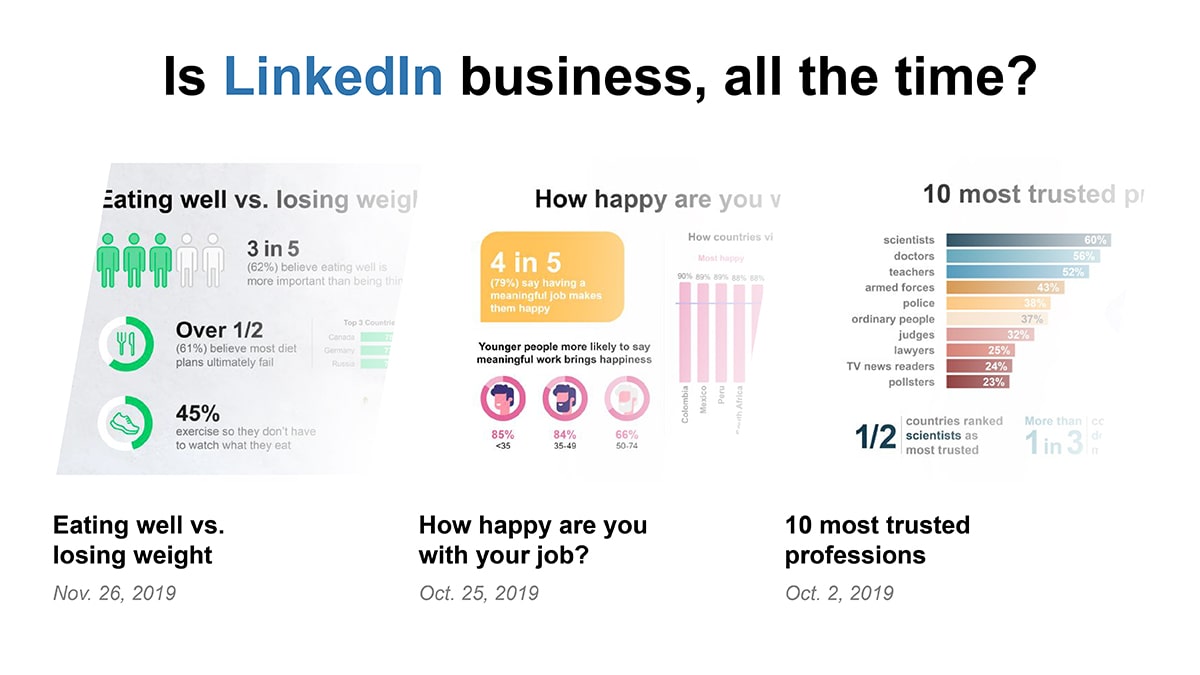 The human side of business matters too as stories affecting you at a personal level garnered the most traction for us on the network known for its professional members.
A debate over eating well versus losing weight that focused on polls on diet, exercise and body image around the world got the biggest audience. We talked to experts about why people can't out-run a bad diet, and how changing body image is affecting us around the world.
True to the platform's business roots, our report on the world's most trusted professions also generated a lot of attention. We highlighted the fact that people trust those providing essential services more than those selling a product or ideology, and people were interested to see where their job ranked globally.
Rounding out the top three was a feature focusing on work-life balance and how happy you are at work. We talked to experts about why people do not want to live like their parents did, and why having meaningful work and social impact were such important things to newer generations, especially in the developed world.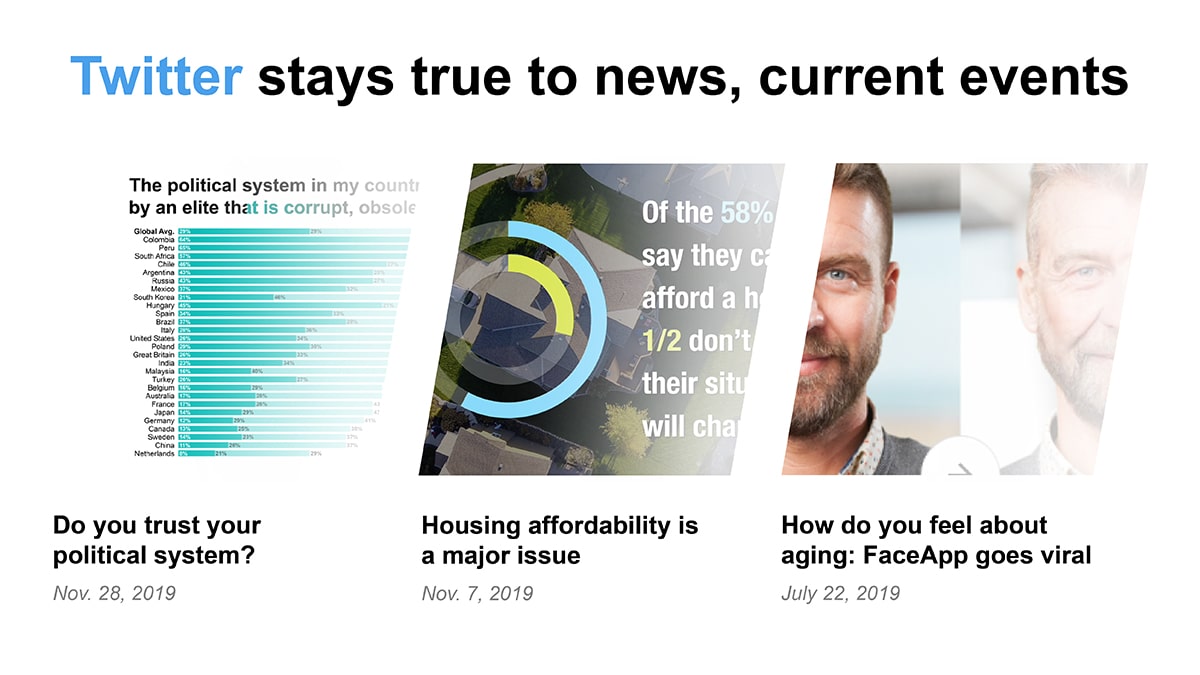 We're known around the world for our political polling, so it's no surprise that our biggest story on Twitter was about how much people trust their political system.
What really grabbed our audience was that nearly three in five people thought their political system was captured by an elite that were corrupt, obsolete and unreformable. Many were interested to see how high this sentiment was in their country, and it tied into a much larger report on global influence and how much power the U.S. and China wield.
Our next hot button issue on the platform was housing affordability. This post was also our first feature explaining Global Advisor poll results in a 60-second video.
Many were interested to see where people thought they could afford to buy a home with skyrocketing house prices over the past decade in many parts of the world.
As with things that go viral, we had success tying ourselves to the FaceApp Challenge. People became obsessed with aging themselves in the first half of the year with the popularity of the app, and we highlighted how more than 20,000 people in 28 countries felt about getting older. Turns out public opinion on aging wasn't nearly as much fun as meeting "your future self" on the app.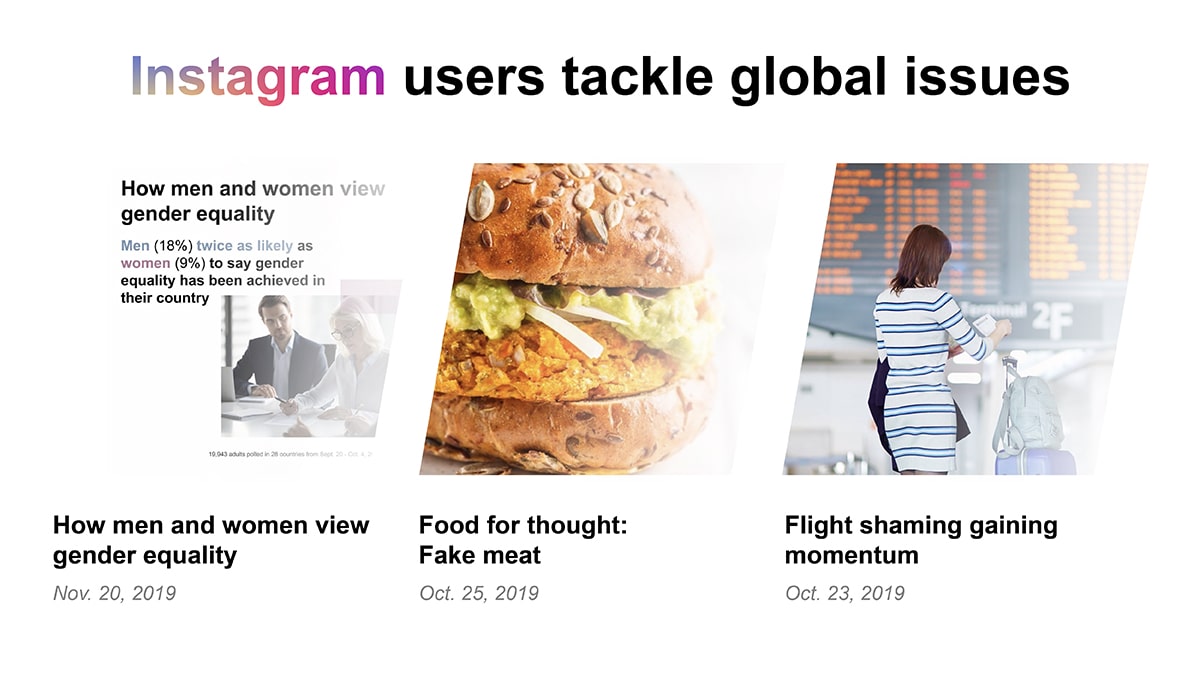 In a year of firsts, we made our first big splash on Instagram in the second half of the year.
A topic that we've touched upon in many different ways in recent years become our biggest story on the platform – gender equality. We focused on how difficult it is to move the dial on equality progress without getting men on board, but men around the world were twice as likely as women to think that equality had been achieved. Our deep dive feature had behavioural scientists explain why men may feel this way.
Food was another big hit on the platform as we explored the latest trend in the industry with fake meat. It created some food for thought when we asked how likely you were to try a plant-based substitute for meat or meatless product? There was also debate brewing on why vegetarians may not be so crazy about this trend.
Instagram is best-known for people sharing their enchanting travel pictures, and our next story certainly hit a hot button with flight-shaming – something jetsetters are not bragging about. We asked people if they would change their travel plans to save the planet. The findings grabbed your interest with one in seven saying they would pay more to travel with a lower carbon footprint than airplanes.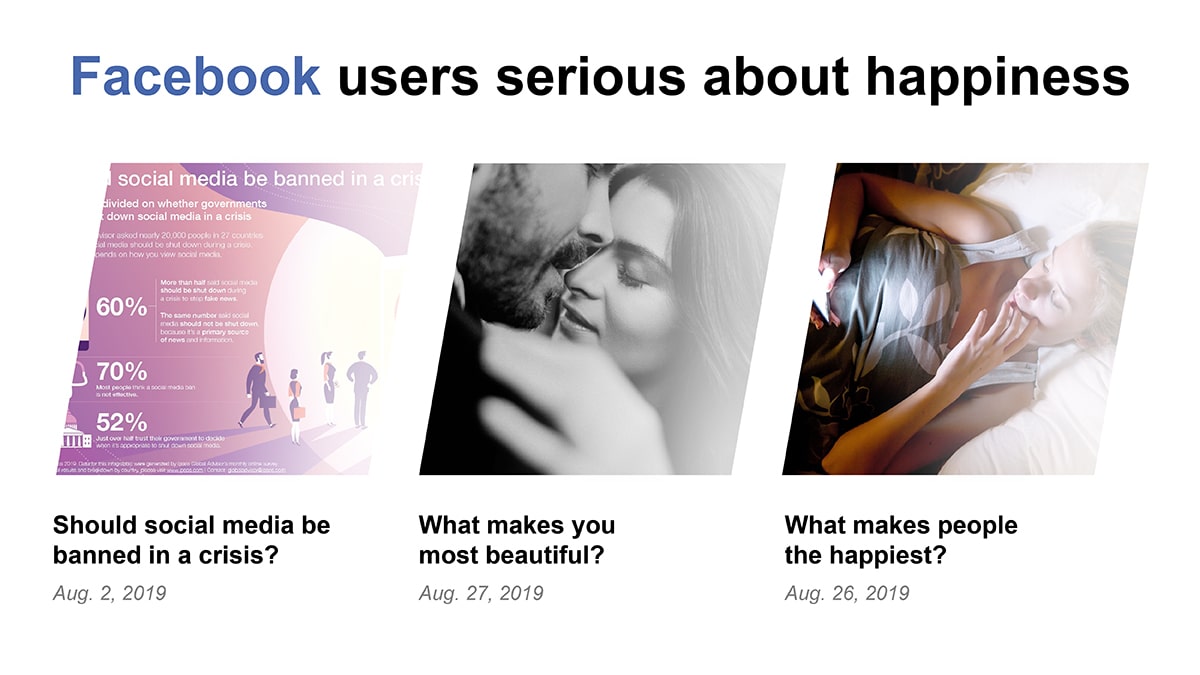 On Facebook, we hit a serious note when we asked if social media should be banned during a crisis?
With social media as a source of news and information for many people, the question of whether governments should have the power to shut it down in an attempt to stop the spread of fake news during a crisis clearly divided our readers.
Something that got people talking (and not just on Facebook) was our feature on what makes you the most beautiful. More than 18,000 people globally ranked intrinsic characteristics like confidence, kindness and happiness over physical attributes like facial appearance and weight when it came to beauty. We explored the difference between thinking and experiencing when it comes to beauty, and why this happens in a world where making yourself beautiful is big business.
Last but certainly not least, one of our biggest stories of 2019 was what made you the most happy? In an ironic twist, this story got your attention when we pointed out that being on social media ranked as the lowest source of happiness out of 29 possible categories. A surprising result, considering how much time many of us spend on it.