Ipsos Update - November 2019
This month's edition of Ipsos Update features recent Ipsos research and thinking on mental health, Black Friday and retail trends, brand-building and climate change.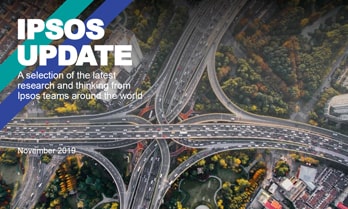 Our survey for World Mental Health Day shows that a majority of people across 29 countries consider mental and physical health to be equally as important. Attitudes and awareness do vary across countries, however, and sometimes dramatically. For example, the proportion of people who say they think about their own mental wellbeing 'very' or 'fairly' often ranges from 25% in Russia to 84% in Chile.
Another study explores problems surrounding mental health in the workplace in Australia, Canada, the UK and the US. Because of factors such as stigma or lack of support, eight in ten respondents with diagnosed mental health conditions say they have not confided in management, while four in ten admit giving a false reason for mental health-related time off work.
The topic of wellness is also addressed in our new white paper on financial services. It argues that the sector can embrace the growing importance of health and wellbeing in society today by making this a focus for their consumers, for example seeking to reduce financial stress by offering guidance and toolkits or comfortable spaces where they can receive support.
Peak-shopping season is upon us and as we look ahead to Black Friday on 29 November, our white paper asks whether the event, which has evolved into a global multi-day and omnichannel retail phenomenon, is still the superhero of the shopper's year. In 2018, the average global spend was over 6 times that of a normal Friday. But a changing shopper environment brings new challenges and opportunities for retailers around the world.
Brand is more important than ever as it provides people with a shortcut to easy and safe decision-making. While there is no single recipe for building stronger brands, our new thought piece shows how investing the time and effort to nurture a strong 'mental network' full of immediate and positive associations can provide longer-lasting benefits.
Looking now to climate change, our social media monitoring study gives another perspective to the already abundant research on global warming and environmental issues today. Unfiltered, uncensored and unsolicited online discussions show what people are talking about, where, and – using sentiment analysis – how they feel about these topics.
Finally, we turn to the United Kingdom as the nation prepares itself for a December general election. Three recent studies build a picture of the current mood. We look at public opinion on different aspects of the "state of the state", how moral attitudes have changed over 30 years and share insights from social media conversations, where social/political issues – such as Brexit - dominate.