European enterprise survey on the use of technologies based on artificial intelligence
First EU-wide survey on the uptake of artificial intelligence (AI) technologies carried out by Ipsos for the European Commission.
The survey on AI reached a total of 9640 enterprises in the EU27, Norway, Iceland and the UK using Computer Assisted Telephone Interviewing (CATI) to obtain representative results at country level. The KPIs measured include awareness, adoption, sourcing, as well as external and internal obstacles to AI adoption.
Awareness of AI
At this stage of the digitisation of European businesses, awareness of AI is almost universal with 78% of enterprises stating that they know what the term Artificial Intelligence is and only 7% not aware and 15% unsure. Awareness of AI is clearly not a major barrier to the adoption of AI in Europe except amongst a small cohort of businesses.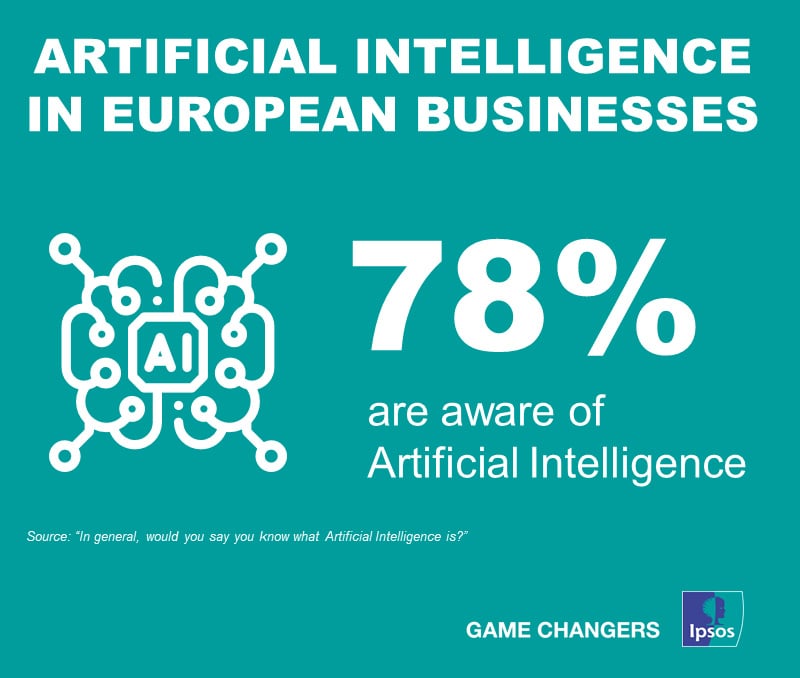 Adoption of AI
Taking Europe as a whole, enterprises tend to fall into one of two camps, the 'adopters' (42%) who are currently using at least one AI technology and the 'non-adopters' (40%) who do not currently use AI nor intend to use any of the AI technologies (at least in the following two years). The remaining 18% of enterprises represent a sizeable proportion who have plans to adopt AI in the next two years, despite currently not utilising AI solutions within their enterprise. The AI 'adopters' seem to clearly value the benefits of utilising AI in their business operations given that more than half (56%) plan to use it more in the next two years. The remainder expect to continue using AI at a similar rate (37%) while only 4% plan to make less use of AI in the near future.
Almost double the proportion of large enterprises (39%) use two or more AI technologies compared to micro-sized (21%) and small enterprises (22%). This is to be expected as larger companies have the potential to benefit most from the adoption of AI given their larger economies of scale and potential return on investment.
When adoption is considered at the level of each technology, adoption in the EU is still relatively low. It ranges from merely 3% of enterprises currently having adopted sentiment analysis to 13% for anomaly detection and process/equipment optimisation. Therefore, there is no concentration of a specific technology that has particularly high uptake.
Sector insights
Different sectors have different needs when it comes to AI technologies and which ones will serve their business most effectively. AI adoption (of at least one technology) is not surprisingly highest in the IT sector (63%). Nevertheless, AI technologies clearly bring added value to a range of possible applications that tailor to a multitude of business contexts across sectors. If we exclude the IT sector, the differences in AI adoption across sectors is not very pronounced, especially among businesses that adopt two more technologies. Cluster analysis illustrates that there are forerunners that experiment with all kinds of AI technologies such as IT and the financial sectors. Conversely, sectors such as the construction sector are the lowest in terms of adopting a range of different AI technologies, possibly because the adoption of these AI technologies is less relevant.
AI sourcing strategies
The prospect of AI exploration is closely linked to where enterprises source their AI solutions (enterprises may use more than one sourcing strategy). Looking at out-sourcing versus in-sourcing of AI solutions the data highlights that the most common sourcing strategies in the EU are external; 59% purchase software or ready-to-use systems and 38% hire external providers to develop AI applications. Only a minority developed AI fully in house (20%) or modified AI software (20% open source and 24% commercial).
Obstacles to AI adoption
Successful adoption of AI assumes that enterprises are able to overcome any obstacles to adoption, whether these are internal or external to the enterprise itself. Enterprises generally find internal obstacles to be a major challenge in comparison to external obstacles. The two leading barriers that enterprises face are characterised as AI skills needs (lack of skills amongst existing staff 45%, difficulties hiring new staff with the right skills 57%) and the cost of implementation (cost of adoption 52%, cost of adapting operational processes 49%, lack of external/public funding 36%). The skills barrier is especially important given that it is not primarily related to size or sector but rather all enterprises compete in the same labour market and therefore face skills shortages.
Looking specifically at external barriers, while regulatory (29% state the need for new laws and regulation as a major barrier) and data standardisation efforts (33% find strict standards for data exchange to be a major barrier) seem important to enterprises, they might not necessarily be the barriers that make projects fail in the efforts to adopt AI in business practice. The results draw attention in particular to the liability for potential damages when it comes to adopting AI technologies (33% across all enterprises) as a major external obstacle to AI adoption.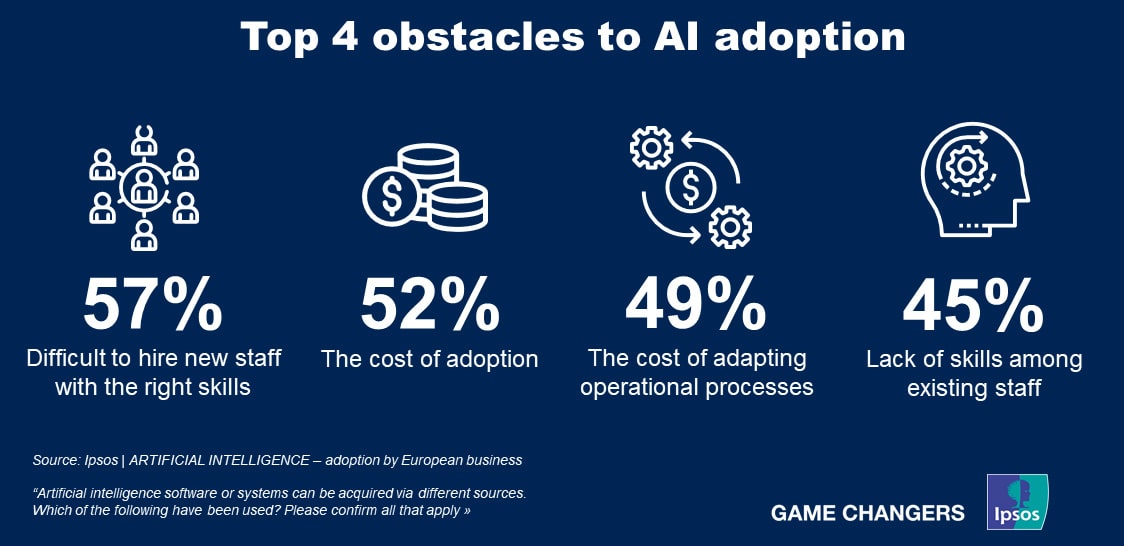 ---
Access the European Commission article.