Public Opinion on the COVID-19 pandemic
In an uncertain world, data matters. Ipsos experts share the latest research and analysis related to the coronavirus pandemic.

Please bookmark this page to keep you connected to the latest Ipsos research, analysis and expert insights on the coronavirus pandemic. It provides direct access to our global and local polling, alongside our points of view and webinar series. If you'd like any further information, please reach out to us.
Latest global polls | Latest insights | Infographics
Local polls and insights | Webinars
More on ESSENTIALS, the Ipsos syndicated studies
Latest global polls
Ipsos collaborates with Temple University on Face Mask Research. The collaboration will generate industry-relevant insights about attention, emotion, memory and desirability for marketing, advertising, financial decision making and more. January 28
35% say that Coronavirus is one of the biggest issues facing their country this month. The recent rise in concern about Covid-19 following the spread of Omicron continues in 2022. Meanwhile, inflation hits record levels of concern. January 25, 2022
32% say that Coronavirus is one of the biggest issues facing their country today. As Omicron spreads, Coronavirus returns to its position as the world's top concern – with Poverty & Social Inequality just behind. December 21
Most workers support workplace vaccine and mask mandates. The return to the pre-COVID workplace is highly uneven across countries and demographic groups. December 9
How has the Covid crisis impacted the image of pharmaceutical companies in France? 2021 put the spotlight firmly on pharmaceutical companies, whose image has been enhanced by the leading role they have played in combating the pandemic. Confidence indicators in the industry itself, as well as in pharmaceutical products and vaccines in general, are on the rise, but cannot conceal structural image issues for the sector as a whole, as is the case with combating shortages or the pursuit of the public interest. December 8
Covid-19: Will the pandemic ever end and how will we know? There is no consensus on what would signal the end of the pandemic. In most of the 33 countries surveyed, the majority don't expect it'll happen any time soon. December 7
World divided on whether COVID is contained, but increasing optimism we are turning the corner. Ipsos poll for Halifax International Security Forum finds New Zealand, Canada, Germany and Sweden seen as providing best leadership on COVID, while China and U.S. underperformed; support growing for opening borders. November 20
Coronavirus no longer the world's top worry as it is overtaken by economic concerns. The long reign of Coronavirus as our survey's top global concern comes to an end in October 2021. It falls to third place in our issues ranking – behind poverty & social inequality and unemployment. October 26
Impact of the Covid-19 pandemic on health. How COVID-19 has changed the overall health of people? In what areas did their health decline or remain stable? To what extent did people experience new health problems or worsen pre-existing conditions? What proportion of individuals gave up treatment or care during the pandemic? For what reasons? Was this absence of treatments or visits compensated by a greater use of telemedicine and digital applications? October 4
What Worries the World: How has Covid-19 changed the outlook? Local perspectives on our issues tracker during the pandemic. September 21
Most adults vaccinated against COVID-19 in all 13 countries surveyed intend to get a booster shot. Still, most citizens view getting first doses of COVID vaccines to all who want them a greater priority than making booster shots available. September 10
Workers want more flexibility from their employers after COVID. Survey of employed adults in 29 countries for the World Economic Forum finds one in four now working from home more often than before the pandemic; preference is for working remotely half of the time after it is over. July 21
Post-COVID vaccination behaviours and return to activities. Confidence about returning to activities varies across nine countries surveyed says a new Ipsos study conducted in partnership with the World Economic Forum. July 8
Majorities of unvaccinated adults in most of 15 countries would get a vaccine if they could. Survey also points to a decline in vaccination intent not only where many have already been inoculated. May 25
Global public backs COVID-19 vaccine passports for international travel. Survey finds mixed views about mandating vaccine certificates for everyday activities. April 28
Expectations about when life will return to pre-COVID normal vary widely across the world. Almost half of adults say their mental health has worsened during the pandemic, but nearly one quarter say it improved since the beginning of 2021 says the new Ipsos survey for the World Economic Forum conducted across 30 countries and markets. April 12
COVID-19 vaccination intent has soared across the world. New Ipsos-World Economic Forum survey finds widespread demand for getting vaccinated as soon as possible. March 11
COVID-19 recovery takes priority over closing gender inequality globally, while women bear the brunt of the pandemic. International Women's Day 2021. March 8
COVID-19 one year on: Global public loses confidence in institutions. Tracking survey data shows who gained and lost with the public over the past year. March 5
Loneliness on the increase worldwide, but an increase in local community support. A new global survey from Ipsos shows how the COVID-19 pandemic has affected mental wellbeing, community support and loneliness around the world. March 2
The impact of race, ethnicity, and national origin on opportunities: Perceptions and personal experience. Survey for the World Economic Forum explores how much access to employment, education, housing, and social services is influenced by ethnicity and national origin across 27 countries - February 28
Perils and predictions for 2021 Why they might be wrong & other perils of perception. January 25
Job stress and disruptions. The pandemic has taken an emotional toll on employees globally, with 80 percent of those employed reporting they have faced challenges as a result of the pandemic. These stresses include personal circumstances such as family pressures, feeling lonely and isolated, and employer-related issues such as job security. January 25
Attitudes to COVID-19 vaccines. The global rollout of COVID-19 vaccines will be the largest, fastest and most challenging vaccination program in history. This could bring many problems. Some we will anticipate; some we won't. One glaring problem that is quickly emerging is a major mismatch between vaccine supply and demand. January 25
Poorer health, loss of livelihood, and climate-related disasters top list of perceived personal threats in 2021. Optimism prevails about access to digital tools and technology. January 22
How shopping and eating out has changed during the pandemic. How and where the world shops and dines transformed during the coronavirus pandemic. As health orders in many countries have called for sheltering in place and minimizing non-essential trips to curb the spread of the virus, consumers throughout the world report eating in-restaurant less often and shopping online more often than they did before the pandemic. However, buying locally – whether from local farmers and manufacturers, local businesses, or local restaurants – is largely unchanged compared to before the pandemic. January 22
"What Worries the World?": Concern about COVID-19 is at its highest level since May 2020. One in two (50%) around the world say that Coronavirus is one of the top issues facing their country today. Many of the 27 countries surveyed show significant month-on-month increases in reported concern. January 21
The implications of COVID-19 on our diet & health. Almost a third of people globally have gained weight during pandemic, despite awareness of link between obesity and COVID-19 outcomes. January 20
45% of people globally are currently trying to lose weight. More than half of the global population would rather exercise more and/or eat more healthily, but not diet as the actions they would take when trying to lose weight. But from a dietary perspective, sugar is seen as the main component that people would look to reduce or eliminate to help with weight loss. January 18
Entrepreneurialism alive and well in the time of the pandemic. Entrepreneurial spirit is up among women and younger adults. January 12
U.S. and U.K. are optimistic indicators for COVID-19 vaccination uptake. New Ipsos-World Economic Forum survey following the release of a vaccine in the U.S. and U.K finds intentions to get vaccinated up in both countries, but down in several others as many worry about side effects. December 29
Global predictions for 2021. After a 2020 that is rated as the worst year for some time, people around the world are looking forward to 2021 for their country, their families and themselves, according to a new Ipsos' Global Advisor poll in 31 countries. However, worries about the long-term impact of COVID-19 are prevalent, and concerns about global warming, the economy, and general tolerance of others have not gone away. December 28
Anxiety, stress and loneliness: COVID's toll on the lives of workers. New 28-country survey for the World Economic Forum reveals most employed adults report experiencing significant work-related disruption with a negative impact on their wellbeing. December 22
"What Worries the World?": The answer is still, predominantly, Coronavirus. COVID-19 continues to lead our ranking of the top global concerns for the ninth consecutive month as we round out the results of our global survey in 2020. December 17
Global consumer confidence still picking up slowly. Consumer sentiment is back to pre-pandemic levels in Australia and holds up in most of Europe while it dips in the U.S.
Global Health Service Monitor 2020. Our new 27-country survey finds rising levels of satisfaction and trust in health services as the world battles against the coronavirus pandemic. Waiting times and lack of staff are the main challenges perceived by the public. November 27
"What Worries the World?": COVID-19 is the biggest concern for the eighth successive month. Global concern about Coronavirus is once more on the increase. We approach the end of the year with almost two-thirds across 27 nations saying that things in their country are on the wrong track. November 26
The pandemic risks significantly worsening gender equality – it is time to act! At its upcoming Global Meeting on 18 and 19 November 2020, the Women's Forum is publishing the results of an Ipsos survey of nationals of G7 countries, highlighting an emergency within the emergency: the fight against gender inequality in the midst of the COVID-19 pandemic. November 24
Majority (67%) of global citizens support the closing of their borders as few (33%) believe Covid-19 is contained. New Zealand gets top marks for how they've dealt with Covid-19; United States gets failing grade; opinions about the who are mixed. November 22
Concern over health epidemic (78%) overtakes hacking (74%) as top perceived threat among global citizens. Only slim majority (53%, +1) confident in their country's ability to deal with epidemic; fewer (45%, -1) confident in protection from hacking. November 21
Covid-19, a long-term threat to women's physical and mental health. Worldwide, more than 50 million people have contracted Covid-19. But the health cost to women goes far beyond the virus itself. AXA and Ipsos today reveal the results of a second study conducted among women on the impact of Covid-19. November 20
Consumer confidence falling throughout Europe. Global gains in consumer sentiment level off as coronavirus surges again. November 18
Tetra Pak launches 2020 Index based on Ipsos global study. New study reveals food safety-environment dilemma fostered by COVID-19 pandemic. November 17
COVID-19 vaccination intent is decreasing globally. Most adults across 15 countries don't expect a vaccine to be available any sooner than mid-2021; only half would get vaccinated within three months of its availability. November 5
What Worries the World - October 2020. More than 6 in 10 globally say things in their country are on the wrong track as Coronavirus continues to be the world's greatest worry. October 30
Social cohesion is under assault globally. Ipsos research finds that almost twice as many global citizens are "weak" than "solid" in their sense of social cohesion. October 28
Germany retains top "Nation Brand" ranking, the UK emerges ahead of Canada to round out the top three. The United Kingdom moves to second place, its best performance ever recorded, with reputational gains on the Governance, Culture, People, and Tourism Indices. Canada ranks in third place for a second consecutive year. There are major ranking slips in the top-10 with France's ranking declining by three positions from second place in 2019 to fifth place in 2020, and the United States' ranking dropping from sixth place last year to 10th this year. October 27
Global consumer sentiment still reviving slowly. More countries show gains than losses in economic confidence, but none has recovered to pre-pandemic levels – except China. October 19
Study shows COVID-19 caused worst year in a decade for marketing agencies. Only 28% of marketers reported an increased reliance on their agencies in 2020, down from 50% the year before in Canada. October 8
The COVID-19 pandemic eclipses climate risk. Ipsos today publishes the seventh edition of its Future Risks Report for Axa. This global study measures and ranks changes in the perception of emerging risks by a panel of risk management experts and the general public. October 8
The state of happiness in a COVID world. Global Happiness 2020 survey shows happiness has receded in many, but not all countries since last year. October 7
Around the world, people yearn for significant change rather than a return to a "pre-COVID normal". A new global Ipsos survey for the World Economic Forum unveils a profound and widespread desire for change rather than a return to how things were before the COVID-19 pandemic. September 16
Majority favors social progress over economic growth in the wake of the coronavirus pandemic. A new Ipsos survey in partnership with the Social Progress Imperative indicates that a majority across countries hit hardest by the COVID-19 pandemic want social progress – rather than economic growth – to be at the fore as the crisis continues and once it ends. September 10
Three in four adults globally say they'd get a vaccine for COVID -19. Most do not expect any vaccine will be available before the end of year; fear of side effects is top reason for not wanting to take the vaccine. September 1
What Worries the World: Coronavirus concern rebounds. 46% of people around the world see Coronavirus as one of the top issues affecting their country today. Our latest What Worries the World survey shows spikes in concern in many nations. August 27
Handling of health crises impacts overall favorability towards Nations. Germany, Canada, and New Zealand are most favorably impacted, while the United States, Brazil, and India are seen unfavorably. Based on nations' handling of health crises, most travelers are more comfortable traveling domestically as opposed to internationally over the next five years. August 25
Abortions amid COVID-19: How women's rights are being impacted by the pandemic. About 70% say abortions should be permitted ̶ down 5% from 2014 and lower than when poll began. August 18
Back to school - in person vs. remote learning: Challenges facing parents, teachers and governments. Two in three support restricting number of in class days while experts question effectiveness. July 31
Majority want to restrict number of days kids attend school in person with most support in emerging markets. More people comfortable sending kids back to school or daycare within six months. July 29
People need behavioural support strategies to resume activities amid COVID-19. Governments need to facilitate re-engagement while also protecting the population from infection. July 28
Looking for an escape: Younger people more likely to say entertainment costs rose since COVID-19. A quarter of people globally say they're spending more on electronics, books and movies. July 20
Soaring food prices: People say they're paying more amid COVID - here's why. Almost two-thirds say cost of groceries has increased even as economies face deflationary pressures. July 15
Facts, theories and myths: How do you think COVID-19 spreads? See how people feel about drugs, animals, food, technology and weather when it comes to the virus. June 24
What Worries the World: 13 of the 27 surveyed nations cited COVID-19 as the top concern. The world is now split on whether coronavirus or unemployment is the most worrying issue facing their country today. June 24
More people believe there are bigger issues than COVID-19 amid race protests in U.S. and globally. A majority in 13 countries say racism, other forms of intolerance is present in their country. June 18
Global public evenly divided on limiting recovery aid to the green economy. A new Ipsos survey on behalf of the World Economic Forum shows that global public opinion is divided on whether financial aid and incentives to revive the economy in the aftermath of the coronavirus/COVID-19 pandemic should be provided only to businesses that have taken measures to reduce their carbon footprint. June 10
Theories about how COVID-19 spreads varies with emerging markets more likely to believe myths. More people globally believe COVID-19 can live on surfaces for days over other theories. June 10
Restarting the economy: Older people most likely to believe jobs lost amid COVID-19 won't return. A majority of people aged over 44 don't see an employment rebound as lockdowns are lifted. June 9
Majority of people expect government to make environment a priority in post COVID-19 recovery. Emerging markets top of the list when it comes to call for action and threat to health. June 5
More think opening businesses puts too many people at risk of COVID-19 and we need to wait. A majority of people in some hard-hit countries think jobs lost will not be recovered. June 3
Comfort food: Women more likely to admit to overeating, under exercising amid COVID-19. Experts say women are more prone to emotional eating due to various psychological factors. May 28
More suffering from under exercising, anxiety than other health concerns due to COVID-19: Poll. Under exercising, anxiety, overeating top the list with women more likely to say they are impacted. May 25
More people want to return to work but uncomfortable with kids returning to school amid COVID-19. Majority in 9 out of 16 countries comfortable with returning to workplace but only two countries comfortable with kids back at school. May 19
View of government's job to contain COVID-19 falls in hard hit countries, rises in others. People in Japan, hard-hit countries of Spain, France are unhappy with government response. May 4
Coronavirus dominates global worries. COVID-19 overtakes all other issues in Ipsos' What Worries the World survey with the highest level of concern recorded for any category since the series began. April 29
High income households more likely to want business to reopen even if COVID-19 isn't contained. Two in 5 high income respondents want economy to reopen compared to a third of low-income. April 29
People are divided over whether the economy should open if COVID-19 is not fully contained. Hard hit Italy and China support reopening. April 27
Future uncertainty: Why people don't see a quick economic recovery from coronavirus. Consumer confidence and poll on economic outlook show doubts about recovery ahead. April 20
Many think it's unlikely the economy will recover quickly once COVID-19 lockdown is over. Most negative about an economic recovery in hard-hit countries except China. April 17
More people say they're wearing masks to protect themselves from COVID-19 since March. There's been an increase in the number of people wearing masks in many countries. April 16
Think seniors are most at risk? Women, younger people more likely to self-isolate amid COVID-19. Four in five women across 15 countries say they are in quarantine or self-isolation. April 14
Increasing pessimism about 'return to normal' by June from COVID-19 crisis, shows poll - People in Japan, the U.K. and Australia are most negative about a recovery by June. April 9
Most of us are staying home to stop spread of COVID-19, shows latest poll - The countries with the biggest increase in self-isolation are Russia, Vietnam and Australia. April 8
Coronavirus pandemic: What are the psychological effects of self-isolation? Two in 5 people are impatient to get back to normal life, a third are anxious about their health. April 3
More concerned for those vulnerable to COVID-19 than for their own health, poll shows. A silver lining: Majority believe pandemic will bring them closer to family and friends. April 1
Job losses stack up: COVID-19 to hit hourly workers, smaller businesses hardest, say experts. More than half of people in a global poll feel a 'high threat' to their job from the pandemic. March 27
Public divided on whether isolation, travel bans prevent COVID-19 spread; border closures become more acceptable. Coronavirus crisis seen as threatening to both health and finances. March 24
Majority of people want borders closed as fear about COVID-19 escalates. More of us now believe someone close to us will be infected by the coronavirus pandemic. March 17
Coronavirus outbreak: What do cuts to growth forecasts, interest rates and stock markets plunges mean? Threat of a recession will result in large fiscal measures from governments, say economists. March 16
Impact of Coronavirus to new car purchase in China - Ipsos has conducted a short online survey to understand the impact of Chinese consumer's purchase intention of new cars under the impact of Covid-19. March 13
Rising concern that the Coronavirus will have a personal financial impact and poses a high threat to their country. Majority of people think it is impossible to forecast how the virus is spreading. March 3
Coronavirus outbreak predicted to have an impact on financial markets and the global economy. Half see the virus as a threat to the world and a majority in all countries believe that it will take several months or longer to contain. February 19
Most say the Coronavirus is an on-going threat; only 1 in 5 see virus contained. A poll of 8 countries shows strong support for actions including travel bans and quarantines to control the virus. February 12
Latest insights
Responding to COVID-19 in Africa: Finding the balance. The fourth and final regional report summarizing key trends across surveyed African Union Member States and highlighting paths forward is now available. January 20
10 things we've learned from the Covid-19 pandemic. Whatever happens next in this unique, multidimensional, planetary crisis, we have reached a point where we need to take stock and reflect on what we've learned so far. January 13
Decoding the patient journey with social insights. Social insights have become a critical component of understanding patients, HCPs, and caregivers – and a key input into developing products and services that meet their needs. December 27
Ipsos and UN Women study brings new light to the "shadow pandemic". Since April 2020, UN Women has been collecting data to inform a gender-sensitive response to Covid-19, working with national statistics offices, governmental entities and international partners. December 3
Cancer & Cardiovascular Disease: Lessons from Covid-19. Cancer and cardiovascular (CV) disease kill more people every year than any other illness, including Covid-19. This article is not about how many people died from each disease; rather, it's about the positive impact that could be made if we enacted the same approach to the two greatest killers, cancer and CV disease, as we've done with Covid-19. November 16
The Rewired Consumer - Tetra Pak Index 2021. The pandemic has forced people to rethink their priorities and behaviours as they seek a more resilient and sustainable future. The 2021 Tetra Pak Index conducted in partnership with Ipsos explores shopper attitudes and action today when it comes to food, health and the environment. October 20
Responding to COVID-19 in Africa: Using data to find a balance. This third survey in the series shows that the COVID-19 pandemic continues to impact societies, not only in terms of health, but also social and economic conditions and day-to-day life. April 29
Myths and vaccines: building pharma reputation in the face of misinformation. The ongoing pandemic has placed the pharmaceutical industry in the spotlight like never before. Alongside the fight against COVID-19, effectively communicating with stakeholders is more important than ever. April 15
Flirtation or commitment: Assessing post-pandemic stickiness of product subscriptions – Product subscriptions have gained a new relevance during the pandemic,but will this behaviour stick in a post COVID-19 world? March 31
The Retail Rollercoaster – Riding the ups and downs of today's omnichannel shopper landscape. We used to say that retail was going through unprecedented times of change. But now it feels as though we have moved from a ride on the teacups to a full-scale rollercoaster. March 22
Consumer Consciousness – A new survival strategy in an increasingly volatile world. As the world has become more volatile, it's more important than ever for brands to be able to react to changing consumer behaviour. March 15
Trading Up – How has the pandemic impacted the positive momentum of premium brands? We have seen a steady rise in desire for premium brands across markets in recent years. Deploying a premium brand strategy has been a classic move for many companies and industries as economic conditions have generally been prosperous. But was premiumisation still a sound strategic avenue for brands in 2020? March 10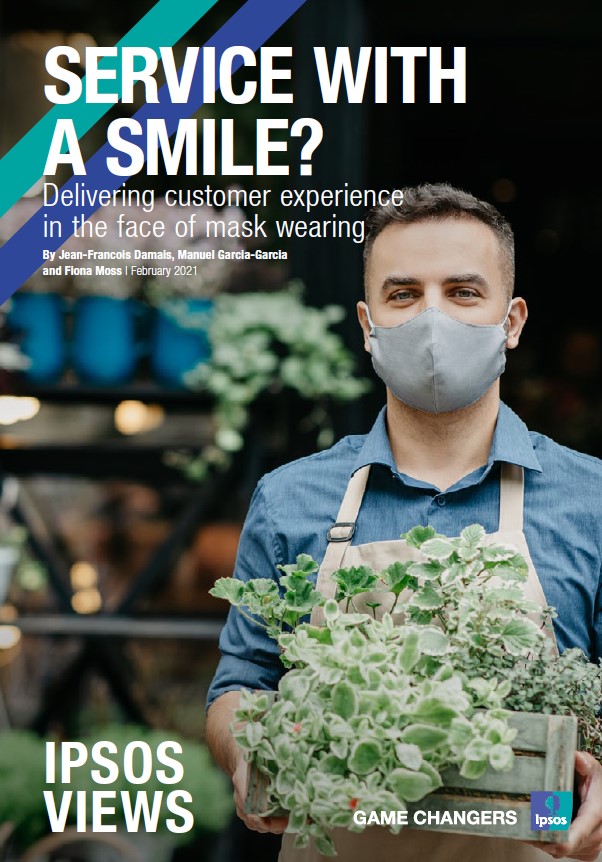 Service with a smile? – Delivering customer experience in the face of mask wearing – Governments across the world have mandated a host of health and safety measures, including the wearing of face masks, to reduce the spread of COVID-19. Many of these regulations mean that customer experiences have fundamentally changed, putting customers and businesses into an unprecedented state of uncertainty. March 1
Shaping 2025 and Beyond – Shaping 2025 and Beyond is a new report from Ipsos Futures experts which describes plausible, thought-provoking scenarios of what the next five years may bring, helping governments, businesses and societies strategise for 2025 and beyond. February 19
Embracing Mixed Mode Research – Why Mixed Mode is more than just a plan B and the way to future-proof your research studies. Mixed Mode Research is not a new topic in the world of market research, but it is one that has not yet been readily embraced. The disruptive forces that shaped 2020 have made Mixed Mode research increasingly relevant, especially for social and audience measurement research. February 15
Global vaccines research – As the race to vaccinate the global population gathers speed, the world continues to face many more questions than answers – not only about how long the vaccination process will take, but how it will roll out, willingness to have the vaccine, and once vaccinations have become widespread, how the journey continues back to 'normal'…? February 10
How to drive sustainable brand growth? – A discussion on Ipsos' view on the importance of brand tracking research, knowledge of consumer decision-making and fundamentals for brand growth. January 28
The power of research panels – Ipsos has invested in a global network of online access research for the past 20 years to deliver the highest standard of research insights. We believe the future of quality market research will continue to depend on properly managed research panels. January 19
A Year in Review - 2020 – This has been a year of momentous change – real and anticipated. As we pause to reflect at the end of the year, we present some Ipsos research highlights you may have missed during the dizzying events of 2020. December 16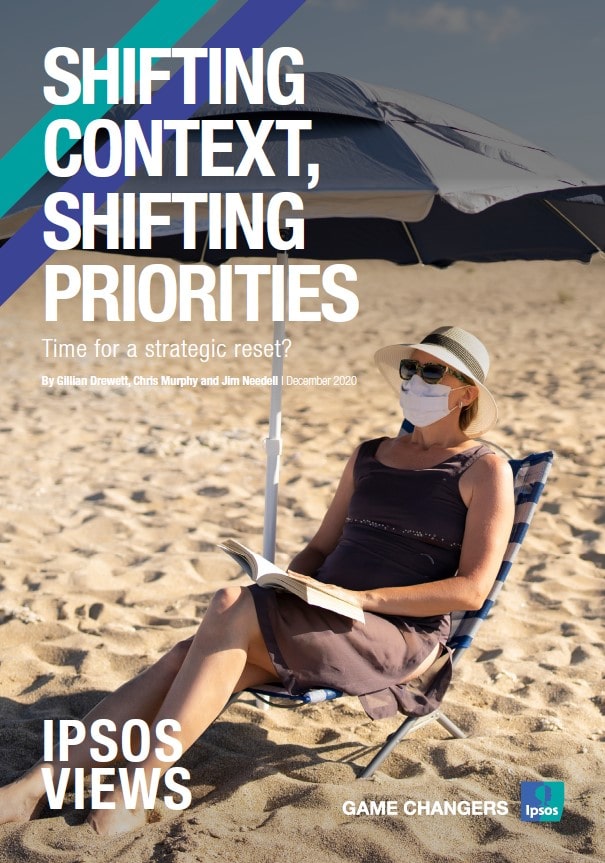 Shifting context, shifting priorities – Time for a strategic reset? The shifting sands of our current multidimensional crisis have undoubtedly impacted the context in which we live our lives and the decisions we make. We socialise differently, we work together differently, we prioritise differently, we buy differently, we consume differently – and we decide differently. In this paper, we explain why the time is right for brands to review their strategy and the foundational insights on which it is based. December 11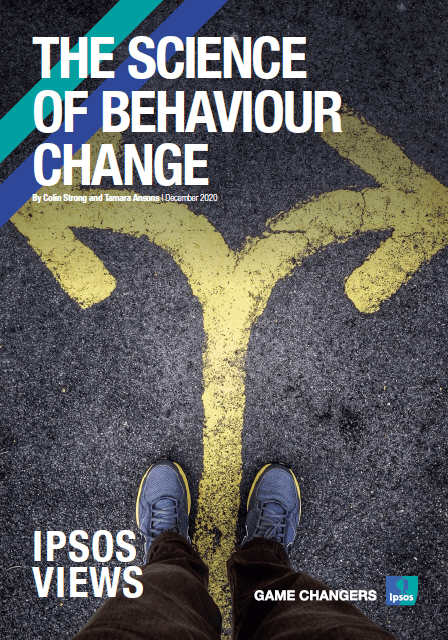 The science of behaviour change – The principles and practice of tackling behaviour change challenges in a world that remains unpredictable and changeable. This paper includes a case study on how to manage safe re-engagement with the economy as people began to resume normal activities after the first wave of COVID-19 lockdowns. December 9
The growth and expansion of online retail: COVID-19 and beyond – Online shopping insights from Synthesio social data & Ipsos online communities. December 4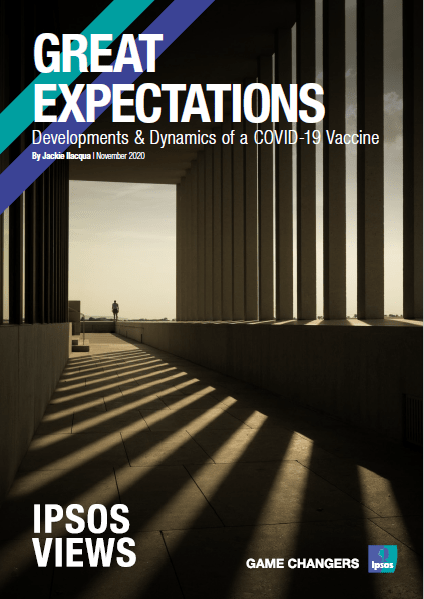 Great expectations: Developments and dynamics of a COVID-19 vaccine – The success of a COVID-19 vaccine is one of the biggest challenges we face globally. Since the outbreak of COVID-19, the pharma industry has moved with unprecedented speed to progress vaccines through clinical trials safely, while simultaneously ramping up production on the chance of success. This paper explores the opportunities and obstacles that lie ahead – and the importance of building public support in determining any vaccine's success. December 1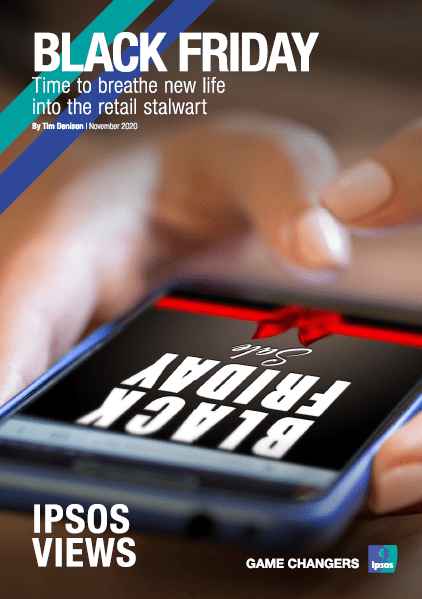 Black Friday 2020: Time to breathe new life into the long-standing retail event – Black Friday 2020 will be like no other. It could make or break retailers' years. It could mark the death knell of Black Friday itself. A lot is riding on how consumers will react to the lure of the bargain-fest amidst COVID-19 and how well retailers will execute their operational plans. November 19
Vaccine hesitancy: Understanding belief formation – COVID-19 has put the topic of vaccination centre-stage, with the expedited development of a COVID-19 vaccine viewed by many as the only real solution to the current pandemic – or at least part of it. November 4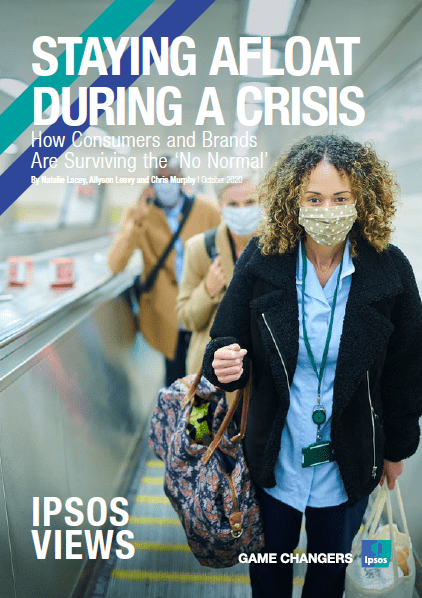 Staying afloat during a crisis – How consumers and brands are surviving the 'no normal'. We have brought together additional perspectives from behaviour science, in How COVID-19 has brought behaviour change thinking into focus, and looking at three of the countries worst hit by coronavirus: USA, Brazil and Italy. October 26
The growth and expansion of online retail: COVID-19 and beyond – Using the combined power of Synthesio Social Listening and responses from Ipsos' U.S. syndicated online community, we compiled salient insights about the state of online shopping and what the future holds for retail. September 25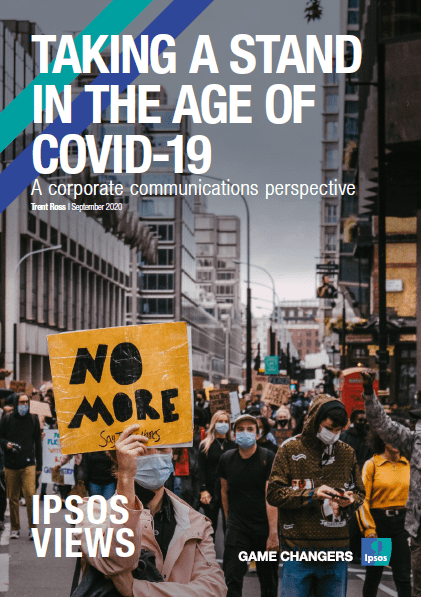 Taking a stand in the age of COVID-19 - A corporate communications perspective. Speaking out carries risks for companies and can be divisive, but if it genuinely reflects the social purpose and values of the business, and is backed up with evidence of action, the reward can be a powerful and positive impact on reputation and relationships. September 15
Marketing in changing times – Reassessing the eight motivators of purchase in the context of COVID-19. September 9
Responding to COVID-19 in African Countries – The COVID-19 pandemic continues to impact societies, not only in terms of health, but also social and economic conditions and day-to-day life. September 1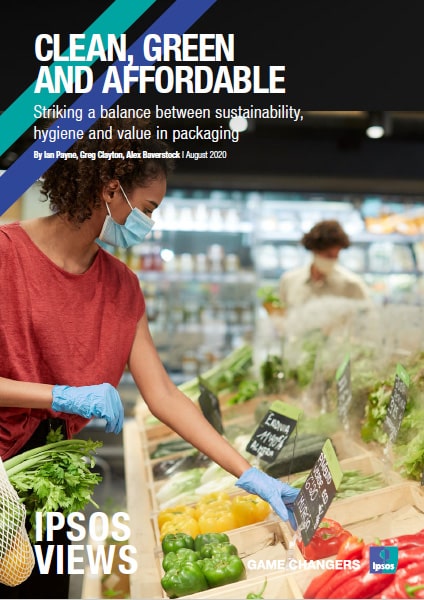 Clean, green and affordable: Striking a balance between sustainability, hygiene and value in packaging – In a COVID-19 world, companies that can balance sustainability, hygiene and value will build long-term reputational equity and greater chance of success. August 5
Signals #10: Understanding the coronavirus crisis – the story so far – This special tenth edition of our Signals digest recaps on the content we have featured across the series and looks back at some of the defining moments of the crisis so far. July 28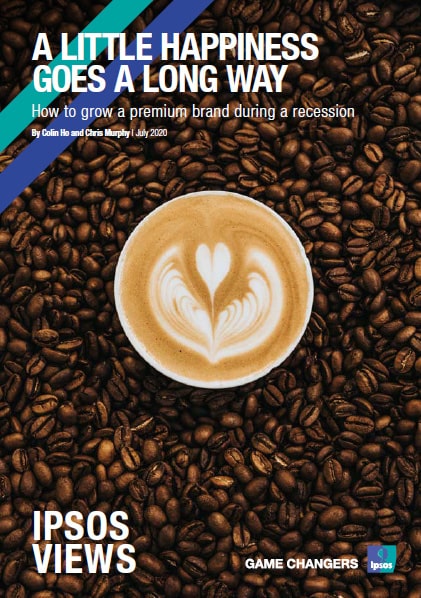 A little happiness goes a long way: How to grow a premium brand during a recession – It may be natural to think premium brands do badly during a downturn, but premium brands viewed as affordable indulgences can do better in a recession. July 27
HoReCa's Call to Action – Seizing the on- and off-trade opportunities beyond the crisis. July 23
Signals #9: Understanding the coronavirus crisis – This ninth edition of our Signals digest brings together Ipsos' latest research on coronavirus from our teams around the world. July 8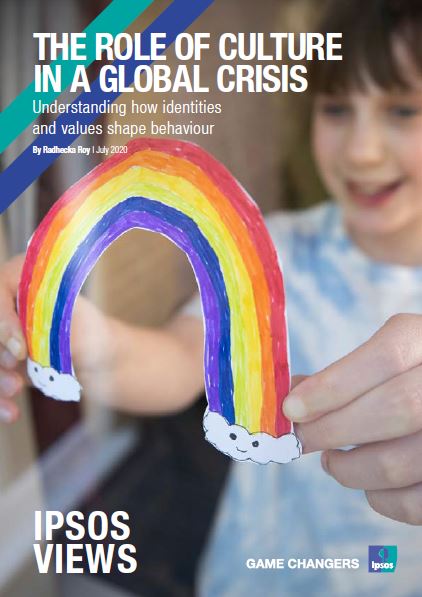 The role of culture in a global crisis – Shared values shape individual behaviour, and this is even more evident during the coronavirus pandemic. This paper shows that government messaging and personal responses to the crisis have been shaped by culturally relative concepts, highlighting the importance of understanding cultural drivers and local nuances. July 8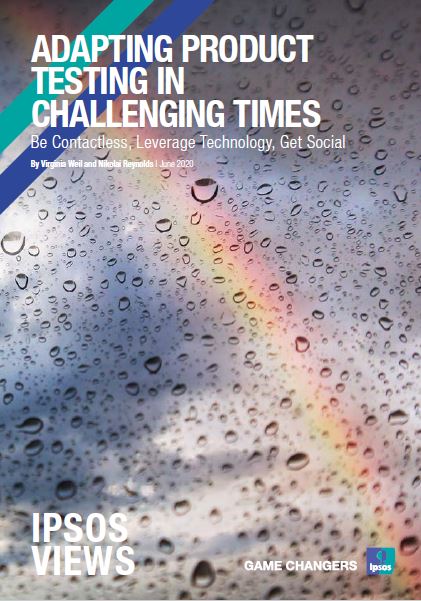 Adapting product testing in challenging times – Be contactless, leverage technology, get social. July 1
Signals #8: Understanding the coronavirus crisis – This eighth edition of our Signals digest brings together Ipsos' latest research on coronavirus from our teams around the world. June 18
Children's experiences with digital learning during COVID-19 – Exploring the findings from the Children's Advisory Panel, an initiative in collaboration with child rights organisations and schools in seven countries across the Nordics and the Baltics. Ipsos analysed the material and produced this report from the study. June 12
Looking at the impact of COVID-19 on the economy & the MedTech industry in China – Ipsos' Medical Devices & Diagnostics (MD&D) team in China has created a series of reports, with aim to shed some light on the questions that have arisen regarding the impact of COVID-19 on the domestic economy, healthcare industry and specifically, the medical devices sector in China. June 9
Signals #7: Understanding the coronavirus crisis – This seventh edition of our Signals digest brings together Ipsos' latest research on coronavirus from our teams around the world.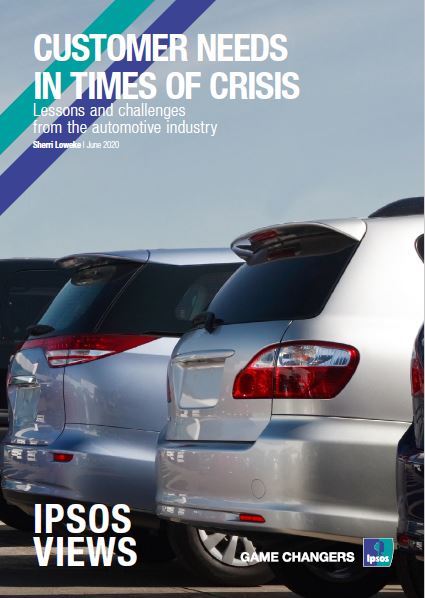 Customer needs in times of crisis - For decades, the heart of automotive service delivery has relied on face-to-face interactions. However, like many sectors, the unprecedented COVID-19 pandemic has forced the automotive industry to immediately adapt. What can we learn by taking a closer look at how the automotive industry has reacted so far to this challenging new global landscape? June 3
Now what? Climate change and coronavirus - Seventy-one percent of the world feels climate change is as significant a threat as coronavirus in the long term. So, in the midst of this upheaval we ask what, if anything, can COVID-19 teach us about the climate crisis? June 2
Patient centricity and the new healthcare system - While our world struggles to contain and treat COVID-19, it is important to acknowledge the heroic, tiresome days and nights that medical workers are enduring for the sake of their patients and their countries. Nurses, doctors, physicians assistants, and other critical medical workers are unable to adhere to the stay at home orders that nearly every country has implemented thus far. June 1
Preparing for the future of the operating room: Robotics - Imagine a future where surgical robots have become small and affordable enough to be found even in non-specialized hospitals and outpatient clinics outside of a major metropolis... May 27
Medical crowdsourcing: What are Physicians communicating during COVID-19? – Fourth wave of Ipsos' regular qualitative analysis of the G-MED Global Physician Online Community (April 12th - May 17th 2020). May 27
Signals #6: Understanding the Coronavirus Crisis – Our sixth edition of Signals presents new research from our teams around the world, drawing on our global polling, expert analysis and studies carried out by our teams in different countries. The aim is to keep all of us in touch with the latest information as the impacts of the crisis continue to unfold. May 20
Video gaming trends as entertainment and social interaction during COVID-19 – Video games have long been polarizing, with people either loving them or hating them. Coronavirus has effectively turned the tables for many in the hate camp. Video gaming trends have experienced a massive surge in players and revenue recently. Many individuals have purchased gaming consoles for the first time as a means of entertainment. May 20
Evolving your MMM program in the current COVID-19 environment – How brands behave in these challenging times will play a large role in that equation. But how should brands measure and drive success in order to come out on the other side stronger? May 19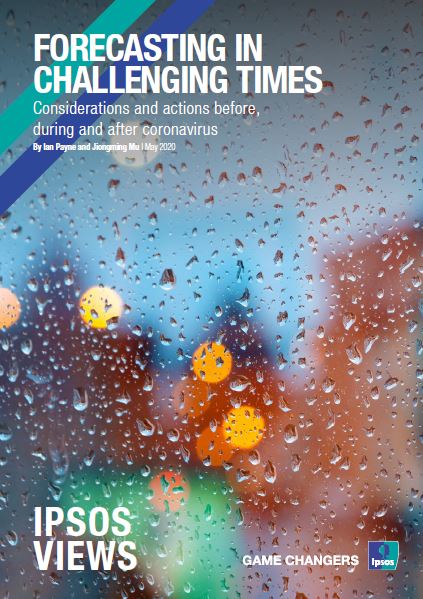 Forecasting in challenging times – Considerations and actions before, during and after coronavirus. In this paper we highlight some key lessons for forecasting, specifically for consumer-packaged goods, during coronavirus. May 14
Marketing planning for a successful back half & 2021 while accounting for the new realities of COVID-19 – Actioning and optimizing your commercial investments against the evolving recovery and consumer demand curve on a real-time basis. May 13
Sentiment analysis reveals insights about grocery delivery versus physical stores – During the COVID-19 crisis, many businesses are leaning on sentiment analysis tools to understand new shopping habits. May 12
Signals #5: Understanding the coronavirus crisis – This fifth edition of our Signals digest continues to bring together Ipsos' latest research on coronavirus, including new POVs, country insights, and the latest from the public opinion tracker. May 7
The impact of COVID-19 on how we eat – An exploration of how category conversations and behaviours have changed and how brands can respond to these changes. May 7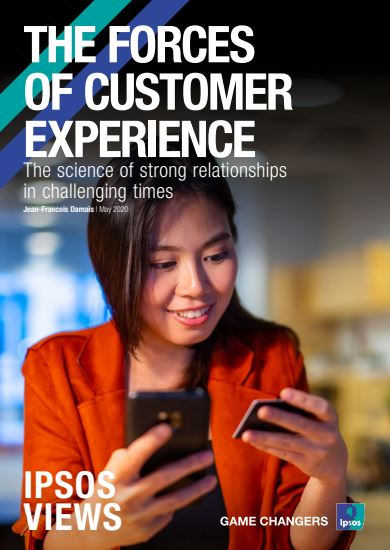 The Forces of Customer Experience – The science of strong relationships in challenging times. In this new paper, we introduce 'The Forces of CX' – a human-centric framework that helps organisations drive stronger relationships through a better understanding of customers' functional and relational needs. May 7
Responding to COVID-19 in Africa – New report provides African governments real-time information and guidance to find the balance in Coronavirus response. May 6
How is COVID-19 affecting doctors & patients in key disease areas? – Ipsos is currently running syndicated COVID-19 impact studies to uncover the true impact of the pandemic in key disease areas. Studies gather the perspectives of treating doctors and patients on key issues such as treatment decision-making, patient management, the patient experience and more. May 6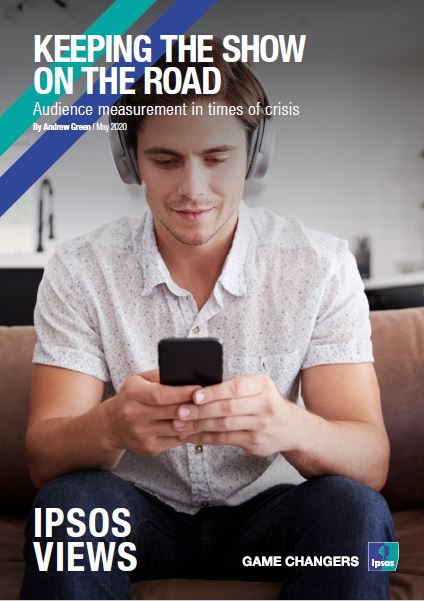 Keeping the Show on the Road – How to adapt audience measurement methods in times of crisis. This is not a time to stop measuring. Instead, we should focus on investigating alternative, virus-resistant methods that will allow us to offer insights into when and how media audiences are changing and evolving. May 5
Using customer sentiment tracking to write successful content – Building an editorial calendar and writing successful content are two main priorities of marketing and communications teams. These initiatives can play out in several different ways and apply to different types of businesses. May 5
Redefining risk in medical device markets in the time of Covid-19 – Read our white paper to review key considerations for medical device companies to redefine risk, identify opportunities and adapt during Covid-19. May 4
Ways medical device companies maintain connections during Covid-19 – https://ipsosgroup-my.sharepoint.com/personal/agnes_gilbert_ipsos_com/_layouts/15/onedrive.aspx?id=%2Fpersonal%2Fagnes%5Fgilbert%5Fipsos%5Fcom%2FDocuments%2FContent%2FWebsite%20content%20analysis Read our five recommendations for medical device manufacturers to maintain connections and foster effective engagement with customers during Covid-19. May 4
How a major video gaming company timed a product release using competitor research – In an increasingly competitive video gaming environment, many companies are clamoring for the attention of its fans. April 28
How real-time healthcare data equips hospital systems with timely coronavirus responses – The coronavirus pandemic has been pushing the limits of the healthcare systems across the globe. COVID-19 has, without a doubt, begun the process of restructuring and rethinking established healthcare systems worldwide. April 27
Leading pharmaceutical brands demonstrating leadership – As Covid-19 continues to disrupt traditional care norms, major pharma products have an unprecedented opportunity to define new market dynamics and demonstrate population health leadership. April 27
Evaluating and adapting your soon-to-launch pharma strategy – Covid-19 has greatly disrupted the channels of communication between healthcare professionals and pharma manufacturers, especially those preparing for a product launch. April 27
Assessing the risk profile of recently launched drugs – Manufacturers of the 48 launched products since January 2019 are facing a unique challenge in the current Covid-19 market. April 27
Media Strategies in Turbulent Times – Optimizing media now and entering into the recovery period. April 27
How real-time healthcare data equips hospital systems with timely coronavirus responses – The coronavirus pandemic has been pushing the limits of the healthcare systems across the globe. COVID-19 has, without a doubt, begun the process of restructuring and rethinking established healthcare systems worldwide. As we learn to cope with this new reality, hospital systems are utilizing actionable data to make critical patient care decisions. Online discussions and social media data from patients and families have begun to identify ways in which hospitals can drive operational effectiveness, and improve the patient experience. April 27
Tracking the Coronavirus effect on automotive market – With this COVID-19 Impact on Auto module, our global Mobility Navigator delivers insights on the latest key trends in automotive including the impact of the Coronavirus crisis. April 24
Signals #4: Understanding the coronavirus crisis – In our fourth edition of Signals, we have sought to highlight our key learnings so far and begun to identify how attitudes and behaviours around the world may be changing. April 23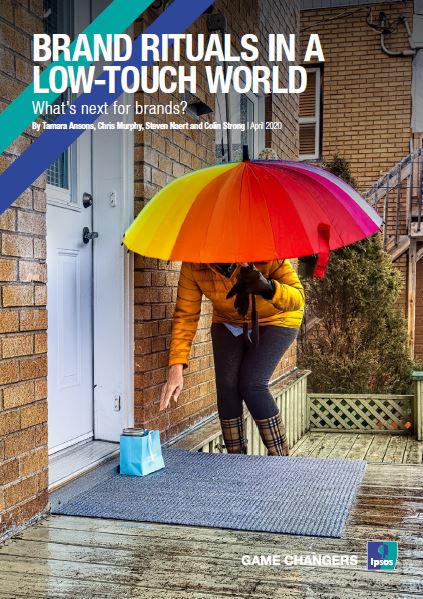 Brand rituals in a low-touch world – What's next for brands during the COVID-19 pandemic? Our new paper shows how brands can encourage the formation of rituals. April 22
Competitive product analysis: How strong is your product? – Many brands think that messaging is the be-all and end-all of outperforming your competitors. And while we don't want to make light of its importance, we firmly believe that the best product always wins. That being said, how can you concretely compare the performance of your product to those of your competitors? April 20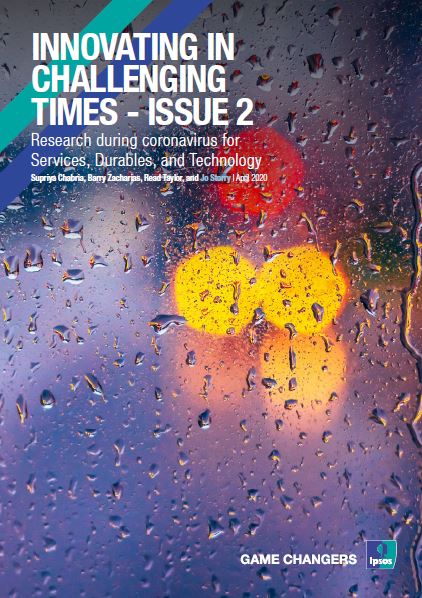 Innovating in Challenging Times – Issue 2 – Research during Coronavirus for services, durables and technology. In this issue, we dive deeper into the dynamics observed in our Vantis database for services, technology, and durables, which consists of over 39,000 concept evaluations. April 17
Medical crowdsourcing: What are Physicians communicating during COVID-19? - Third wave of Ipsos' qualitative analysis of G-MED Global Physician Online Community (March 23th – April 11th 2020). April 15
The 5 components of a successful social campaign – It's close to impossible to find a company without a social media presence. Large corporations, small businesses, and freelancers alike have Twitter and Instagram pages, official accounts on Reddit, as well as websites, blogs, and much more. As consumers turn more and more often to the Internet or social media for recommendations, help articles, and pure entertainment, companies feel growing pressure to stand out. However, with so much competition all around, truly standing out and creating a memorable social campaign is tricky. To make it simple for you, we've broken down the five components of a successful social campaign. April 13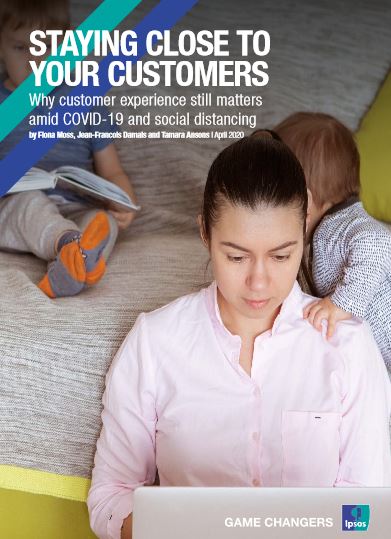 Staying close to your customers – Why customer experience still matters amid COVID-19 and social distancing. In this paper, we set out the three steps likely to be involved in strengthening customer relationships and how they can help to ensure brands develop along with customers throughout this crisis. April 9
Signals #3: Understanding the coronavirus crisis- The aim of this digest is to highlight some of the things we are learning as we go through different stages of the crisis, explore how attitudes may be changing and start to anticipate what the longer-term implications will be for us all. April 9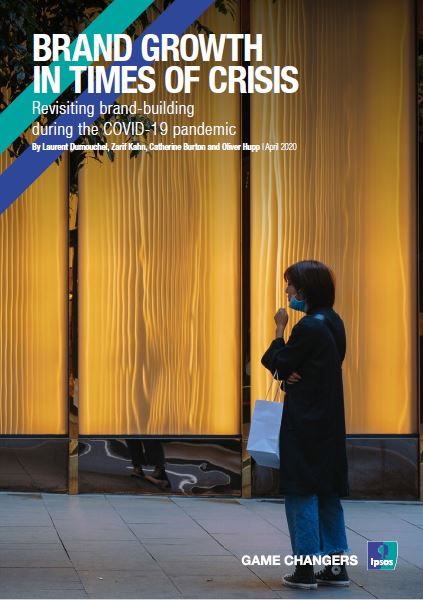 Brand growth in times of crisis – Revisiting brand-building during the COVID-19 pandemic. In this paper, we revisit some conventional wisdom and present early perspectives to help brands to orientate themselves today and in the post-crisis world. April 8
Data quality impacts the accuracy of your consumer insights – Like you and your brand, we at Synthesio are unsure about what to say and when to say it. Together, we've all come to understand the difference between essential and non-essential work. Running ads and pushing products at a time like this feels tone-deaf. So why data quality? April 7
How coronavirus has shifted the way the world works – COVID-19 has undoubtedly upended millions, if not billions of worker's and student's routines worldwide. Many people are experiencing the "work from home" (WFH) or "study from home" aspect of the coronavirus pandemic in different ways. April 6
Coronavirus humor: Memes & social media challenges – Anyone online knows that coronavirus memes have been blowing up. The time of the coronavirus has been undoubtedly unlike anything that we have seen before in modern times. April 1
A rapidly changing landscape: Social media discussions of COVID-19 – With the situation changing daily, the focus of online COVID-19-related conversation is constantly evolving in response. March 31
Marketers are combining data-driven analytics and creativity to war-game their way through this period of uncertainty while preparing for the recovery. March 31
Medical crowdsourcing: What are Physicians communicating during COVID-19? - Second wave of Ipsos' qualitative analysis of G-MED Global Physician Online Community (March 19th – March 26th 2020). March 31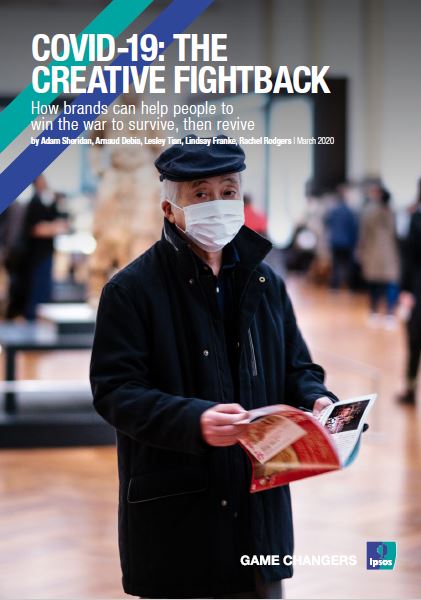 COVID-19: The Creative Fightback - How brands can help people to win the war to survive, then revive. Brands are unsure how to proceed, but they do have a vital role to play in the fight, and people expect them to step up and lead during this difficult time. March 26
The second edition of our digest, Signals #2: Understanding the coronavirus crisis, brings together Ipsos' latest research on coronavirus and draws on our surveys, social media monitoring and analysis from our teams around the world. March 26
Medical crowdsourcing: What are Physicians communicating during COVID-19? - First wave of Ipsos' qualitative analysis of G-MED Global Physician Online Community (March 16th – March 20th 2020). March 25
img alt="Innovating in challenging times | Ipsos | Concept testing" data-align="left" data-entity-type="file" data-entity-uuid="9ec5e6b4-d661-46db-8597-0cdf1273dc3b" height="20%" src="/sites/default/files/inline-images/innovating-in-challenging-times-cover.jpg" width="20%" />Innovating in challenging times: Research during COVID-19 - Doing research during a crisis allows businesses to better predict and prepare for what to do next. March 24
4 tips to calming a PR crisis around coronavirus-related event cancellations - Synthesio examined the impact of event cancellations in the word of sports, including the National Basketball Association (NBA), The French Open, and the Boston Marathon, and the world of cultural events, including Broadway, South By Southwest (SXSW), and the Louvre Museum. March 23
Top social media sites are combating misinformation around online coronavirus conversations - Social media monitoring is more critical than ever recently because of its ability to follow online coronavirus conversations on top social media sites. It is becoming increasingly difficult to keep track of the millions of conversations that people are having about the global pandemic. Brands are increasingly panicked about the implication that this virus will have on their business and even broader, the global economy. March 23
Corporate Reputation and the Coronavirus - Download our paper with experience and expectation of company actions during this health crisis. March 16
This digest, Signals #1: Understanding the coronavirus crisis, brings together our latest research on coronavirus and draws on our surveys, social media monitoring and analysis from our Ipsos teams around the world. March 13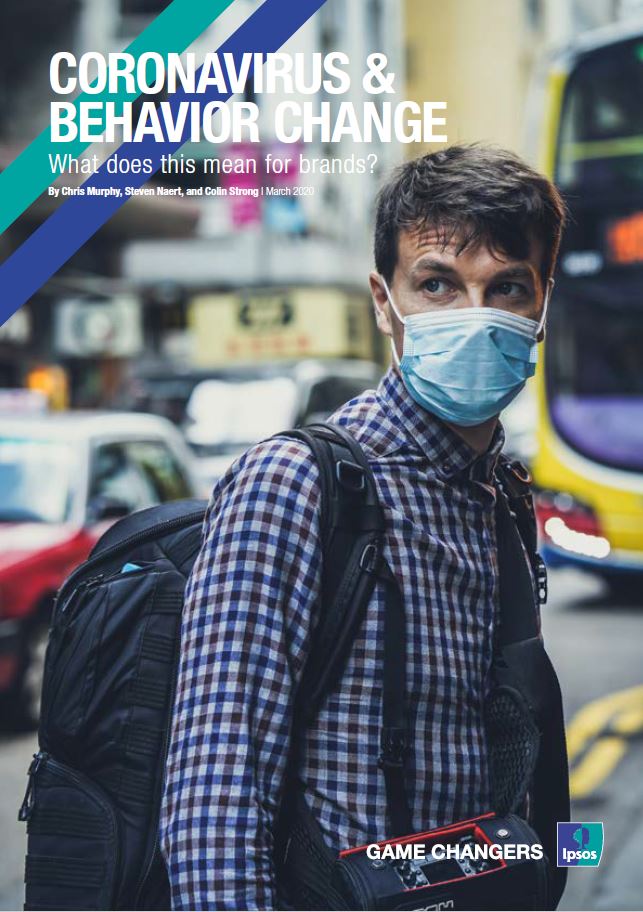 Coronavirus & behaviour change: What does it mean for brands? – As COVID-19 continues to spread, how can brands stay relevant to consumers in an increasingly unstable world. March 13
Social media data links the impact of Coronavirus epidemic and global economic fears – Social media data links the impact of Coronavirus epidemic and global economic fears. March 6
Monitor the online spread of the Coronavirus to understand its global impact – Learn how the virus's impact on the economy is the #2 topic discussed online. Monitor the online spread of the Coronavirus to understand its global impact. February 28
Register to our upcoming webinars or watch the recordings
Infographics
Tracking evolving global public opinion on COVID-19:
Infographic snapshot of public opinion of the COVID-19 pandemic in the UK (PDF) July 10
Local polls and insights
Argentina | Brazil | Bulgaria | Chile | China | France | Germany | Hong Kong | India | Italy | Japan | Jordan | KSA | Lebanon | Netherlands (EN / NL) | Norway | Panama | Qatar | Russia | Spain | Tunisia | Turkey | UAE | UK | USA
India: Diet, superfoods and wellbeing in India. Our new country briefing paper examines the latest food and wellness trends in India. December 18
Brazil: Flair Brazil 2021 - Together in sickness and in health December 11
Canada: Study shows COVID-19 caused worst year in a decade for marketing agencies October 8
Malaysia: Covid Access: Insights to Winning in The New Normal July 7
Singapore: eCommerce Unleashed June 26
SEA: Coming Out of Lockdown in Southeast Asia. To help our clients, Ipsos conducted a self-funded survey on evolving consumer opinions and behaviours with a focus on SEA region. View our recent release of preliminary highlights from the region, Malaysia and Singapore. June 19
South Africa: The COVID-19 pandemic in South Africa May 6
Poland: How the attitude of Poles towards coronavirus changed during a week March 17